Jump to Recipe
Print Recipe
Turn those extra jelly beans into delicious crunchy cookie bars loaded with oats and coconut with this easy Coconut Oatmeal Jelly Bean Cookies. 
Coconut Oatmeal Jelly Bean Cookies are a fantastic way to use up those leftover jelly beans from Easter baskets.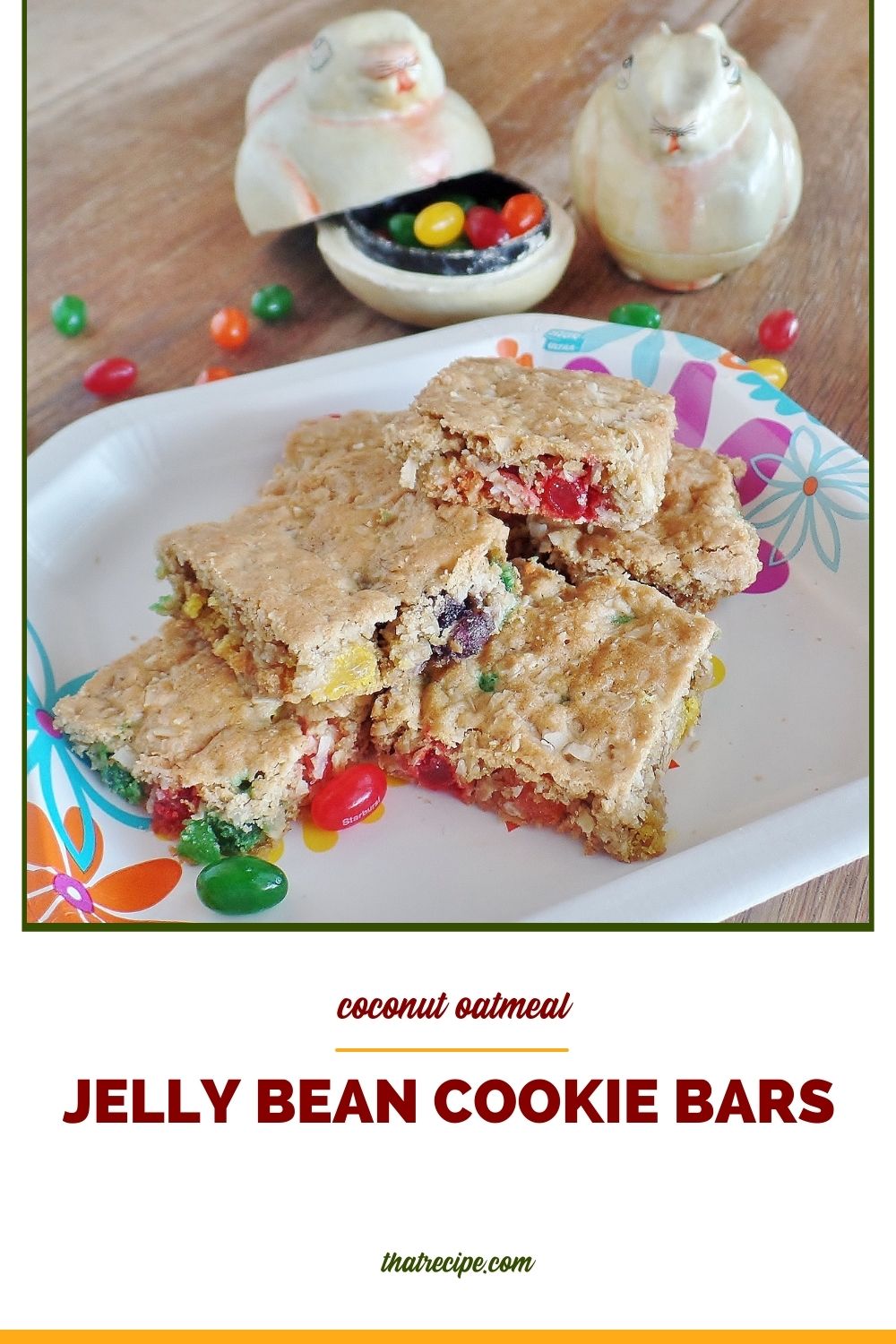 I love jelly beans, but the Easter Bunny has been known to bring too many on occasion. And then they sit in the cupboard until the melt together then harden into a multi-hued gelatinous blob. Does that happen in your house, too?
The jelly bean cookie recipe is derived from one by tv chef Sara Moulton. The key difference is she rolls them into 36 balls and adds 3 jelly beans on top of each one.
Sorry, Sara, I don't have time or energy to make 36 equal balls and count out 108 jelly beans.
I went with the dump, mix and spread bar cookie method.
What kind of jelly Beans should I use?
Use whatever kind you like best.
I used my favorite (Starburst). Spice, tropical, coffee or even sour flavors would work just as well.
But, I don't recommend mixing different types of jelly beans unless you like the flavor combination.
My husband grew up with sweet and spice jelly beans dumped together in his Easter basket as a child and has never gotten over the trauma.
Your mouth is all set to bite into some sweet cherry and instead it is cinnamon. Both types of jelly beans are great on their own, but not together for my house.
Coconut Oatmeal Jelly Bean Cookies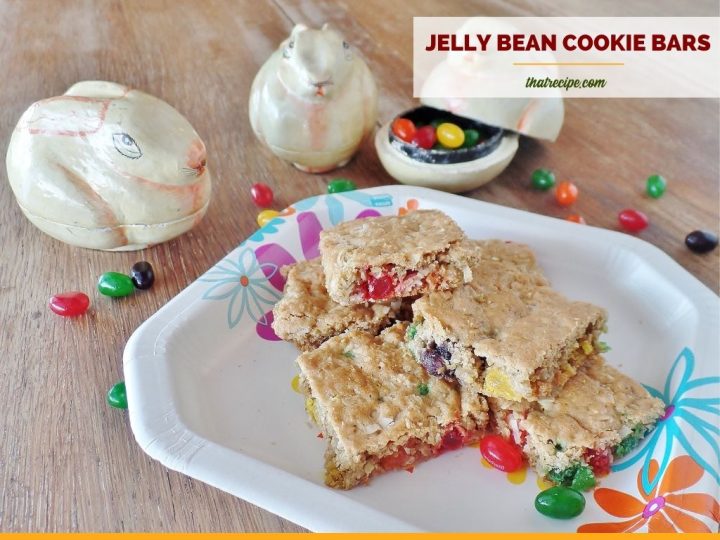 Ingredients
½

cup

butter

½

cup

brown sugar

½

cup

granulated sugar

1

large

egg

1

tablespoon

vanilla extract

1

cup

all purpose flour

¾

teaspoons

baking powder

½

teaspoon

baking soda

½

teaspoon

salt

1 ½

cup

old fashioned oats

(or quick cooking rolled oats)

1 ¼

cup

unsweetened coconut

¾

cups

jelly beans

(more or less)
Instructions
Preheat oven to 350℉. Grease a 13 x 9 pan, or line with parchment paper.

In a large bowl, cream butter and sugars until light and fluffy, 2-3 minutes.

Beat in egg and vanilla.

In a medium bowl whisk together flour, baking powder, baking soda and salt. Add to butter mixture and beat until combined.

Stir in oats, coconut and jelly beans.

Press into pan using wet hands (or a spoon if you are a neatnik).

Bake until golden brown, about 15 minutes. Let sit for a few minutes after removing from the oven, then cut and remove from pan to a cooling rack.
Until next time, happy eating.
~Audrey