Jump to Recipe
Print Recipe
Strawberry Cream Cheese Swirl Bars: fresh strawberries mixed with a cream cheese dough for a soft and sweet cookie with the perfect amount of tang.
These lovely Fresh Strawberry Cream Cheese Swirl Bars are a delicious way to celebrate Spring.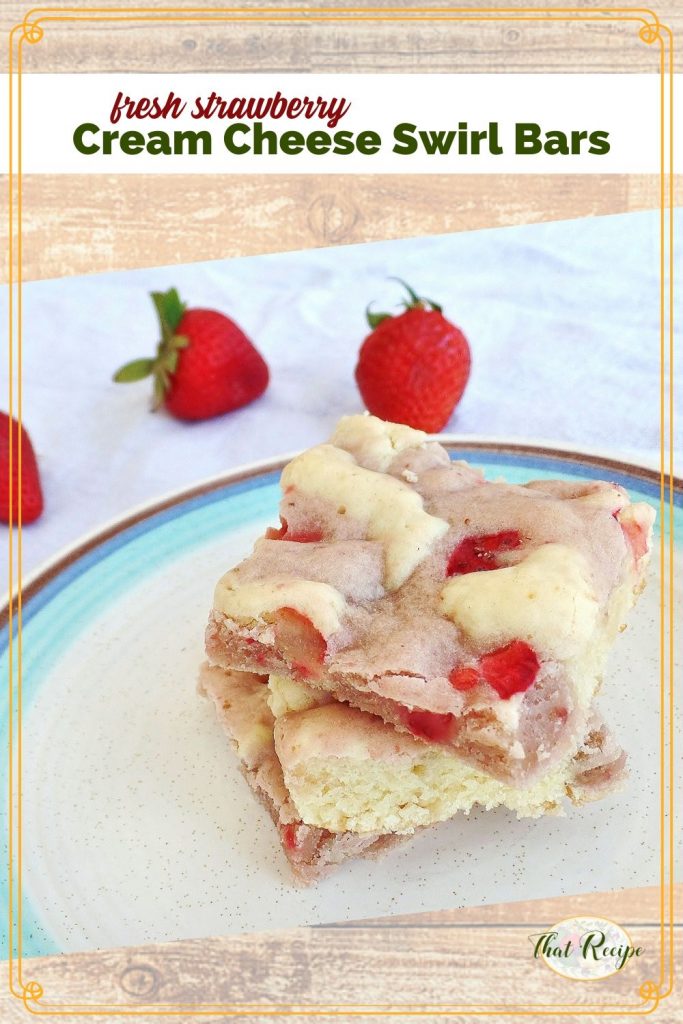 Fresh strawberries just scream spring! The only drawback is that when mixed with batter that beautiful bright red color becomes a pale dusty rose.
I could have used food coloring to make up for it, but that seems ... I don't know... disingenuous?... unnecessary?... phony? I guess I am as programmed as everyone else to think if it is strawberry it needs to have that artificial red color.
Instead of grabbing the food coloring I decided to chop up some fresh berries and add those too for extra strawberry flavor and a nice pop of bright red color.
Thanks to the cream cheese these cookie bars have a soft chewy texture and just a hint of tanginess.
And I think they make a nice little spring treat.
Strawberry Cream Cheese Swirl Bars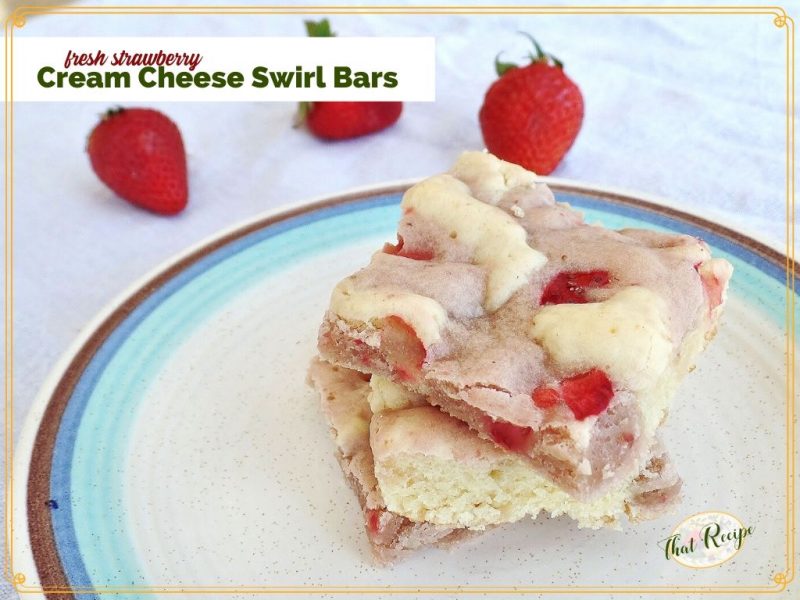 Ingredients
¾

cups

strawberries

4

oz

low fat cream cheese

(room temperature)

4

oz

butter

(room temperature)

1

cup

sugar

1

egg

1

teaspoon

vanilla extract

1

cup

flour

½

teaspoon

baking powder

¼

teaspoon

salt

¼- ½

cup

flour
Instructions
Preheat oven to 350. Grease a 9" square baking pan.

Puree enough strawberries to make ½ cup of puree. Finely chop remaining berries and set aside.

In a large bowl, cream butter and cream cheese until blended. Add sugar and beat for 1-2 minutes. Add egg and vanilla and beat until combined.

In a medium bowl whisk together 1 cup of flour, baking powder and salt. Gradually add flour mixture to cream cheese mixture and beat until combined.

Separate half of the dough into the medium bowl and add strawberry puree. Mix until combined. Add enough flour until dough is roughly the same consistency as plain half of dough.

Drop heaping tablespoons of dough into a 9" square baking pan, alternating strawberry and plain. Top with chopped strawberries.

Press down with wet hands and swirl.

Bake until cookie turns light brown, about 10-15 minutes. Cool, cut into 16 bars.
Until the next time, happy eating.
~Audrey