Jump to Recipe
Print Recipe
Mutant Muffins: Lemon Blueberry Muffins with Spinach - A low fat lemon blueberry muffin colored with spinach puree for your TMNT fan.
These Lemon Blueberry Muffins have a not so hidden ingredient, pureed spinach. Perfect for St Patrick's Day or Ninja Turtle fans.

Every month the Crazy Ingredient Challenge Bloggers choose two ingredients that may not normally be paired together and make a recipe from them. This month we chose Spinach and Blueberries. I could have gone with a salad or a smoothie, but I like to push the envelope a bit with the CIC. So, I came up with these TMNT Mutant Muffins (actually Lemon Blueberry Muffins with spinach puree).
Be sure to scroll past the recipe to see what the other bloggers created with our ingredients.
Yes, I hide vegetables in baked goods. Yes, I use marketing names for recipes to try to entice my son to eat them. If you don't approve, you don't have to do the same thing. As for me, I do whatever it takes to get this face when he eats spinach.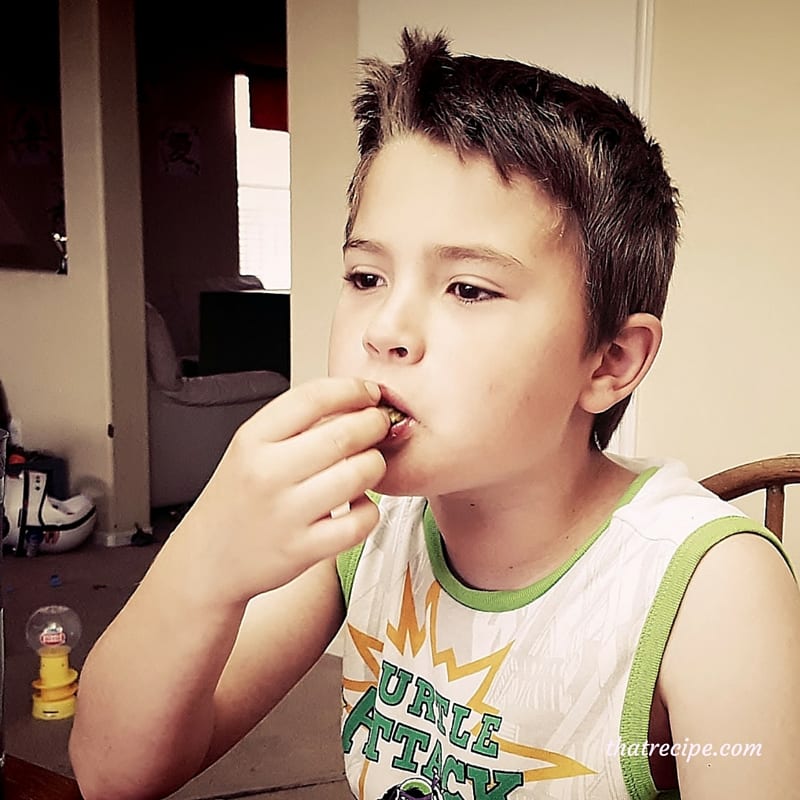 The recipe is adapted from Deceptively Delicious by Jessica Seinfeld (affiliate link, see disclaimer here). She uses yellow squash to give them a nice lemony yellow hue which would be nice, but I needed to use spinach. I also substituted real butter instead of the trans-fat free tub margarine. Oh wait, coconut oil is now the "in" fat to use. I am out of that at the moment.
Despite the green appearance, these taste like Lemon Blueberry Muffins. You don't taste the spinach at all. And if you are careful and puree it thoroughly plus puree it again with the yogurt you don't see any flecks of spinach either, just an even bright green hue.
Mutant Muffins: Lemon Blueberry (with Spinach)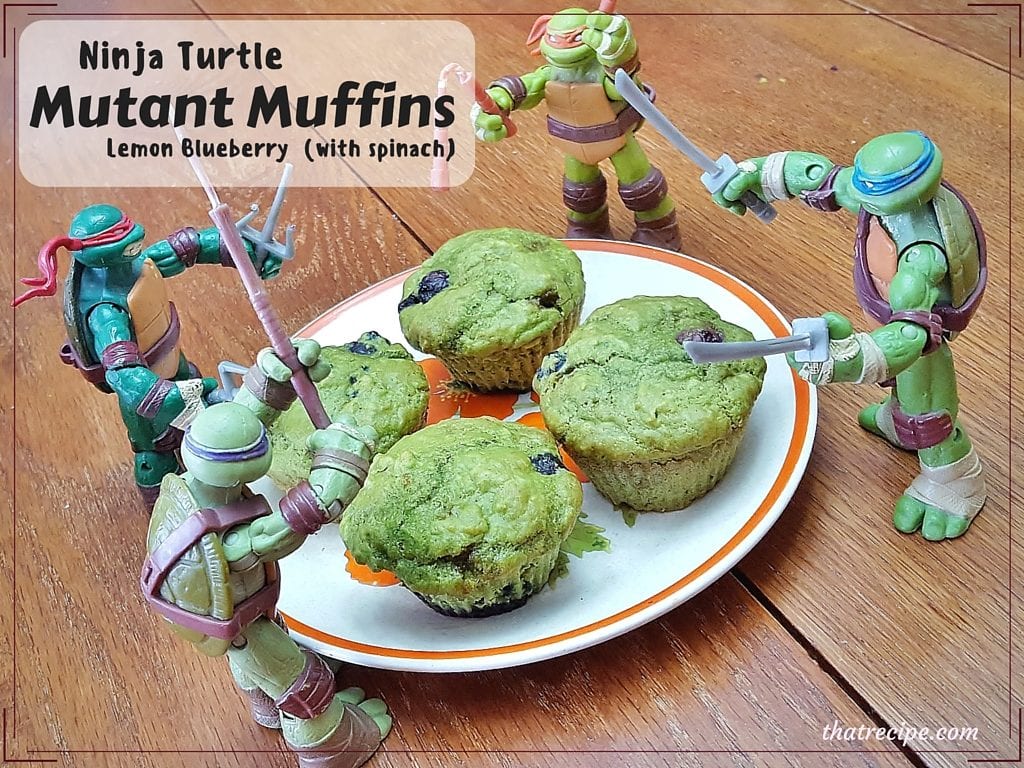 Ingredients
1

cup

spinach leaves

1

cup

lowfat lemon yogurt

½

cup

brown sugar

(lightly packed)

4

tablespoons

butter

(softened)

1

large

egg

2

teaspoons

pure lemon extract

1

teaspoon

lemon zest

2

cups

all purpose flour

1

teaspoon

baking powder

1

teaspoon

baking soda

½

teaspoon

salt

1

cup

fresh blueberries
Instructions
Preheat oven to 350 degrees F. Grease muffin tin or line with cupcake liners.

In a microwave safe dish cover spinach leaves with water and microwave one minute (or use a small saucepan and simmer for about 2-3 minutes until spinach is starting to cook, don't over cook!).

Put the spinach leaves and a tablespoon or two of water into a blender and puree until smooth. Add yogurt and puree another few seconds until blended.

In a medium bowl, mash together butter and sugar with a wooden spoon until blended.

Add egg, lemon extract and lemon zest and beat until combined. Add spinach yogurt mixture and hand mix until combined.

In a separate bowl, whisk flour, baking powder, baking soda and salt. Combine with liquid ingredients until just combined.

Fold blueberries into the batter.

Pour into prepared muffin tin and bake for about 13-15 minutes (until toothpick inserted in the center of a muffin comes out clean.
Until next time, happy eating.
~Audrey