Jump to Recipe
Print Recipe
Homemade Cantaloupe Jam is a unique condiment and great way to preserve summer melons for months to come, if it lasts that long.
Melon Jam? with Tarragon? What is Tarragon anyway? You can use it in more than Béarnaise sauce? Is the jam any good?
Yes. Yes. An herb. Yes. Yes.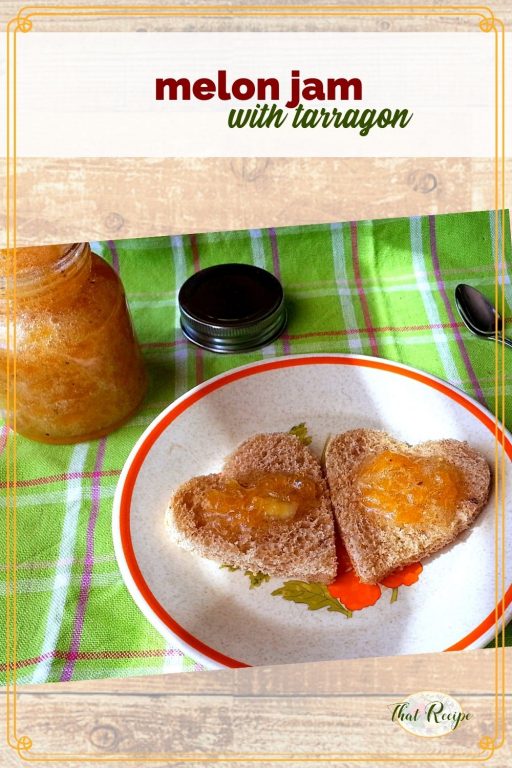 I understand your confusion. Melon is not the first fruit that comes to mind for jam making to me either. Sure, I have made Watermelon Rind Preserves, but I never thought of making jam from the actual fruity part. Like the Watermelon Rind Preserves, I got the idea from a book.
This recipe is from Home Made Summer by Yvette Von Boven.
What type of melon should I use to make jam?
I used cantaloupe to make this one, and I liked the citrus and tarragon accents. You can use any melon except watermelon (the water content is too high for proper gelling).
Tips for Jam Making and Canning
This jam is a great "starter" recipe for people that are new to jam/jelly making since it uses powdered pectin to gel. I have been making jam for quite a few years now. I am not any expert by any means, but I did add a few tips I've discovered in my own jam making journey.
You might want to read through these instructions on Ball's Fresh Preserving site if you haven't canned before. Don't be intimidated, it is easy. Use fresh jars and boil everything before and after filling.
Or, just put the jam in a container directly in the fridge, it'll keep for a few months.
Melon Jam with Tarragon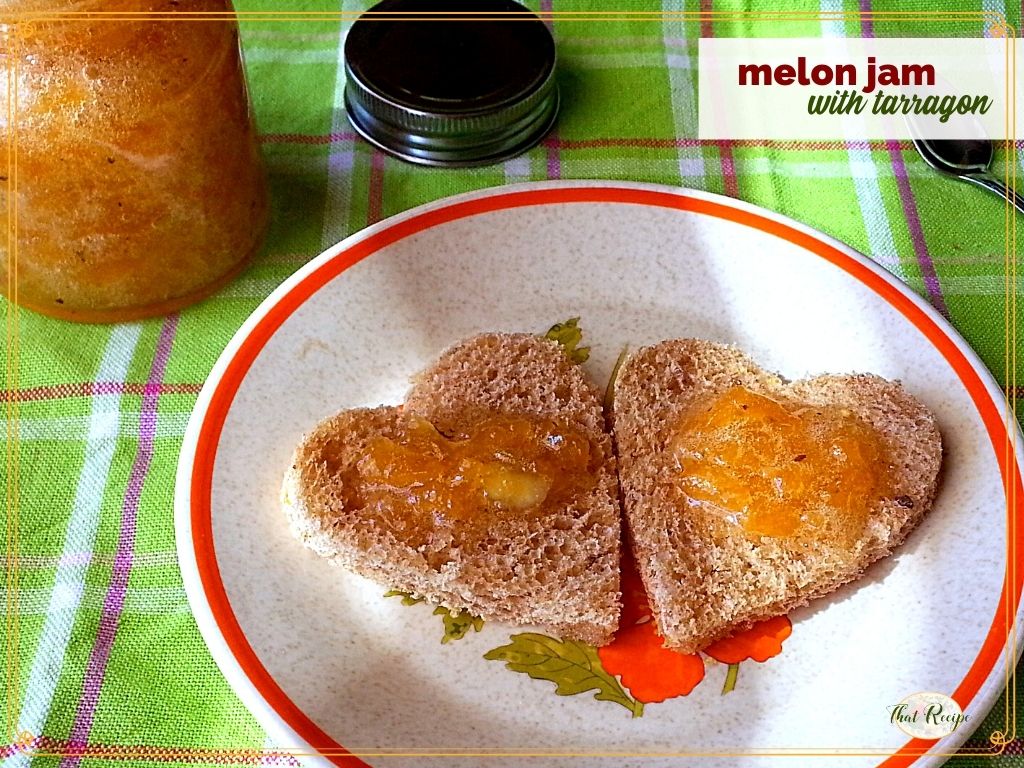 Ingredients
2 ¼

pound

ripe melon (see note)

(peeled, cleaned and chopped)

5

cups

sugar

1

packet

(1.75 ounce powdered pectin)

1

orange

(halved and seeds removed)

1

lemon

(halved and seeds removed)

4 -5

tablespoons

fresh tarragon

(finely chopped)
Instructions
Put the melon, sugar and pectin in a large non reactive pot. Squeeze the orange and lemon, add juice and rinds to the bowl. Mix and let sit (macerate) for ½ - 6 hours.

At least 10-15 minutes before cooking, place 2 metal teaspoons (tablespoons) in the freezer.

Place the pan over high heat and bring to a boil, reduce the heat to low and simmer for 5 minutes. Remove from heat.

With your stirring spoon place a small amount of jam onto one of the frozen spoons and let it cool for about 15 seconds. If the jam is still too liquid, cook for another few minutes and retest with the other spoon.

Remove the orange and lemon rinds and add the tarragon. Use an immersion blender briefly to blend in the herb.

Immediately ladle the hot jam into sterilized jars to the ¼ inch line. Process for 15 minutes in a boiling-water canner.
Notes
Use any kind of melon except watermelon for this recipe (the water content is too high).
Makes 4 half pint jars.
Until next time, happy eating.
~Audrey