Jump to Recipe
Print Recipe
Nan-e Berenji are Perisan New Year's Cookies flavored with rose water and cardamom traditionally served for Nowruz.
Nan-e Berenji, or Nan Berenji or Naan Berenji, are floral sweetly spiced shortbread cookies perfect for celebrating Spring.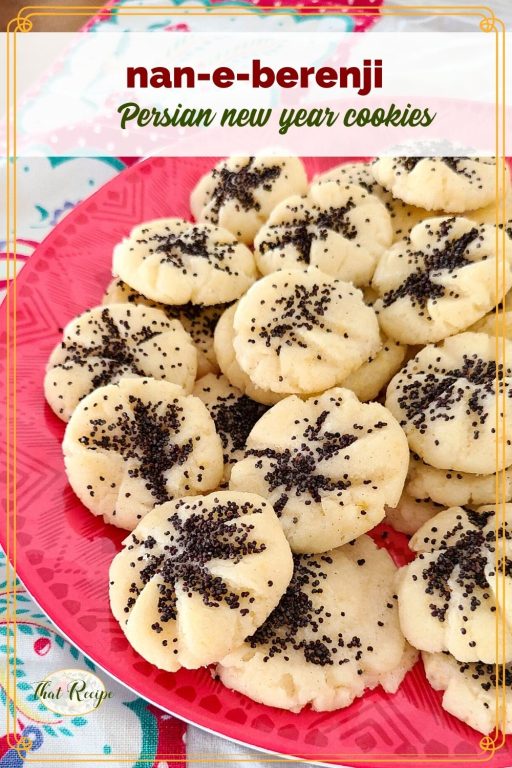 Rose flavored cookies? YES!
If you have never tried floral flavored food they taste just like the smell.
You might be able to find rose water at a good liquor store. But, I bought this Nielsen-Massey version online. It might seem a bit pricey but a little goes a long way. You can add a little in homemade jams or jellies, add a splash to drinks like this Blackberry Prosecco Punch or try it in Raspberry Rose Sugar Cookies, Rose Milk Gelatin.
In Nan-e Berenji the rose flavor is paired with cardamom. A-MAZ-ING! You can omit the cardamom if you like, but it is one of my favorite spices. It's like a combination of cinnamon and nutmeg with a hint of mint and citrus.
How to Shape Nan-e Berenji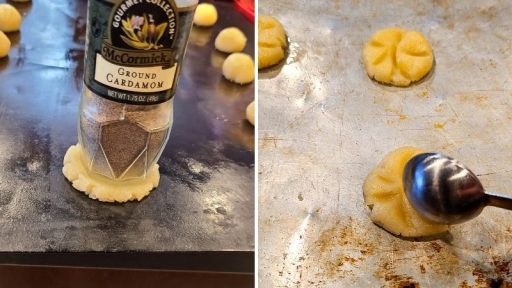 These cookies are traditionally rolled into a ball and then pressed with a decorative stamp to help hold the poppy seeds on top. You can purchase moon cake molds like this to achieve the effect.
I did not have those, so I searched my kitchen for anything I could use for a pretty design and came up with the bottom of the cardamom jar. It worked okay, but the edges cracked and it wasn't as pretty as I'd like.
Then I tried a spoon trick I read in another post to make a flower shape. Turn a spoon sideways and press lightly from the center outward making spokes. No cracking and a lovely little spring flower.
More Spring Sweets Recipes from #OurFamilyTable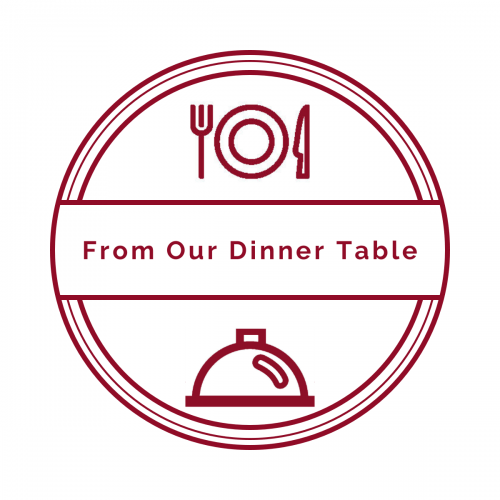 We are gearing up for Spring with these lovely desserts.
Springtime Sweets

We share Recipes From Our Dinner Table! Join our group and share your recipes, too! While you're at it, join our Pinterest board, too!
Nan-e Berenji (Persian New Year Cookies)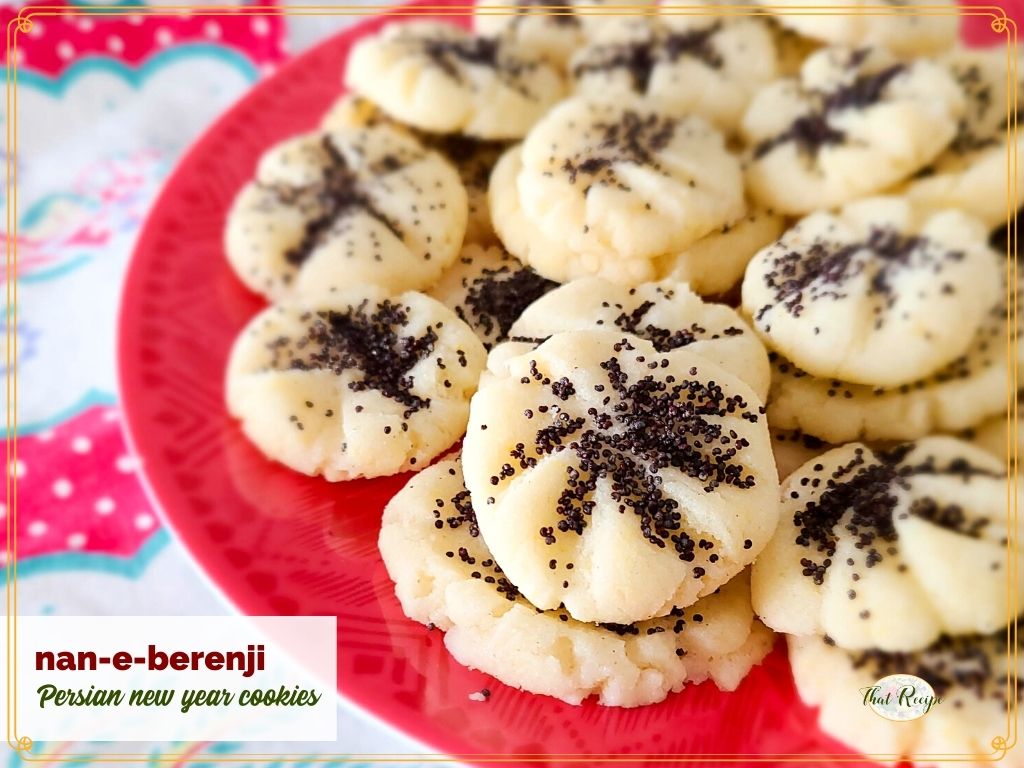 Ingredients
1

cup

butter

1½

cup

powdered sugar

2

eggs

(seperated)

3¼

cups

rice flour

1

tablespoon

rose water

3

tablespoons

water

1

teaspoon

ground cardamom

2

tablespoons

poppy seeds
Instructions
In a mixing bowl combine butter, powdered sugar and egg yolks.

Add flour, rose water, water, and cardamom.

In a separate bowl, beat egg whites to firm peaks (when you remove the beater the "mountain" stands up straight but the tip of it folds over. A little more than soft peak, but not stiff peak).

Fold the egg whites into the other ingredients and refrigerate overnight.

Roll into tablespoon size balls and flatten with a cookie press or the tines of a fork or turn a small spoon on its side and press into the cookie from the center to the outer edge of the cookie (like spokes of a wheel).

Sprinkle with poppy seeds.

Bake for 10-15 minutes, until the edges just start to tinge brown. Remove from the pan and place on cooling rack until cool.
Until next time, happy eating.
~Audrey