Jump to Recipe
Print Recipe
Easy Barbecue Spareribs with homemade rub and barbecue sauce baked in the oven so you can enjoy the taste of summer all year.
If you like easy no fuss ribs, then these Oven Baked Barbecue Spareribs are calling your name.
No standing over the grill in the elements stressing over flare ups and ending up with charred dried out meat? Count me in!

This recipe only takes a few ingredients. You can choose to use your favorite premade rib rub and barbecue sauce to save yourself more time and effort.
I used my homemade rib rub which is a sweet and spicy mix with ingredients you probably have in your pantry. Then I took a boring can of tomato sauce, added a little of the rub mixture and some molasses to create the sauce.
Easy peasy, right?
Tips for Oven Baked Barbecue Ribs
The only drawback is the long cooking time, almost 2 hours! But, all you need to do is stop by every 15 minutes or so and give it a nice basting to make sure the ribs stay extra flavorful.
One word of warning about this recipe is to be sure to heavily spray the bottom and sides of your pan or line it with aluminum foil unless you like scrubbing pans.
Trust me.
I didn't coat the sides of the pan enough and of course I got sauce on it when basting the ribs - there went my manicure.
Oven Baked Barbecue Ribs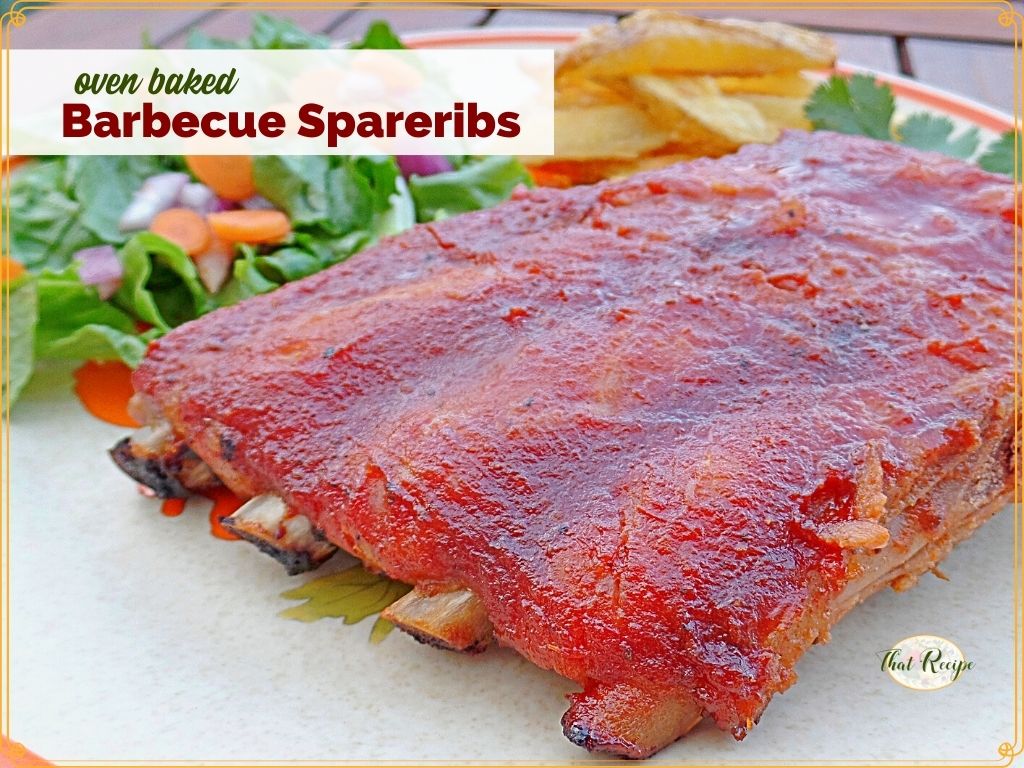 Ingredients
2

pounds

pork spareribs

barbecue rib rub

1

can tomato sauce (14-15 ounces)

2

tablespoons

honey or molasses
Instructions
Preheat oven to 450 degrees F. Line a 9 x 13 pan with aluminum foil or spray with non-stick cooking spray.

Rub ribs with a few tablespoons of rib rub. Place in pan and cover loosely with foil. Bake in oven for 15 minutes.

In a small saucepan, combine tomato sauce, honey and 1 tablespoon rib rub. Heat on medium high for approximately 5 minutes. Remove from heat.

Remove ribs from oven. Reduce heat to 350 degrees F. Pour sauce over ribs, cover with foil and return to oven. Bake for one hour, basting ever 10-15 minutes. Add water to the bottom of the pan if the sauce begins to burn.

Remove from oven, let rest for 20 minutes. To serve, cut ribs ⅔ of the way through to make easier to separate by the diner.
Notes
I recommend using our homemade rib rub. It only takes a few minutes to throw together and you can tailor it to your family's preferences.
Until next time, happy eating.
~Audrey