Jump to Recipe
Print Recipe
Cucumber Sandwiches for a tea party. Simple cream cheese and cucumber sandwiches cut into small circles make a dainty addition to a tea party.
Easy Tea Sandwiches make tea time fun.
Picture if you will: in a bygone era, in a more genteel time, in a flower garden in full bloom, a group of well dressed ladies sitting with legs lightly crossed at the ankles, white gloves in their laps, sipping on tea from fine china cups, nibbling on dainty little sandwiches and engaging in delightful conversation.
And in my vision those sandwiches are Cucumber Sandwiches and Watercress Sandwiches and look something like this: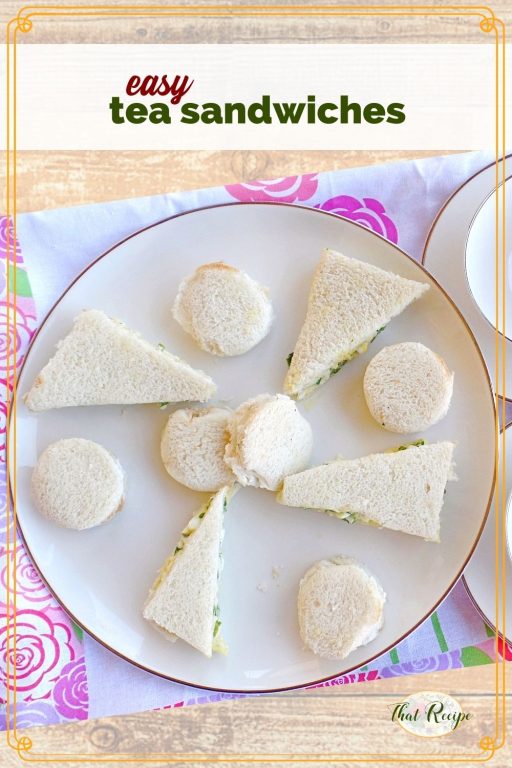 I love being a "boy mom". But, let's be honest, having a Tea Party is just not his "cup of tea". Ok, bad jokes aside, he might like the tea and goodies but sitting and having a quiet conversation is not going to happen. Unless I want to talk about Ninja Turtles and Super Mario.
And then I remind myself that renting a tuxedo is much easier and cheaper than a prom dress and I love being a boy mom again.
These sandwiches would be perfect for a girls birthday party, a Mother's Day Tea or a Bridal Shower. Or have them for lunch like I did as soon as I thought I had enough photos for this post.
Cucumber Sandwiches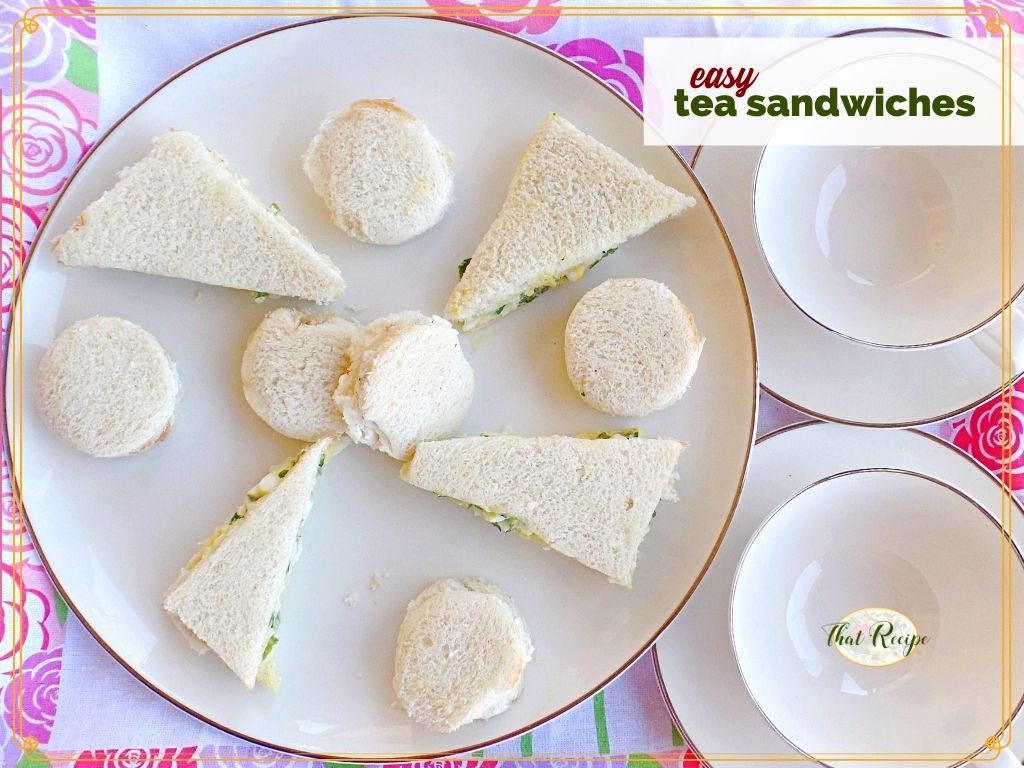 Ingredients
4-6

slices

cucumber

1

tablespoon

cream cheese

2

pieces

bread

salt and pepper to taste
Instructions
Peel cucumber.

Thinly slice 4-6 slices of cucumber depending on the size of your bread.

Spread cream cheese on one slice of bread. I like to soften the cream cheese a bit with the knife before spreading on the bread so I don't tear the bread.

Put cucumber slices on bread. Sprinkle with salt and pepper.

Add top slice of bread. For tea sandwiches, carefully cut around each cucumber slice with a small biscuit cutter.
Watercress Sandwiches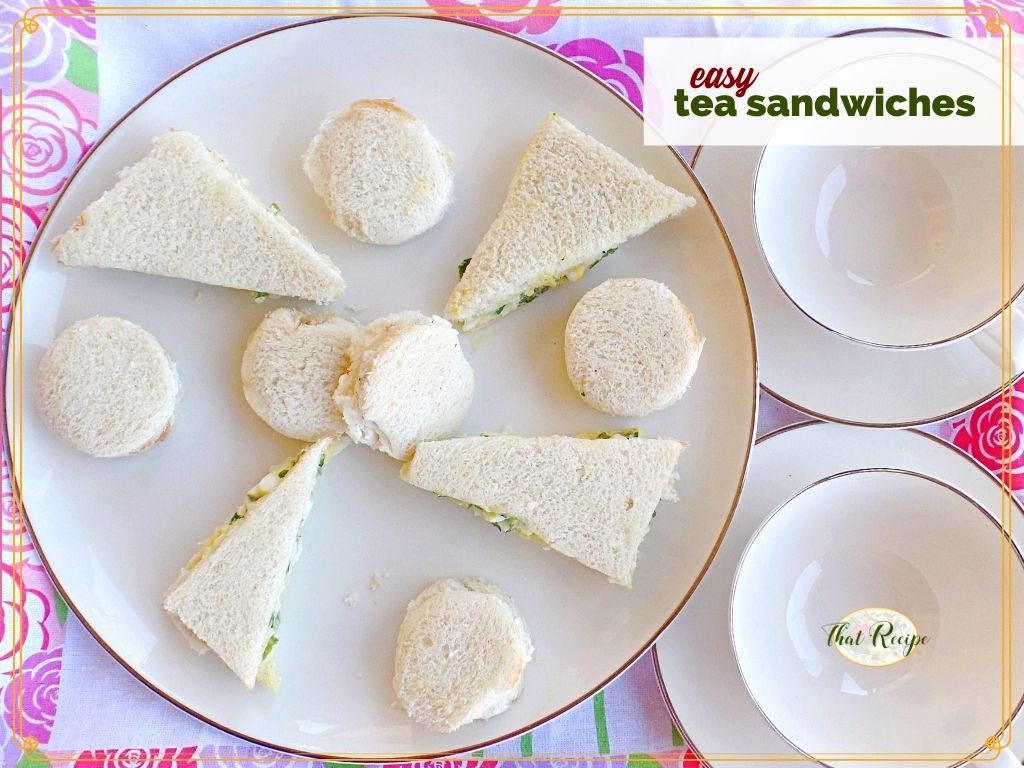 Ingredients
1

large

hard boiled egg

6-8

sprigs watercress

(washed and dried)

1

tablespoon

mayonnaise

1

teaspoon

milk

2

pieces

bread
Instructions
Chop egg in to small pieces.

Chop watercress leaves and small top stems into small pieces.

Combine egg and watercress and chop into fine pieces.

In a small bowl thin mayonnaise with milk. Combine with egg and watercress.

Spread on one slice of bread.

Top with other slice of bread. For tea sandwiches, cut off crusts and cut sandwich into small triangles or squares.
Notes
If you don't have watercress, flat leaf Italian parsley makes a good substitute.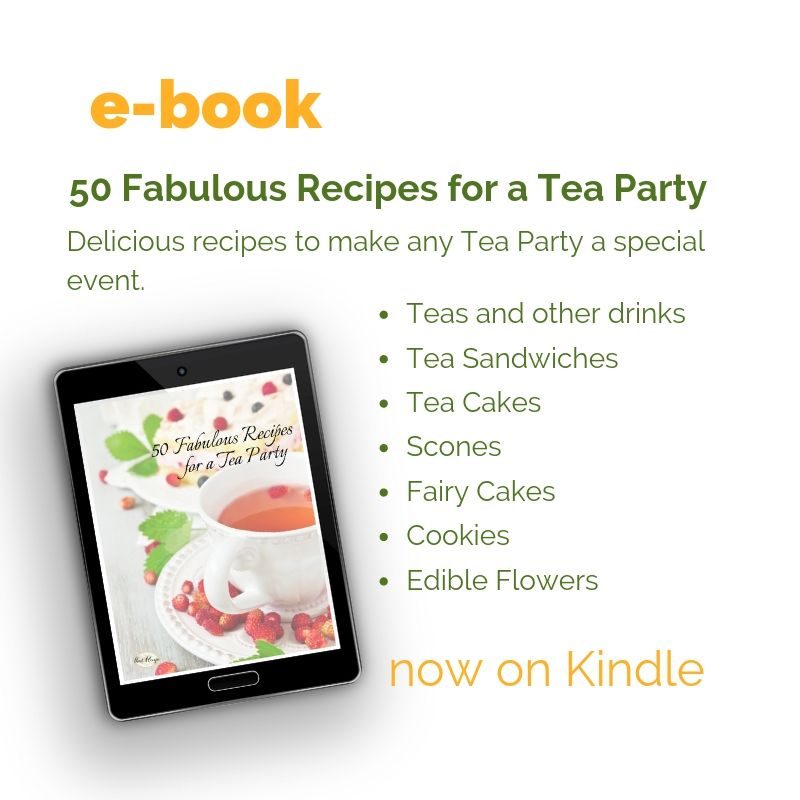 Get more recipes and tips for hosting a tea party in my e-book available on Kindle.
Until next time, happy eating.
~Audrey