Jump to Recipe
Print Recipe
Southern Style Skillet Biscuits: buttermilk biscuits baked in a cast iron skillet and topped with bacon grease.
Southern Style Biscuits are light and fluffy buttermilk biscuits cooked in a cast iron skillet for extra height with bacon grease or butter baked right on top.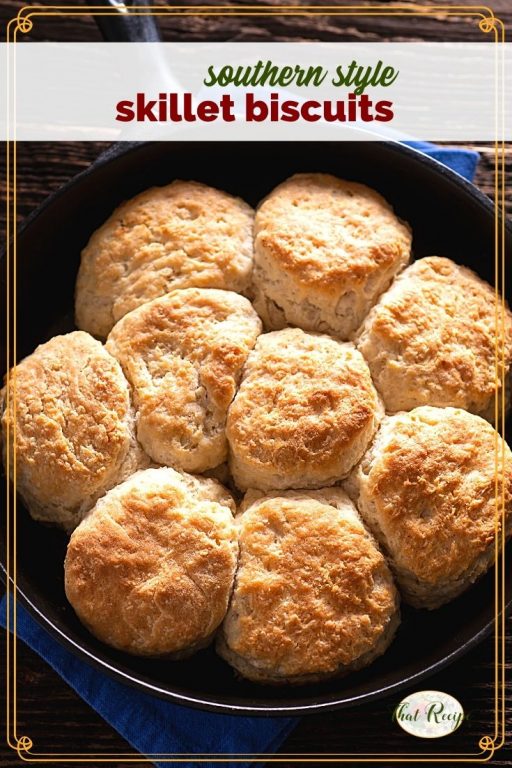 On Sunday afternoon, my cousin Linda posted a picture of some of the most beautiful biscuits I have ever seen (okay, I may have been very hungry at the moment). But, I wasn't the only one that oohed and aahed over them. Luckily, she graciously obliged us with the recipe.
Technically, I should call these Texas Style biscuits because Linda is from Texas and "Texas isn't the South, Texas is Texas" as I have been told many a time by my Texas family. But, I think SEO-wise Southern Style is a bit more inclusive.
The recipe is similar to the Refrigerator Biscuits I already have on the site with two key differences. These are baked in a cast iron skillet and they are topped with bacon grease. Mmmmm bacon!
When I offered one to my husband after baking, he sniffed it and immediately asked "What did you add to these? They smell different. They smell like .... like bacon!" And then the biscuit disappeared in 2 bites.
Baking with a Cast Iron Skillet
The other key to these is the cast iron skillet.
Yes, you need one. Not just for this recipe, but for every other thing you would make in a skillet.
Seriously, go buy one now if you don't already have one (affiliate link). Unless you have arthritis like Ma'am and can't lift them anymore.
Otherwise cast iron is a healthier way to cook than non-stick pans. And they heat so evenly. And can go directly into the oven. And are easy to clean (scrub with a brush and rinse - no soap). And.... okay, I will stop
Sigh! If you don't have an oven proof skillet you can use a cake pan. The idea is to have the biscuits nestle close together as they bake so they will rise higher. You could even cheat and bake those pop-open store bought ones like this if you want to.
But, once you try these biscuits you won't be buying those store bought ones anymore.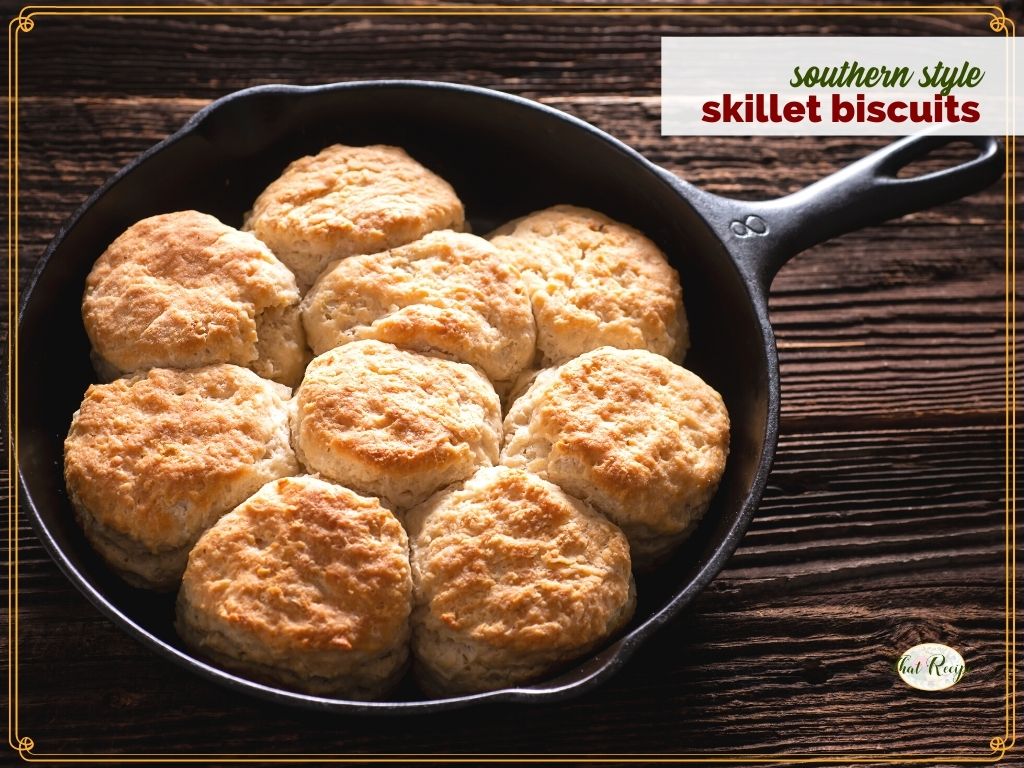 Ingredients
2 ½

cups

flour

2

tablespoons

sugar

1 ½

teaspoon

baking powder

½

teaspoon

baking soda

¼

cup

shortening

(melted)

1

heaped teaspoon rapid rise yeast

(½ pack)

1

tablespoon

warm water

1 ¼

cup

buttermilk

1-2

tablespoon

bacon grease or butter

(optional)
Instructions
Dissolve yeast in water and let proof for a few minutes until bubbly.

Sift flour, sugar, baking powder, baking soda and salt into a medium bowl.

Add buttermilk, yeast and melted shortening to flour mixture and stir to combine.

Roll out dough about ¾" thick on a floured board. Cut with biscuit cutters and place in a cast iron skillet. Place near oven while preheating to rest and rise a bit.

Preheat oven to 425 degrees F. Bake for 10 minutes until biscuits look like they are barely baked on top. Top biscuits with bacon grease and bake for 5-10 minutes until as brown as you desire.
Notes
This makes enough for one pan of biscuits. You can double the recipe to use the full pack of yeast then shape and freeze half of the biscuits for another time. Just defrost them completely before baking for full rise in the oven (at least 30 minutes before preheating the oven).