Jump to Recipe
Print Recipe
Easy Steamed Pork Buns: fluffy dough stuffed with flavorful pork and mushrooms with optional sausage and eggs. Perfect for Lunar New Year
These Steamed Pork Buns are easy to make and are delicious anytime of year, especially for Lunar New Year.
This recipe came from a dear friend, Tola, who also gave me this amazing Asian Marinade recipe. I adjusted it a bit for my family's tastes and for my laziness to drive cross town to the Asian Market.
There is no way my husband and son would go for the boiled egg inside. So, I made a few for me with egg, and left them out of the rest.
Ingredients for Steamed Buns
My friend uses a ready made mix for the bun dough. But, you probably need to get it at a specialty market since I didn't see it in the Asian Food Aisle of my supermarket. So, I used the recipe in Ming Tsai's Blue Ginger cookbook. Just basic flour, sugar, yeast, shortening.
The shitake or wood ear fungus may be available fresh in the produce aisle, or you can check for dried in the Asian aisle. If using dried, be sure to soak before using.
Some ground pork, onions, garlic, salt an pepper round out the filling list.
I also couldn't find the Chinese sausage. So, I went with some linguica so I can make some Portuguese Beans with Linguica another day.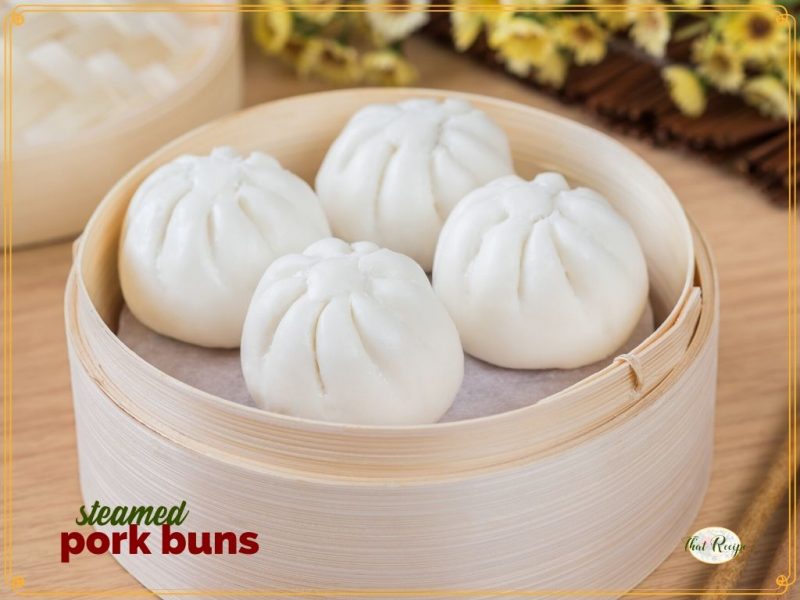 Ingredients
DOUGH
¾

cups

water

2

tablespoons

sugar

2 ¼

teaspoons

yeast

(1 package)

3

cups

flour

2

teaspoons

lard or shortening

(melted)
FILLING
1

pound

ground pork

⅓

cup

wood ear fungus or shitake

(finely chopped)

⅕

cup

onions

(finely chopped)

1

tablespoon

garlic

(finely chopped)

½

teaspoon

salt

1

teaspoon

pepper
BUNS
3

boiled eggs

(cut into quarters)

¼

pound

Chinese sausage

(cut in 12 slices)
Instructions
dough
Add sugar and yeast to the warm water and let it sit for 5-10 minutes to get foamy on top (I use the measuring cup - one less thing to wash!). If it does not foam, your yeast is bad and the dough will not rise.

In a food processor combine flour, lard/shortening and yeast mixture. Blend until dough forms a ball.

On a floured board knead dough until smooth and elastic, about 10 minutes. Divide dough into 12 balls.
filling
Combine all filling ingredients. And divide into 12 portions.
buns
Roll a ball of dough into a 2-3" circle with hands. Add one portion of pork filling, ¼ of an egg and a slice of sausage.

Pull dough edges to the top to surround the filling and pinch to close.

Place dough seam side down on a piece of parchment paper and place in a bamboo steamer with room for the buns to expand (about 4 per steamer tray). Repeat with all buns.

Cover with a towel and let rise until buns are doubled in size, about 1 hour.

Steam buns for 30 minutes.
Until next time, happy eating
~Audrey