Apple recipes are perfect for celebrating Fall, including everything from breakfasts to desserts and plenty of delicious ideas in between.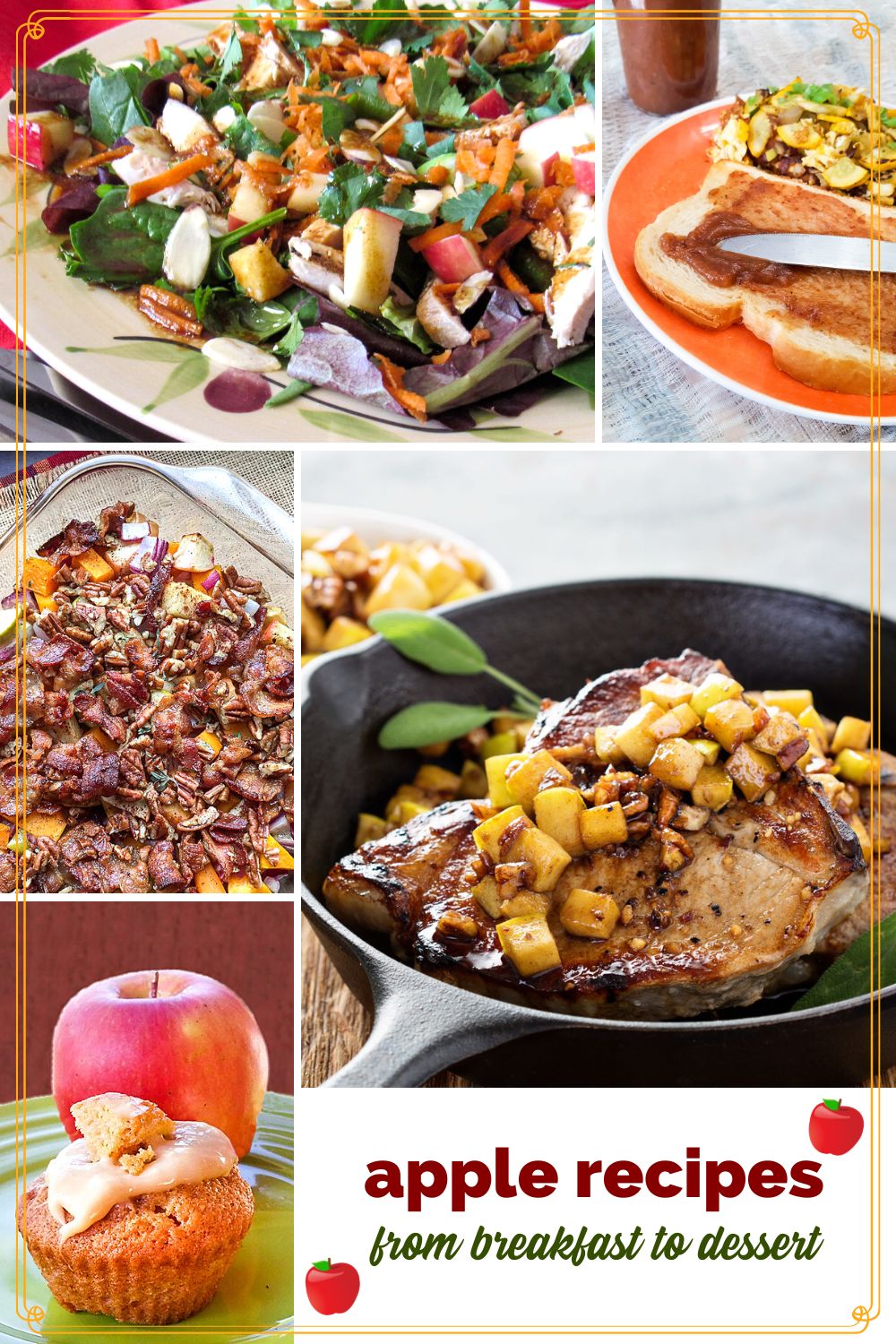 NUTRITIONAL BENEFITS OF APPLES
There is a reason for the cliché that an apple a day keeps the doctor away. These sweet little fruits have plenty of health benefits:
Apples are packed full of soluble fiber, which can lower cholesterol and prevent heart disease and some cancers.
A single apple can provide 10% of the recommended daily value of Vitamin C. Vitamin C helps boost your immune system and fight off infection.
They also provide B-Complex vitamins that work to maintain red blood cells and aid in the protection of the nervous system.
Apples also contain antioxidant and polyphenol compounds that attach to and neutralize cancer-causing free radicals and may also prevent dementia and strokes.
Tips For Storing Apples

Apples keep best stored about 30-35 degrees. The crisper drawer of the refrigerator is a great place.

But, be careful when storing other fruit in the same drawer. The ethylene gas apples give off will speed the decay of other produce.
Apple Recipes
Here's a collection of recipes perfect for Apple Picking season or for when you just want some apple goodness.
Apple Breakfasts
Apple Pancakes from Beauty Bites
Apple Raisin Breakfast Cookies
Apple Baked Oatmeal from the Foodie Dietician
Apple Spreads
Apple Pear Butter in the Pressure Cooker
The No Peeling Applesauce Experiment from So Much to Make
No Sugar Added Maple Apple Jam
Apple Breads, Scones and Muffins
Apple Crumble Muffins from The Anthony Kitchen
Caramel Apple Scones from Blogghetti
Spiced Apple Bread from A Mind "Full" Mom
Praline Apple Bread from Melissa's Southern Style Kitchen
Apple Side Dishes
Apple Butternut Squash Casserole
Apple Quinoa Stuffed Squash from Harvest2U
Apple Scalloped Potatoes from Harvest2U
Cranberry Apple Spinach Salad From Harvest2U
Apple Main Dishes
Apple Brie Grilled Cheese Sandwich
Asian Apple and Chicken Salad from Harvest2U
Baked Sausage with Apples and Cabbage from Wonky Wonderful
Cranberry Apple Chicken Skillet from Boulder Locavore
Apple Desserts
Caramel Apple Cupcakes from Home Maid Simple
Apple Cranberry Crisp from the Farm Girl Gabs
Cranberry Apple Crumble Bar from Craving Some Creativity
Until next time, happy eating.
~Audrey