These Black Bean Pesto Crackers used up items I had around the house and ended up being a tasty and healthy snack. Win-Win!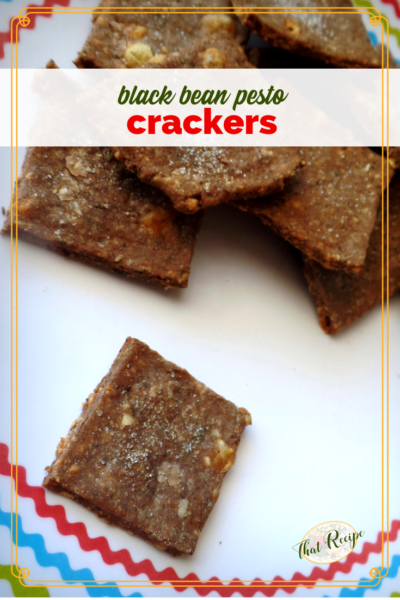 Especially great this time of year when we are all trying to eat healthier to offset the damage we did to our waistlines over the holidays. Or maybe it is just me that needs to do that.
These can be made gluten-free (I used a gluten-free flour blend) and vegan (use vegan cheese or eliminate it and increase the fat a bit). Plus if you use no salt added black beans they are low-sodium, low-fat and high in fiber.
And despite all of that, they are still delicious.
A few tips if you have never made crackers before:
yes, you need some fat in it. You can reduce it like I did, but the cheese and nuts will not provide enough and you will end up with a crumbly hard mess. If you want to reduce the fat content further, use fewer or no nuts.
do not add too much flour. same as above, you will end up with a dry crumbly mess. add just enough to be able to roll the dough out.
do not over mix the flour in the dough, especially if using all purpose flour. You will end up with a tough cracker.
experiment with other cheeses, flavors and seasonings. I used basil because I needed to.
I hope you give these a try and enjoy them as much as I did.
[click_to_tweet tweet="Black Bean Pesto Crackers are a simple but healthy snack with lots of fiber and flavor. #homemadecrackers #healthysnacking" quote="Black Bean Pesto Crackers are a simple but healthy snack with lots of fiber and flavor. " theme="style2"]
Black Bean Pesto Crackers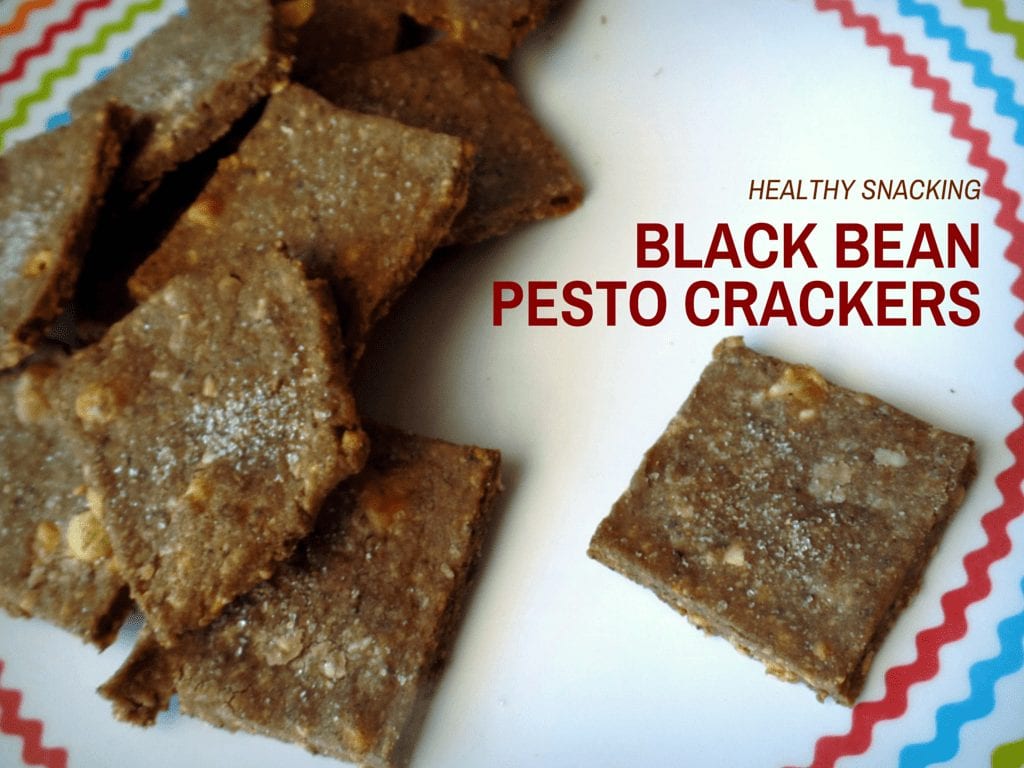 Ingredients
1

can

15 ounce no salt added black beans

(drained and rinsed)

2

ounce

parmesan cheese

¼

cup

fresh basil

(or more!)

3-4

cloves

garlic

¼

cup

pine nuts

(or your favorite nuts or seeds)

2

tablespoons

fat

(butter, shortening, coconut oil, olive oil)

¾ -1

cups

flour

(all-purpose or gluten free)

salt to taste
OPTIONAL
cooking spray

seasoning

(seasoned salt, sea salt, garlic powder, salt free seasoning, etc.)
Instructions
Preheat oven to 375. Drain and rinse the black beans.

Put parmesan, basil and garlic in the food processor and pulse until chunky.

Add black beans, nuts/seeds and fat. Blend until a smooth consistency. This can take several minutes. Add salt to taste.

Add ½ cup of flour and mix by hand just until blended. If dough seems too moist add more flour a small amount at a time. It should be firm enough to roll and cut, but not so much flour that it is crumbly. Roll dough to about ⅛" thick (thinner is better) and cut into desired shapes.

Place on baking sheet, spray with cooking spray and a sprinkle of seasoning.

Bake 15-20 minutes until starting to crisp. remove from oven and let cool a few minutes. Test a cracker for crispness and return to the oven if too soft.
Until next time, happy eating!
~Audrey