Jump to Recipe
Print Recipe
Homemade Pecan Meal Crackers are an easy to make gluten free low carb snack. Enjoy by themselves or serve along with a cheese board.
Homemade Pecan Meal Crackers are a delightful nutty cracker that are tasty on their own or served along with some cheese or dip. Oh, and did I mention they are gluten free and low carb?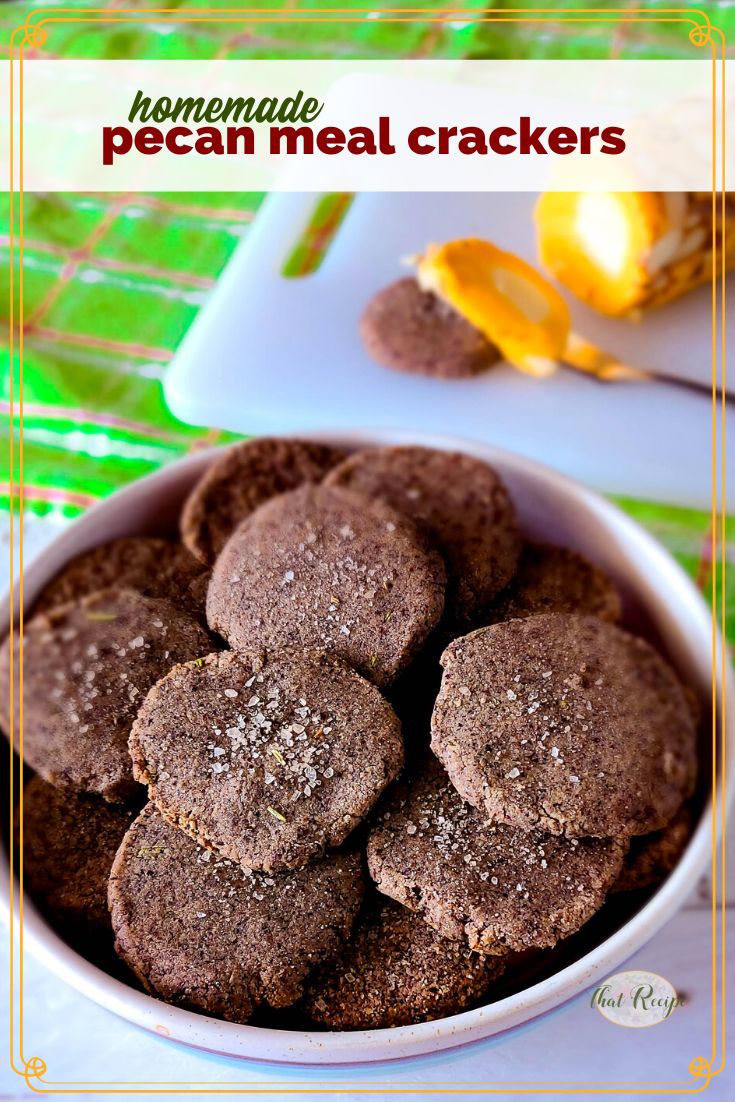 Making your own crackers sounds like such an impressive culinary feat. I thought so too until I found out how simple it is. But, no one needs to tell your guests.
I made these mostly with pecan meal, and the texture is a little different than most crackers. They are a little crumbly when you bite into them. Absolutely delicious, just a little different than if you used flour.
Ingredients and Variations for Pecan Meal Crackers
Pecan meal - yes, you can use pecan flour (omit the rice flour) or other nut meal. Using pecan flour (or almond four) will give you a firmer crisper cracker.
You can make your own pecan meal by pulsing pecan pieces in a food processor until it is uniformly fine. But, do not process too long or it will turn into pecan butter. I often remove the finer bits and keep processing the larger ones.
Rice Flour - this helps glue the crackers together than if you use straight pecan meal. If gluten is not an issue you can use all purpose flour and the texture will be closer to traditional crackers.
Egg White - this is going to work with the flour to hold the pecan meal together. I used egg white, you can try an egg substitute to make these vegan crackers.
Olive Oil - crackers need a little fat for flavor and texture (maybe that's just my opinion). You can use butter or coconut oil, but it may change the flavor.
Baking soda - will help give the crackers a little rise to improve texture.
Salt - a little table salt in the crackers and a sprinkle of some nice sea salt on top for taste.
Water - The actual amount will depend on how dry your ingredients are, and maybe even how moist the air is. Add a tablespoon and mix the dough, if it holds together nicely stop. If not add another tablespoon and mix, stop if it holds together, and so on.
Options - I left mine plain pecan and salt flavored. The best thing about homemade crackers is you can add your own flavors.
Mix in other flavors such as:
herbs (rosemary, basil, tarragon)
spices (garlic or onion powder, seasoned salt, Cajun seasoning)
cheese (Parmesan, cheddar, gruyere)
sun dried tomatoes (chop them finely)
Delicious Cheese Ball Recipes
Whether it is a cheese ball or cheese log, all of these recipes would be delicious served with Homemade Pecan Meal Crackers.
Bacon Cheddar Ranch Cheese Ball from Books and Cooks
Chicken Cheese Ball from Hezzi D's Books and Cooks
Cranberry Paneer Pecan Cheese Ball from Magical Ingredients
Cranberry Pecan Cheese Ball from Family Around the Table
Everything Bagel Cheese Ball from Jen Around the World
Guinness and Caramelized Onion Cheese Ball From Palatable Pastime
Honey Cranberry Cheese Log from Art of Natural Living
Smoked Salmon Cheese Ball from Karen's Kitchen Stories
Chili Cheese Log from That Recipe (hey, that's me!)
Pecan Meal Crackers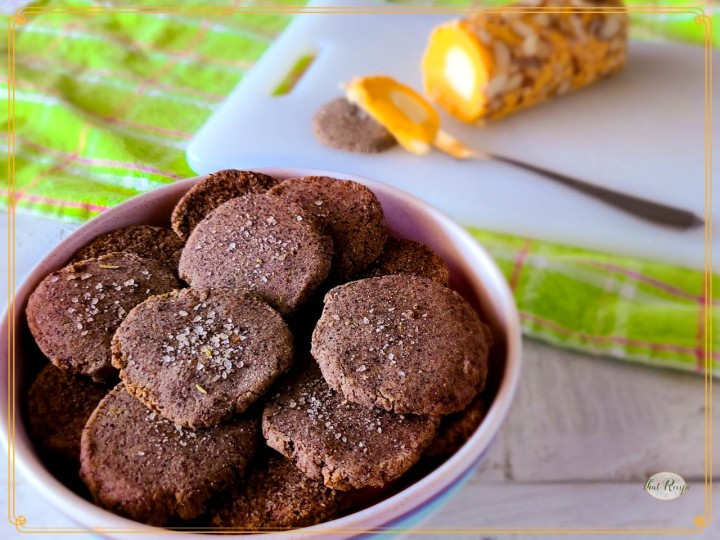 Ingredients
1½

cups

pecan meal

(see note)

⅔

cup

brown or white rice flour

¼

teaspoon

baking soda

¼

teaspoon

salt

2

tablespoons

extra virgin olive oil

1

large

egg white

2-4

tablespoons

water

flaky sea salt

(optional)
Instructions
In a medium bowl mix together pecan meal, flour, baking soda and salt. Mix in olive oil and egg white.

Add water one tablespoon at a time, mixing after each one until the mixture forms a soft dough. I used 3 total tablespoons, you may need more or less depending on the moisture in the pecan meal and flour.

Roll into a 2 inch round cylinder and wrap in plastic wrap. Make sure the dough "squishes" together and there are no air pockets in the middle of your cylinder. Chill the dough for at least one hour to let the flour hydrate completely. Or you can put into a zip to lock bag to freeze for days or weeks.

Preheat oven to 350°F. Line a baking sheet with a silicone baking mat or parchment paper.

Thinly slice the cracker dough and place the rounds on the baking sheet about ½ inch apart.

OPTIONAL: Cut the crackers slightly thicker than you want and press down with the bottom of a cup or even your fingers to help press the dough together and make a thinner cracker.

Sprinkle lightly with flaky sea salt, if using.

Bake at 350° until crackers are crisp on the edges, about 12-14 minutes.
Sound fabulous? Share it!
Until next time, happy eating!
~Audrey