I am a big fan of cranberries. I like them dried and I like homemade cranberry sauce. But, I loathe … uh… do not really care for jellied cranberry sauce straight from the can sliced with the ridges still on it. If you do, enjoy! You can have that while I devour this Brandied Whole Cranberry Sauce.
My mother in law makes this version for Thanksgiving and Christmas. The trick to keeping the cranberries big and whole is to bake them low and slow. And adding some brandy or rum, well that just makes it extra tasty.
The recipe is ridiculously easy to make, but takes an hour to bake. Bake? and take up time and room in the oven on Turkey Day? Nah, it is better to make it the day before so the liquid has time to gel a bit.
I had to modify the recipe a little because the original called for 4 cups of cranberries and a 12 ounce bag is only 3 cups. Grrrr! I hate it when they do that. This is going to make about 3 cups of sauce. You can easily double it if you are feeding a bigger crowd.
But what about the alcohol?
My math calculates that a 1/2 cup serving with brandy at 50-60% alcohol comes out to less than a teaspoon of alcohol. If you are worried about the alcohol, you can make it with fruit juice (orange would be my choice or cranberry or apple).
Or make two versions, this one and one without alcohol for those that should not imbibe. This Cranberry Orange Relish is a delicious raw alternative and just needs to be tossed in the food processor and left in the fridge a bit to chill and blend the flavors together.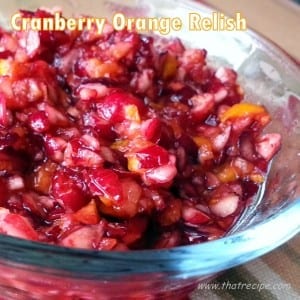 Be sure to pick up an extra bag or two of cranberries now and toss them in the freezer to bake with later in the year.  Because after the first of the year they tend to disappear, and these tart little beauties are good in so many things.
Brandied Whole Cranberry Sauce
Print recipe
Whole Cranberry Sauce made with brandy, rum or other alcohol.
Ingredients
3 cups fresh cranberries (one 12 ounce bag)
1 1/2 cup sugar
1/3 cup brandy or rum or other alcohol
Note
Can easily be doubled for a larger crowd. Make the day before to allow the sauce to thicken.
Substitute orange or cranberry juice for the alcohol for a family friendly version
Directions
Preheat oven to 300 degrees.
Rinse cranberries and discard any moldy or mushy ones. Spread out in a 9 x 13" pan. Sprinkle with the sugar. Pour alcohol over the top.
Bake for 1 hour. Let chill before serving.
Until next time, happy eating.
~Audrey