I have taken on the NaBloPoMo challenge for January to write a blog post every day between this space and Aud the Broad. In the process I have found some great blogs by others taking on the challenge. I have found a kindred spirit at Apron Free Cooking – she loves old cookbooks. After reading one of her blogs I became inspired to renew my annual resolution of cooking one new recipe a week from my cookbooks. I grabbed my Congressional Club Cookbook, 6th Edition and started flipping through it. There on page 18 was this gem from Rosalie King (had to Google him to find her first name):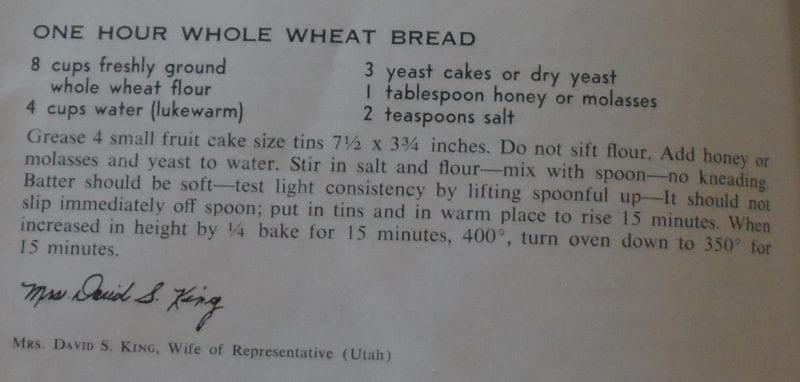 Here's the sound bite from the microphone in my brain: "Homemade yeast bread (whole wheat no less) in AN HOUR?!?! No way! What is a small fruit cake size pan? No kneading? sounds like Chef Tess' No Knead Overnight Bread, but it only takes AN HOUR! Even better, if it actually works. Time for some math, because I am not wasting 8 cups of whole wheat flour on this experiment."
So, I cut the recipe in thirds to equal a pack of yeast, pulled all the ingredients out and called my sous chef over to help me.  As I predicted, the "no kneading" part was not acceptable to him and he plunged his hands right in the dough. I cleaned the goop off of him and sent him on his was so I could finish. The dough did come right off the spoon so I added a little more water to make it stickier.
I planned on checking after 15 minutes to see if it had "increased in height by 1/4", but I got sidetracked and it ended up closer to 25 minutes. It had already risen to the top of the pan!!!!!!! A bit more than 1/4, more like 1/2. After baking as she directed, I pulled out a beautiful loaf of whole wheat bread that was moist and had a nice light crumb (well, light for a whole wheat bread). It had taken a little over an hour, but most of that extra time was for cleaning up J and trying to get the correct consistency.
A few notes:
I used 100% whole wheat flour, not all purpose or bread flour or whole wheat bread flour.
I used active dry yeast, not Rapid Rise or Breadmaker yeast
The downstairs thermostat was set at 72 and I placed the loaf near the already warm oven.
Changing any of the above factors could make it rise faster or higher. I will probably try it with all (or maybe half all purpose flour) soon and I will let you know the results.
In the meantime, if you find yourself craving some healthy home baked bread, even on a week night, and don't want to go through all of the kneading and waiting, you just might want to give this recipe a try.
One Hour Whole Wheat Bread
Moist and delicious Whole Wheat Bread with yeast that goes from ingredients to out of the oven in under one hour with no kneading.
Ingredients
1 1/2

cup

warm water

approximately 100 degrees

2 1/4

teaspoons

active dry yeast

1 package

1

teaspoon

honey or molasses

2 2/3

cups

whole wheat flour

3/4

teaspoons

salt
Instructions
Grease one loaf pan. Preheat oven to 400 degrees.

Add yeast and honey to warm water and let sit for a few minutes to proof (get white and foamy on top).

Combine flour and salt in a large bowl, add liquid and stir, no kneading. The batter will be soft and should stick to the spoon a bit when you lift it out.

Put into loaf pan and place in a warm place to rise until dough reaches the top of the pan (20-30 minutes).

Bake for 15 minutes, reduce heat to 350 and bake for another 15 minutes. Remove from oven and cool for 5 minutes then remove loaf from pan.
Recipe Notes
This recipe has been modernized from one by Rosalie King (wife of Congressman David King of Utah) in The 1961 edition of The Congressional Club Cookbook.
Until next time, happy eating.
~Audrey