Jump to Recipe
Print Recipe
This Artisan Sourdough Bread with Blue Cheese is an easy overnight bread filled with fluffy air pockets and blue cheese inside and more blue cheese melted on top.
Blue Cheese Sourdough Bread is a simple sourdough boule loaded with fragrant blue cheese inside and out.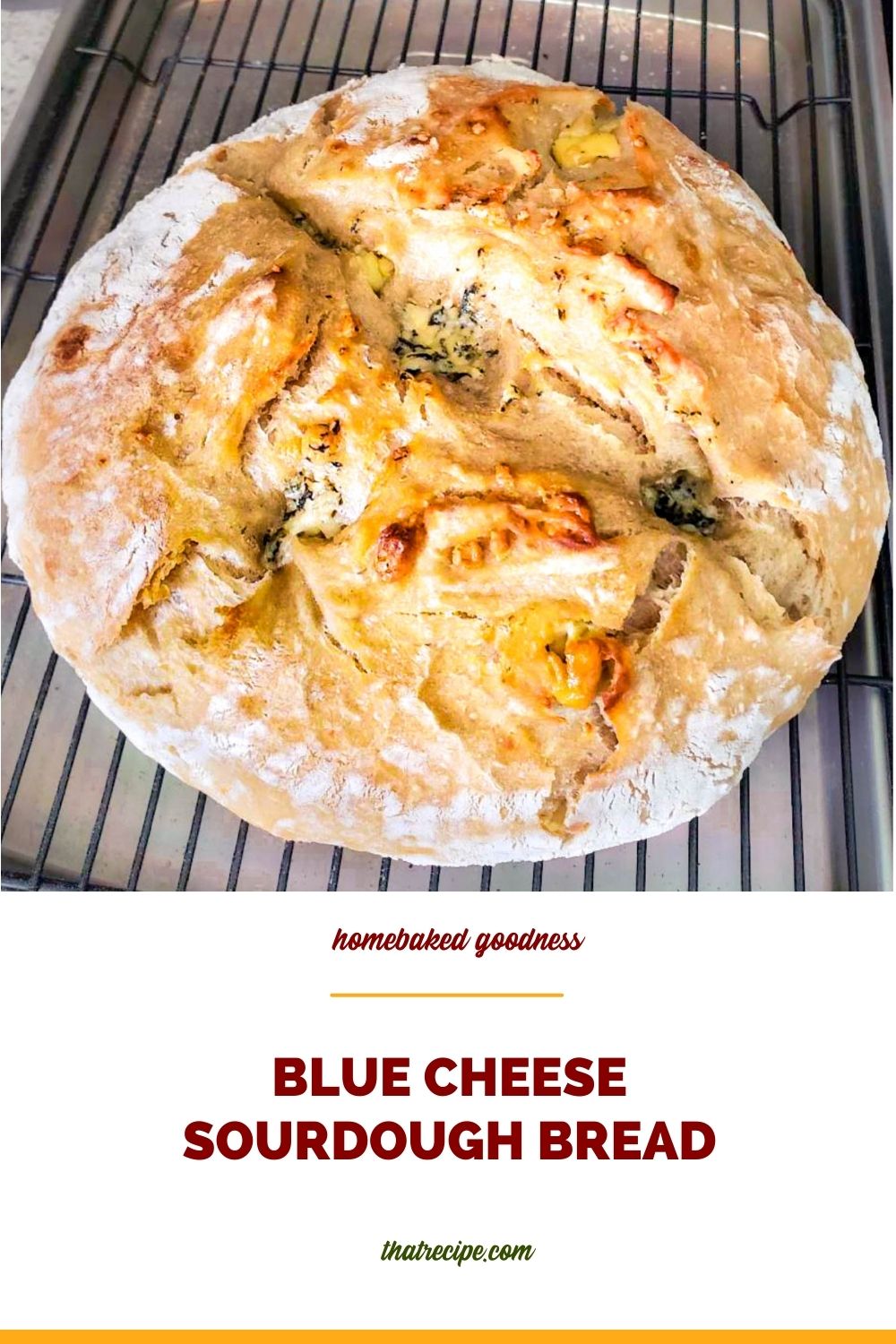 The picture of this blue cheese sourdough bread popped up in a text message from my brother recently. Unfortunately, he lives across the country so I couldn't just drop in to sneak a bite. Fortunately, he was kind enough to share the recipe.
Ingredients for Blue Cheese Sourdough Bread
The ingredients are just what you expect:
bread flour: you can use all purpose flour if you wish, but with a hearty loaf like this sourdough boule, bread flour is better.
sourdough starter: see below
blue cheese crumbles: you could use other cheeses (cheddar, swiss, gruyere)
water and salt
cornmeal, polenta or grits: to prevent the bread from sticking to the pan while it bakes.
Where to Get Sourdough Starter
The best place to obtain sourdough starter is from someone that already has some. Trust me, people with sourdough starters love to share and will give you lots of tips and recipes to go along with the starter.
If you do not have anyone that can give you some, head over to Sourdough Home for instructions on how to create and maintain your own. It will take awhile to develop the flavor but it is worth it.
Blue Cheese Sourdough Bread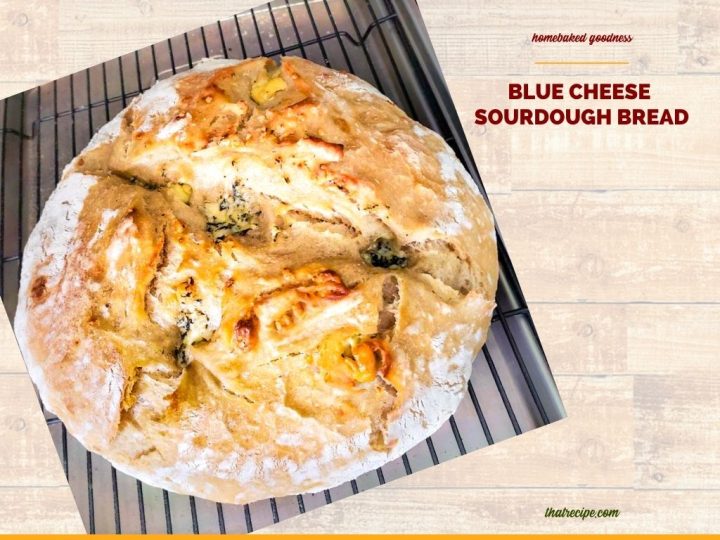 Ingredients
3

cup

bread flour

1 ½

cup

lukewarm water

½

cup

active sourdough starter

2

teaspoons

salt

1

cup

blue cheese crumbles

2-3

tablespoons

cornmeal, grits or polenta

(uncooked)
Instructions
In a large bowl mix the flour, 1 cup water, starter and salt. The dough should be firm but sticky. If the dough is too stiff to mix add more water. Add more flour if it is runny.

Place dough in a warm draft free place to rise overnight. I like to put it in the unheated oven.

Punch down the dough and fold out on to a floured board. Sprinkle with ¾ cup blue cheese and fold a few times.

Form into a ball, and place on a large sheet of parchment paper. Cover with a towel.

Proof at least 3 hours. To speed things up a bit, turn oven on to the lowest heat and immediately turn it off. Slide the bread onto a baking sheet and put it in the oven to rise.

Remove bread from oven if you proofed it there. Preheat oven to 450 degrees.

Sprinkle the cornmeal into the bottom of a Dutch oven. Lift the parchment paper by the edges and lower the loaf into the Dutch oven. Cut an x on top and sprinkle on the remaining cheese.

Bake at 450℉ for 50 minutes.