Jump to Recipe
Print Recipe
Sourdough Pancakes are light, airy and tangy griddlecakes for a delightful breakfast. Great use for sourdough discard.
Looking for a new twist on pancakes or a way to use up your sourdough discard? Just a few simple ingredients and a hot griddle and you'll have a fabulous breakfast in minutes.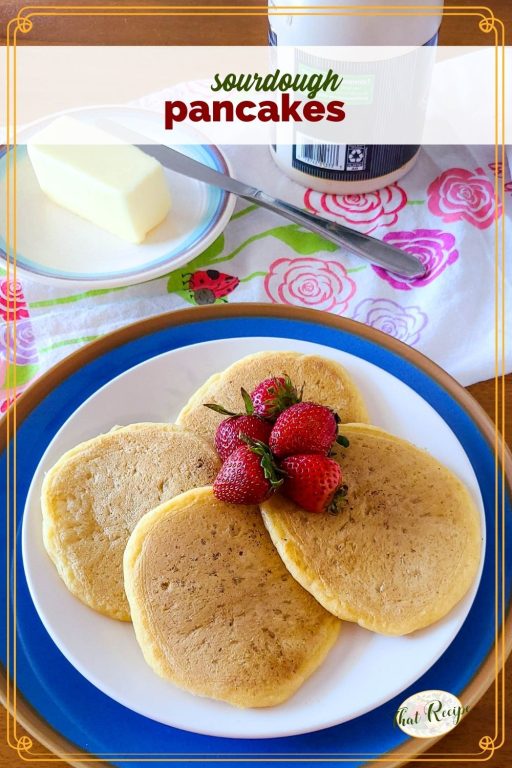 One of the first things I make whenever I bring my sourdough starter out of hibernation is sourdough hot cakes. My son could eat an entire batch himself.
They are ridiculously simple to make, add egg, oil and a dash of sugar to sourdough starter, then mix in a dash of baking soda and cook like any other pancake. The resulting pancakes have a light airy texture and that distinctive tangy sourdough taste.
If pancakes aren't your style, the same basic recipe can be used to make Sourdough Waffles or Sourdough Crepes.
All three are delicious for breakfast, brunch or dinner.
How to Make and Maintain Sourdough Starter
To make sourdough anything you need sourdough starter. The best way to get starter is to see if a friend already has some and is willing to share with you. You only need a few tablespoons added to some flour and water and within a few days you will have a beautiful bubbling pot.
I could write out directions for the care and feeding of sourdough starter, but the folks at Sourdough Home have already said everything I would say. If you don't have a friend with starter, don't worry, they have directions for starting your own. It will take awhile to get your starter nice and tangy, but you will have it forever if you care for it properly.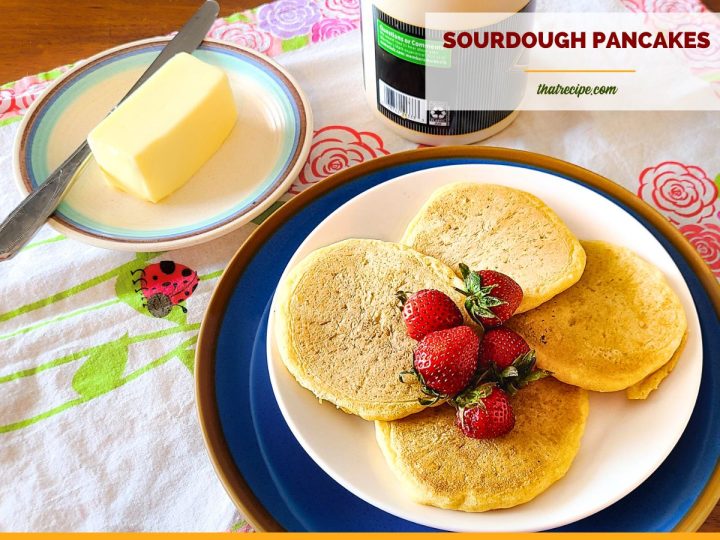 Ingredients
1

cup

sourdough starter

(active or discard)

1

tablespoon

sugar

2

tablespoons

vegetable oil

1

large egg

¼

teaspoon

salt

½

teaspoon

baking soda

(dissolved in 1 tablespoon water)
Instructions
Heat waffle iron or griddle.

In a glass or plastic bowl, combine sourdough starter, sugar, oil, egg and salt until smooth.

Add baking soda dissolved in water and fold gently. Batter should be thin!

Cook according to your waffle maker's instructions.
Until next time, happy eating.
~Audrey