Jump to Recipe
Print Recipe
Crispy and tangy Sourdough Waffles are a delicious for breakfast, dessert or any meal in between. Great use for sourdough discard.
Sourdough Waffles are light and crispy waffles with a wonderful sourdough tang. With only a hint of sugar for browning you can serve them with syrup or jam for breakfast, or make a delicious sandwich with them for lunch or dinner.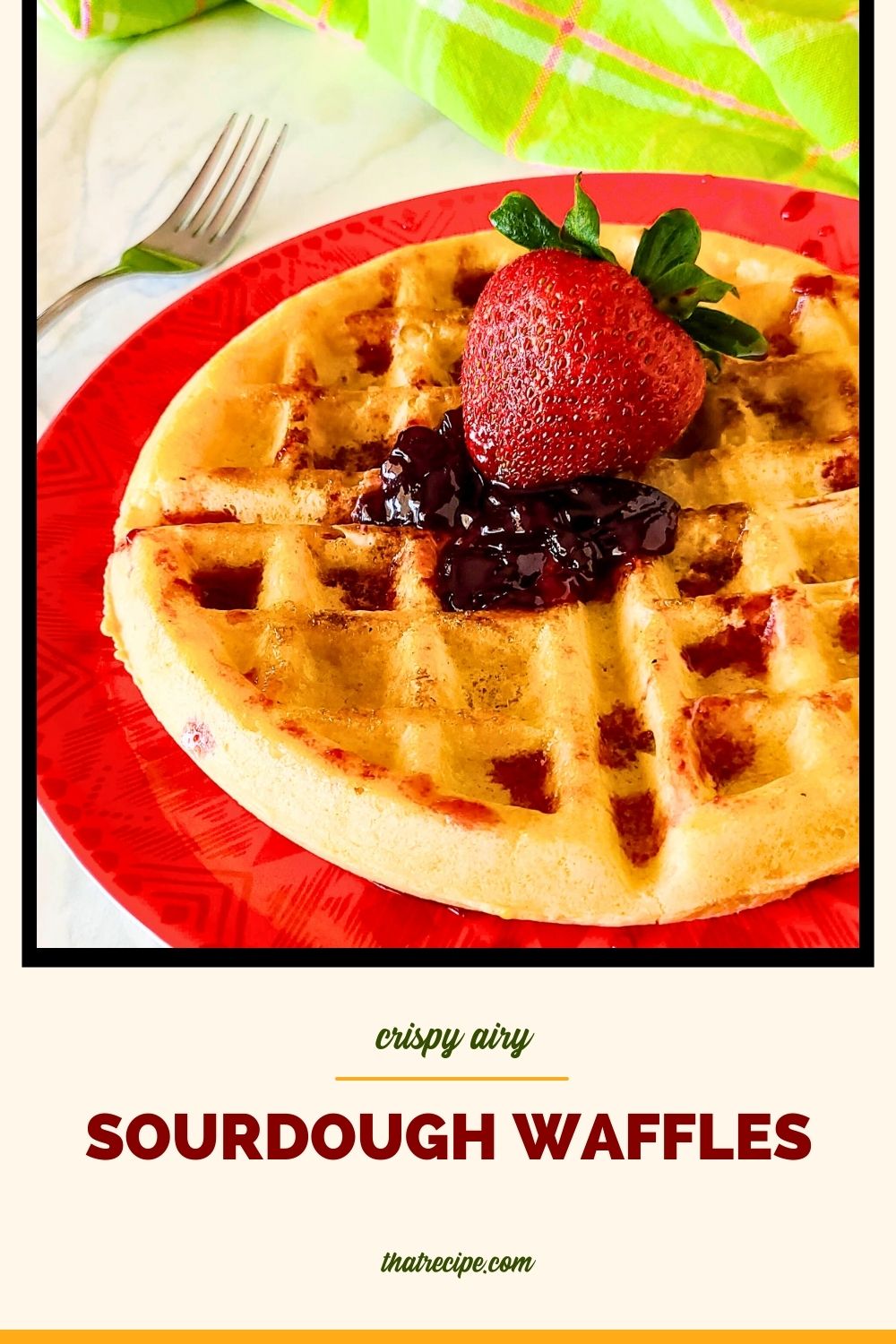 Sourdough waffles are ridiculously simple to make: add some egg, sugar and oil to sourdough starter, mix in a dash of baking soda and cook like any other waffle. The waffles come out so incredibly crispy and light.
Cook Once Eat Twice
I usually make a double batch and freeze the extra in a single layer on a baking sheet then store them in the freezer in a zip to lock bag.
This is one of my go to recipes for families with a new baby or illness. Everyone brings dinner, but poor breakfast gets neglected.
A few minutes in the toaster oven and they are hot and crispy again.
Where to Get Sourdough Starter
To make sourdough you need sourdough starter. The best way to get starter is to see if a friend already has some and is willing to share. Sourdough folks love to introduce people to the joys of sourdough.
I could write out directions for the care and feeding of sourdough starter, but the folks at Sourdough Home have already said everything I would say. If you don't have a friend with starter, don't worry, they have directions for starting your own. It will take a few weeks to a month or longer to get your starter nice and tangy, but you will have it forever if you care for it properly.
You can make this with fresh starter or "sourdough discard", the extra starter you sometimes need to throw out when feeding it or you will have a kitchen full of starter. For the waffles you don't need a large amount of active culture, but you do want the tanginess.
National Waffle Day
Dust off that waffle maker, we are having a Waffle-Fest for National Waffle Day. We've got sweet waffles savory waffles, breakfast waffles, waffle sandwiches and dessert waffles. So many delicious ways to enjoy!
Apple Cider Waffles from Jen Around the World
Bacon Cheddar Waffles from SueBee Homemaker
BLT Waffle Sliders from Jolene's Recipe Journal
Blueberry Waffles from Life, Love and Good Food
Brownie Mix Waffles from Cheese Curd in Paradise
Carrot Cake Waffles from Fresh April Flours
Chicken & Waffle Club Sandwich from Palatable Pastime
Chocolate Cherry Waffle Cake from The Freshman Cook
Chocolate Chip Waffles from Salt and Baker
Chocolate Waffles from Devour Dinner
Cinnamon Roll Waffles from House of Nash Eats
Classic Buttermilk Waffles from Kathryn's Kitchen Blog
Cornbread Waffles from A Day in the Life on the Farm
Fresh Peach Waffles with Cinnamon Syrup from Our Good Life
Gandana Waffles from Magical Ingredients
Nutella Waffles with Raspberry Syrup from The Spiffy Cookie

Sourdough Waffles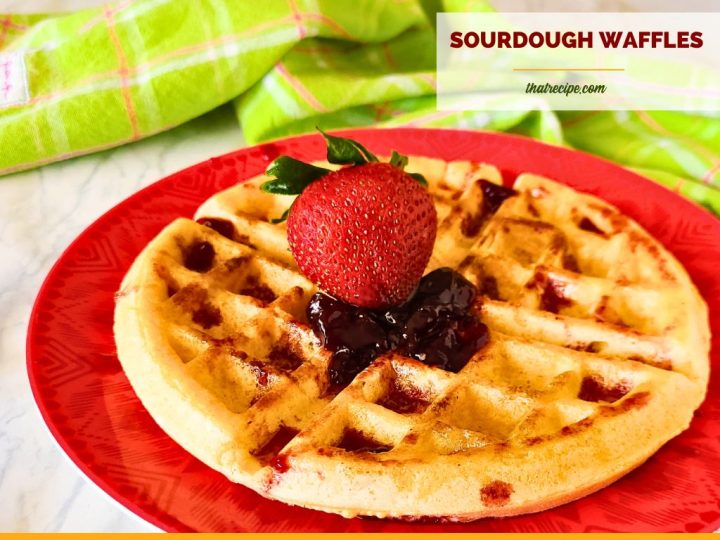 Ingredients
1

cup

sourdough starter

1

tablespoon

sugar

2

tablespoons

vegetable oil

1

large

egg

¼

teaspoon

salt

½

teaspoon

baking soda

(dissolved in 1 tablespoon water)
Instructions
Heat waffle iron or griddle.

In a glass or plastic bowl, combine sourdough starter, sugar, oil, egg and salt until smooth.

Add baking soda dissolved in water and fold gently. Batter should be thin!

Cook according to your waffle maker's instructions.
Sound fabulous? Share it!
Until next time, happy eating!
~Audrey