Jump to Recipe
Print Recipe
Sourdough Crepes are a very thin sourdough pancake, or a slightly tangy crepe depending on how you look at it. Very easy to make.
Depending on your perspective, Sourdough Crepes are "tangy" crepes, or really thin sourdough pancakes. Either way they are a favorite in our house.
We eat them like regular crepes, for breakfast, dinner or dessert depending on what we choose for a filling. These were breakfast with some yogurt and a bit of jam and chocolate syrup.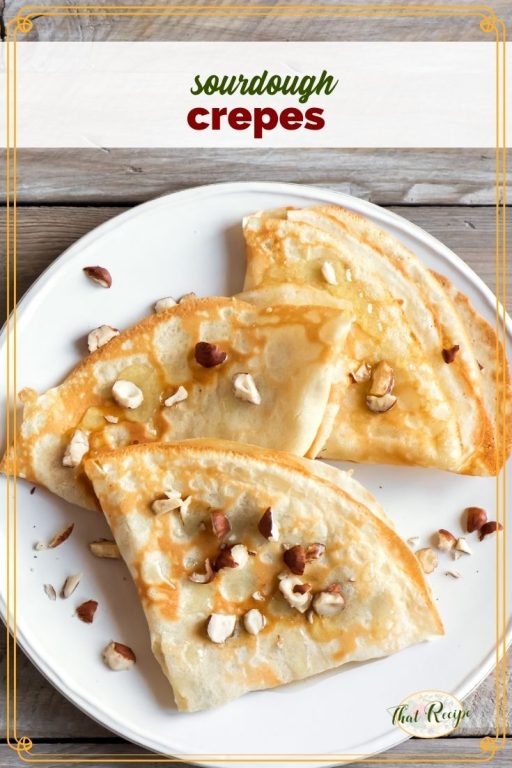 The best way to get sourdough starter is to find a friend that has some. It only takes a tablespoon or so, added to some flour and water, and you will soon have your own luscious bubbling pot of sourdough. The best information on creating and caring for sourdough starter is on Sourdough Home.
Don't be intimidated by crepes. They are really easy to make. You just need to remember some wisdom I gleaned from the one and only episode of Giada at Home I saw:
"The first crepe is for the dog."

Giada de Laurentis
No matter how many times I make them, the first one never comes out quite right. Which is fine, I nibble on that as I make the rest since we do not have a dog. Ha Ha!
Don't have sourdough? Try our traditional Crepe Recipe. It's just as easy, without the tangy sourdough taste.
Sourdough Crepes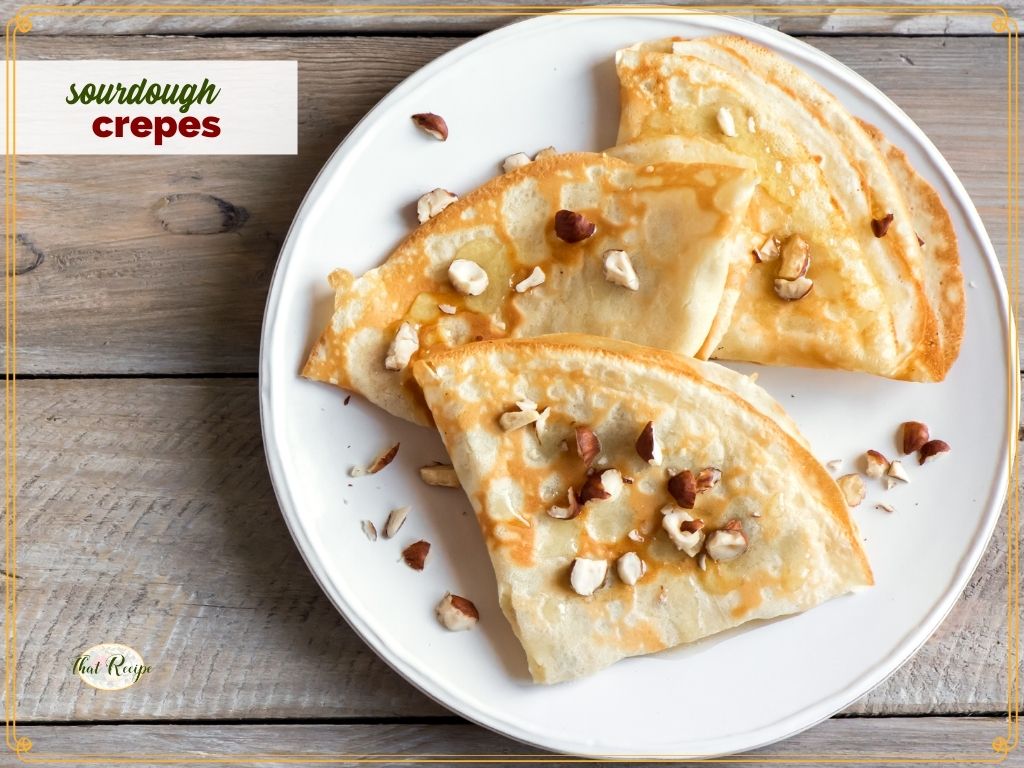 Ingredients
¾

cups

sourdough starter

⅓

cup

milk

2

tablespoons

melted butter or vegetable oil

1

egg

1-2

teaspoon

sugar

(depending on how sour the starter is)

⅛

teaspoon

baking soda

(dissolved in 1 tablespoon water)
Instructions
Heat an 8 inch non-stick skillet over medium high heat. Combine starter, milk, butter, egg and sugar in a medium bowl. Add dissolved baking soda and mix thoroughly. Batter will be thin.

Spray pan with cooking spray. To test if the pan is at the right temperature, place a tablespoon of batter in the middle, if it cooks completely in 20 seconds the pan is ready. Adjust the heat up or down if it cooks faster or slower.

Respray pan if needed. Pour ¼ cup of batter into pan and swirl until completely coated. Cook for 20-30 seconds until crepe looks cooked and edges just begin to brown, flip, cook for another 20 seconds to brown the other side.

Remove from pan place on a plate and cover with a clean towel to keep warm until finished cooking the remaining batter.

Serve with a variety of toppings and let each person top as desired. Either roll or fold into quarters to eat.
Notes
The best way to get sourdough starter is to get some from someone else. If that is not an option you can make your own, but it will take weeks or even months for it to be ready to use. Sourdoughhome.com has a great method for making your own starter as well as instructions for maintaining it once it is nice and bubbly.
My method for making the crepes is based on my own experimentation and that of America's Test Kitchen. In all likelihood the first crepe or two will be ugly (but still edible).
Until next time, happy eating!
~Audrey
Save