Jump to Recipe
Print Recipe
Coffee Pudding Cake is two decadent desserts in one, rich creamy pudding topped with a spongy cake. Add a little Kahlua whipped cream on top and you have a dessert any coffee lover is sure to love.
This post is sponsored in conjunction with #SpringSweetsWeek. I received product samples from sponsor companies to help in the creation of the #SpringSweetsWeek recipes. All opinions are mine alone.
Coffee Pudding Cakes are two decadent desserts in one easy recipe: a rich creamy pudding on the bottom and spongy cake on top.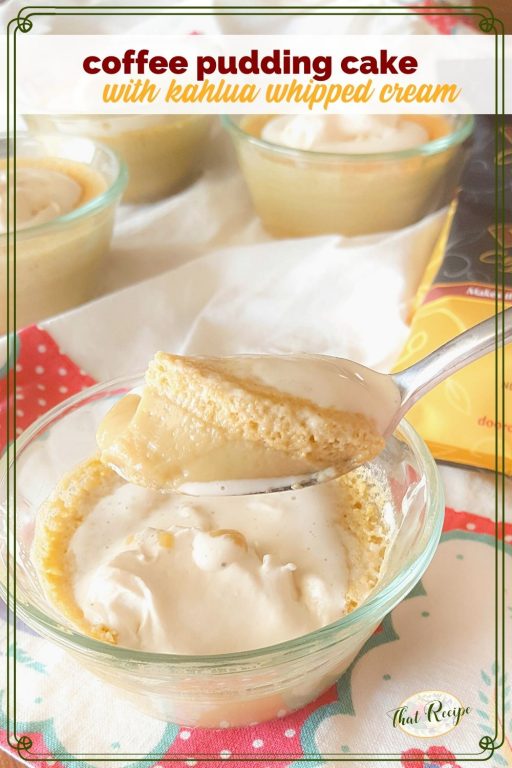 Most pudding cakes I have seen are citrus flavored. When I saw this coffee variation I knew I had to make it for #SpringSweetsWeek. Especially when Door County Coffee and Teas sent us a fabulous care package of flavored coffee.
All you need to do to make them is mix the ingredients then bake in a steam bath. While baking the top forms a spongy cake while the bottom forms a creamy pudding. Then serve with homemade whipped cream, that I spiked with a splash of my homemade coffee flavored liqueur for more coffee goodness.
Door County Coffee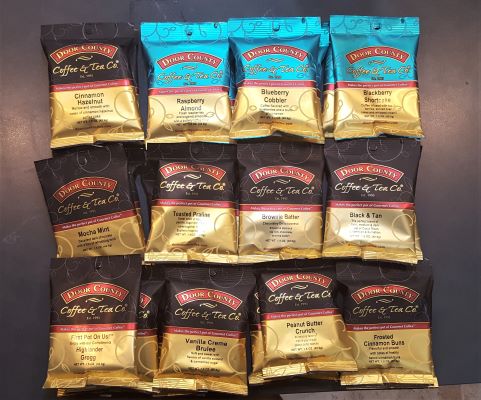 Door County Coffee & Tea Co. was founded in 1993 in Door County, Wisconsin.  It is a small, family-owned business, roasting coffee the old-fashioned way - in small batches to exacting specifications. The mission has always been to produce some of the best-tasting and highest quality coffee.  They have over 100 types of coffee, all of which are roasted right on site. 
I could have used any of the fabulous flavors above to make this, but I went with the Highlander Grogg for a caramel like flavor. Mmmmmm!
Visit https://www.doorcountycoffee.com/ to see their selection of coffees and teas as well as to find some fabulous recipes.
This recipe when made with the alcohol is intended for individuals ages 21 & up. Please drink responsibly.
Coffee Pudding Cake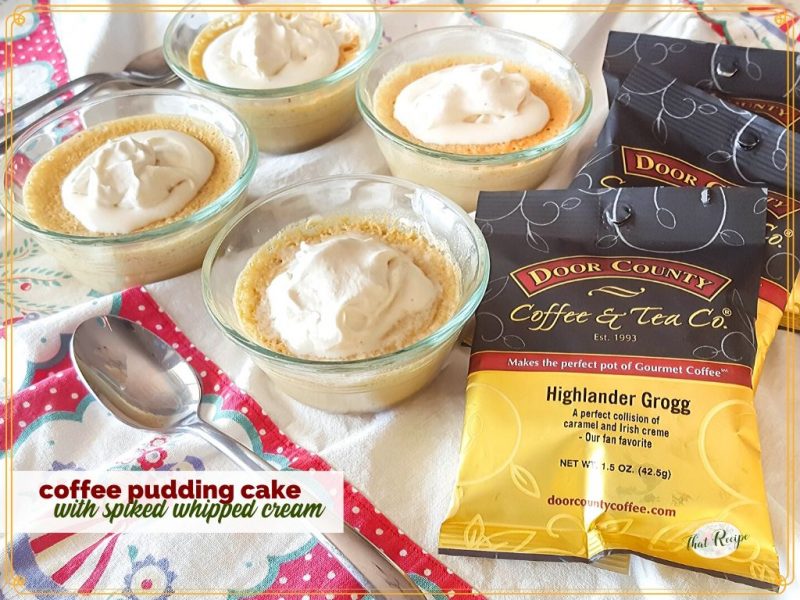 Ingredients
2

tablespoons

butter

½

cup

sugar

⅛

teaspoon

salt

3

large

eggs

(separated)

3

tablespoons

flour

⅓

cup

room temperature strong coffee, plain or flavored

(see note)

2

tablespoons

coffee flavored liqueur

(or additional coffee)

1

cup

milk

pinch

cream of tartar

1

pint

heavy whipping cream

powdered sugar

1

tablespoon

coffee flavored liqueur or strong coffee

(optional)
Instructions
Pudding Cakes
Preheat oven to 350 degrees. Grease pan(s), one of the following: six ¾ cup custard cups, four 1 ⅓ cup ramekins, one 9 inch round cake pan or 8 inch square cake pan.

Place a kitchen towel in the bottom of a roasting pan and place the pan(s) on top. Start boiling at least 1 quart of water.

In a medium bowl, mash together butter, sugar and salt. Beat in egg yolks. Add flour. Slowly beat in coffee, milk and coffee liqueur, if using.

In a mixing bowl, beat egg whites and a pinch of cream of tartar with an electric mixer on medium high until stiff peaks form, when the beater is removed the "mountain" left behind stands up without falling over.

Gently fold the coffee mixture into the egg whites just until there are no large lumps. Do not overmix.

Ladle the mixture into your prepared pans. Pour the boiling water into the roasting pan until it comes halfway up the sides of the pudding cake pans.

Bake until the center is set and springs bake slightly, about 25 minutes for all pans. Remove from oven but let the pans sit in the water for 10 minutes before removing. Serve warm or chilled with whipped cream.
Whipped Cream
In a mixing bowl, beat heavy cream until stiff peaks form, when the beater is removed the "mountain" left behind stands up without falling over. Mix in coffee liqueur and sweeten to taste with powdered sugar.
Notes
To make strong coffee: combine ⅓ cup coffee grounds with ⅔ cup of boiling water. Let sit 10 minutes then strain through a coffee filter. 
Spring Sweets Week
Welcome to #SpringSweetsWeek 2020 hosted by Heather from
Hezzi-D's Books and Cooks!
Monday #SpringSweetsWeek Recipes