Jump to Recipe
Print Recipe
Easy Dark Chocolate Cherry Truffles come together with just a few ingredients in under 30 minutes for a sweet treat or gift.
If you need a last minute treat for your Valentine (or yourself) whip up these easy Dark Chocolate Cherry Truffles with easy to find ingredients.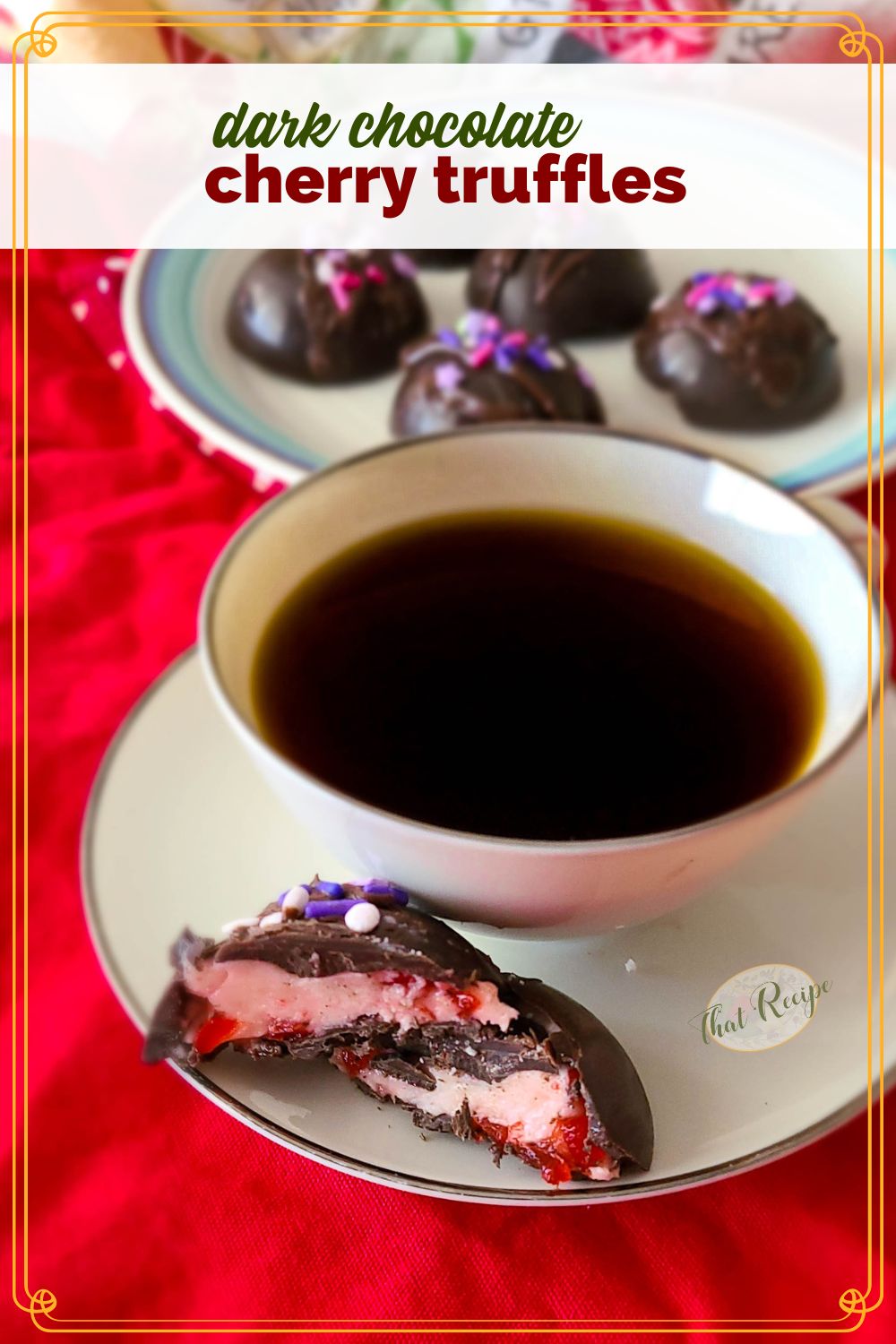 Lately, I have been playing with making my own cream filled chocolates. I have made hazelnut and peanut butter as well as this cherry filling. It's a nice little treat at the end of the day when the kid is in bed and I can hear myself think.
These are not cherry cordials with a whole cherry suspended in liquid inside the chocolate. Those require a special enzyme (invertase) that converts the fondant from solid to liquid.
The filling here is a simple cherry cream. Technically it is a really thick buttercream frosting with chunks of maraschino cherries blended in. DELICIOUS!
If you mix in some finely chopped peanuts with the chocolate this comes pretty close to a Cherry Mash candy. I didn't have any peanuts so this recipe isn't a clone.
Do you have to use Dark Chocolate?
GASP? No dark chocolate? Blasphemy!
KIDDING!
Of course you can use what ever chocolate or candy melts you want. You can also use almond bark (same as candy melts but in a bar form).
If you don't have candy melts you can use one of the substitutes mentioned here.
Candy Mold Suggestions
You have several possibilities for shaping these candies:
Free Form - make the filling extra firm, roll into balls and freeze then dip in the chocolate. Quick, easy, and no equipment needed.
Mini Muffin Tins - make them like peanut butter cups. Line mini muffin tins with cute liners, put some chocolate in the bottom, paint up the sides a little, add the filling and then cover with more chocolate.
Cocoa Bomb Mold - I picked up a kit like this on the discount rack at the grocery store. I hate uni-taskers cluttering my kitchen so decided I could use this for candy making too. What I used in the phots and in the instructions.
Truffle Candy Mold - you can also pick up a candy mold like this that will make smaller truffles than the cocoa bomb mold.
Cookies for Kids Cancer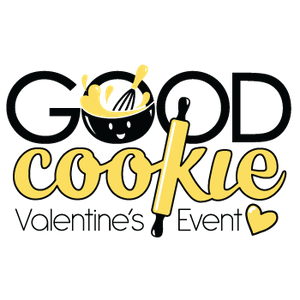 Julie from The Little Kitchen has organized this event for the last 7 years and it has raised over $100,000 to support Cookies for Kids Cancer, a 501(c)3 non-profit committed to raising funds for research to develop new, improved, and less toxic treatments for pediatric cancer.
Bloggers and other Food Content Creators will be posting a Valentine's Day themed recipe and asking our lovely readers to consider making a contribution to the event.
We have some matching contributions as well, so for every $1 raised a total of $2 will be donated.
Check out the other recipes and consider making a donation to the cause:
Dark Chocolate Cherry Truffles

Ingredients

1

cup

dark chocolate melting wafers

(divided use)

2

tablespoons

butter

(softened)

1

cup

powdered sugar

7-8

maraschino cherries

(blotted dry with a paper towel)

¼

cup

milk or white chocolate melting wafers

(optional)

sprinkles

(optional)

Instructions

In a small microwave safe bowl, melt ½ cup dark chocolate melting wafers for 30 seconds. Stir, melt for another 30 seconds. Stir until completely melted, microwave for an additional 10 seconds if needed.

Spread the chocolate along the bottom and sides of 6 cups of a hot chocolate bomb mold (see notes for alternatives) using the back of a spoon.

Chill in the fridge for 1-2 minutes. Remove from fridge and spread chocolate that may have pooled in the bottom back up the sides. Return to fridge until solid.

Finely chop the maraschino cherries. You should have about 2 tablespoons.

In a small bowl, combine butter, powdered sugar and chopped cherries. Mixture should be very thick. If it is too thick to mix in a little maraschino cherry juice a ¼ teaspoon at a time.

Divide the cherry filling between the chocolate cups.

Melt the remaining ½ cup dark chocolate wafers as before. Spread over the cherry filling and chill in the fridge until hard. Remove from molds, trim extra chocolate off the bottom if needed.

Optional: melt milk or white chocolate wafers as before (it will need less time, do not overcook). Drizzle over the the top of the truffles and add sprinkles if desired.

Notes

I used a hot cocoa bomb mold to make 6 truffles. You can also use the following (finished quantity will vary):

free form 

mini muffin tin with liners

candy truffle molds

More detailed instructions for each here. 

Sound fabulous? Share it!

Until next time, happy eating!
~Audrey