Jump to Recipe
Print Recipe
Fifteens are a simple no bake confection made with digestive biscuits, marshmallows, cherries and coconut.
Fifteens are a sweet and colorful no-bake confection that are a super easy to make and so delicious you won't be able to stop at just one.
These decadent Northern Ireland treats consist of digestive biscuits, marshmallows, cherries and coconut held together with sweetened condensed milk.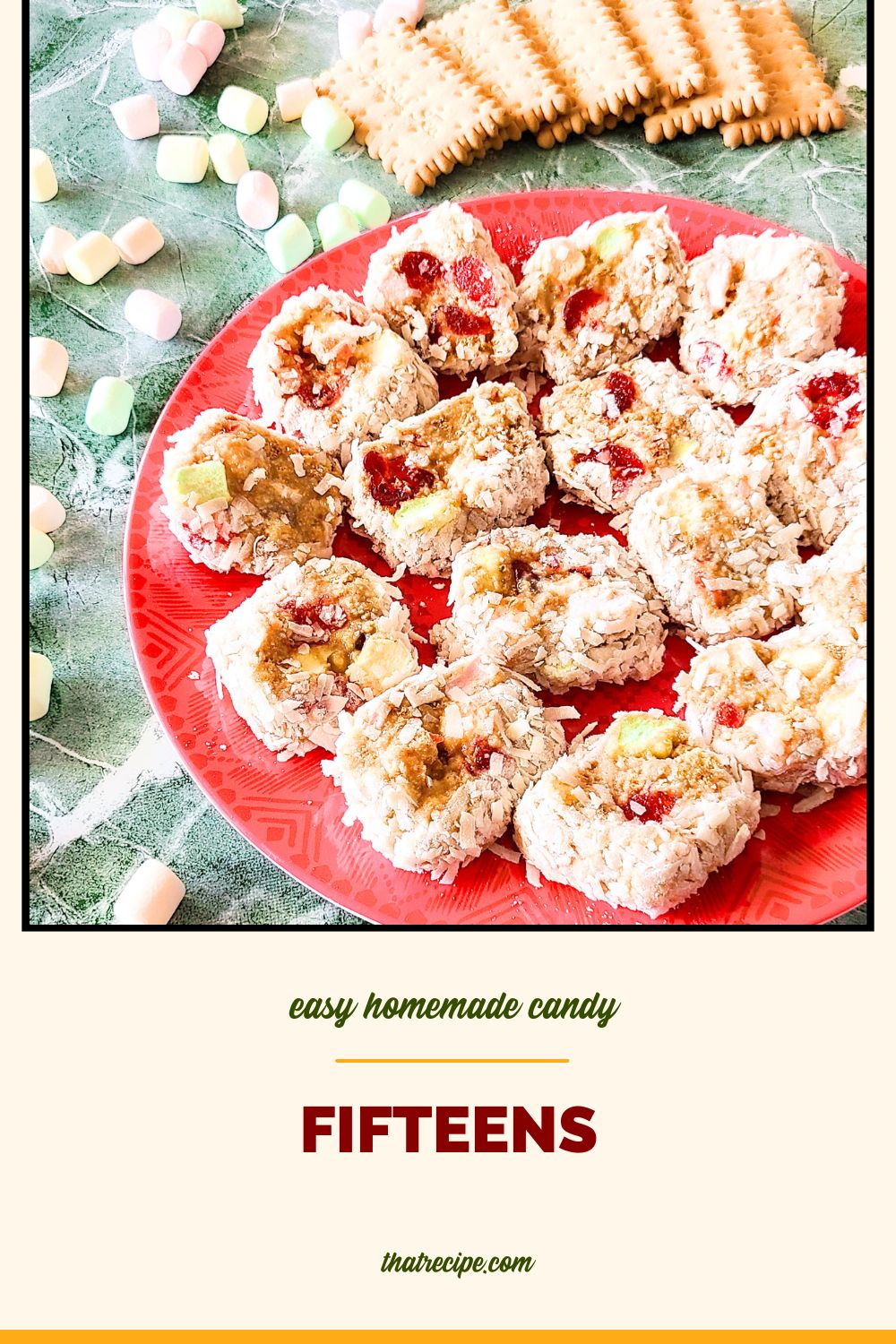 Fifteens get their name from the fact that you add 15 of most of the ingredients and then cut them into 15 servings.
I thought they were delicious, but they are very sweet. There's probably a reason they are often enjoyed with a cup of coffee or tea.
This is one of those recipes that every bakery and Irish grandmother probably has its own slight variation on the recipe. You are welcome to add your own twist to the basic recipe as well (not that you need my permission to experiment).
Ingredients and substitutions for Fifteens
Traditionally there are only five ingredients in these:
digestive biscuits
glace cherries
marshmallows
sweetened condensed milk
desiccated coconut
Sweetened condensed milk is a basic ingredient you can find at just about any grocery store. You aren't going to use the whole can for the recipe. I'd recommend using the rest for some cold brew coffee.
Glace cherries are NOT the same as maraschino cherries. You want the ones normally used in fruit cake. You can use maraschino cherries that are blotted dry. Or leave them out if you don't like cherries.
Large marshmallows cut into 4 pieces each are traditionally used. But, if all you have is mini marshmallows, use about 150. Each large marshmallow weighs about the same as 10 mini ones, and you need 15 large, hence 150 mini marshmallows. Start with 100 and add more if it looks like you need more.
Digestive biscuits are common in the British Isles, but can be a little hard to find in the US. You can use tea biscuits (which can also be tricky to find) or graham crackers as a substitute. You may need to play with the quantity of the biscuits or sweetened condensed milk. I used about 20 tea biscuits because they are smaller.
Desiccated coconut is another potentially tricky ingredient to find in the US. If your store doesn't have it, get unsweetened coconut and pulse it in a food processor to make it finer.
Other Fifteens Variations
Besides the substitutions above, you can mix it up by:
using fruit flavored marshmallows instead of plain
using chocolate flavored digestive biscuits
adding chocolate chips instead of or in addition to the cherries
adding other fruit instead of cherries (raisins, cranberries, citron)
drizzle with melted chocolate (white, milk, dark) and let set before cutting
adding some chopped nuts
More Coconut Recipes from #OurFamilyTable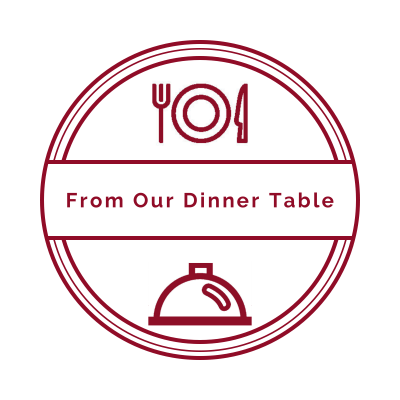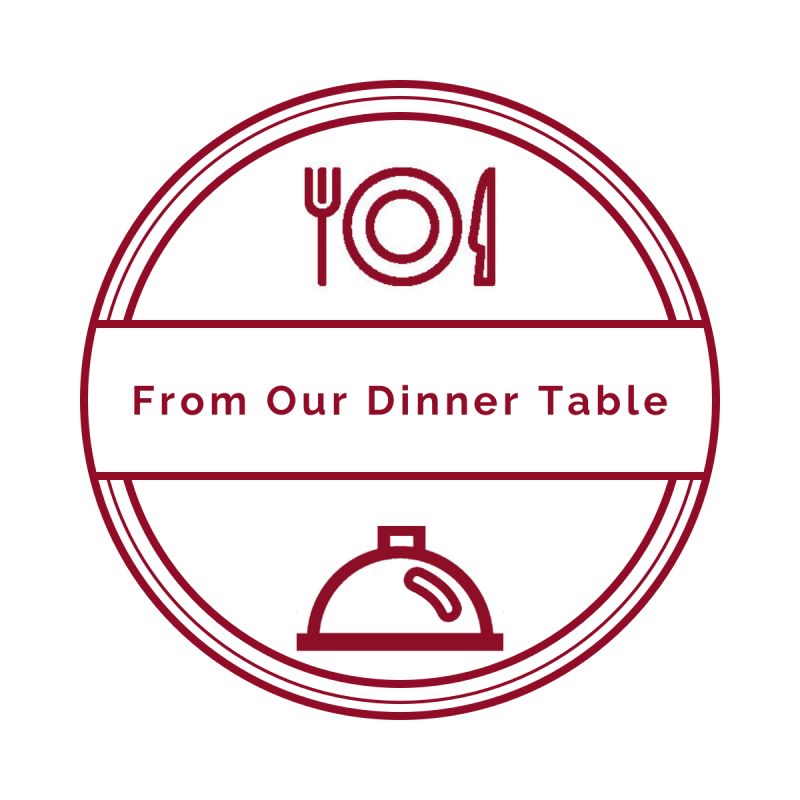 Whether it is dessert or a main course, coconut adds something special to your meals.
Crazy for Coconut!

We share Recipes From Our Dinner Table! Join our group and share your recipes, too! While you're at it, join our Pinterest board, too!
Fifteens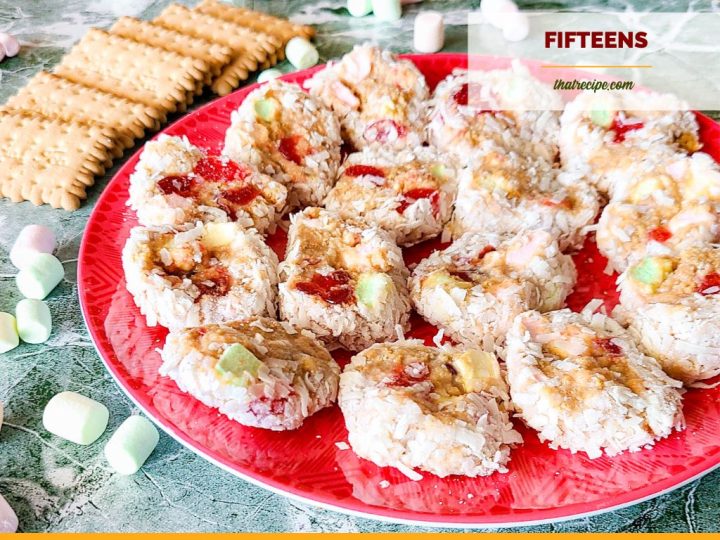 Ingredients
15

digestive biscuits

15

large

marshmallows

15

glacé cherries

(cut in half)

¾

cup

sweetened condensed milk

⅔

cup

desiccated coconut
Instructions
Crush the digestive biscuits in a food processor or in a plastic bag with a rolling pin, and add to a mixing bowl.

Chop each marshmallow into 4 pieces and add to the bowl with the cherry halves.

Add ½ cup of sweetened condensed milk. Mix until the ingredients are well combined and you have a sticky mixture.

Add more condensed milk if the mixture is too dry and not holding together.

Sprinkle the coconut over a large piece of plastic wrap or foil. Roll the biscuit mixture into along roll about 2 inches thick. Roll in the coconut to coat completely.

Wrap the plastic wrap or foil around the roll and refrigerate for at least 4 hours.

Cut into 15 slices and serve.
Notes
see text above for substitutes
Sound fabulous? Share it!
Until next time, happy eating!
~Audrey