Jump to Recipe
Print Recipe
Moist and flavorful Cranberry Pork Roast made in the slow cooker. So easy, just mix up the ingredients and let the crock pot do the rest.
This delicious Cranberry Pork Roast is so moist and colorful, and easy too! Just put the ingredients in the slow cooker and let it do all the work.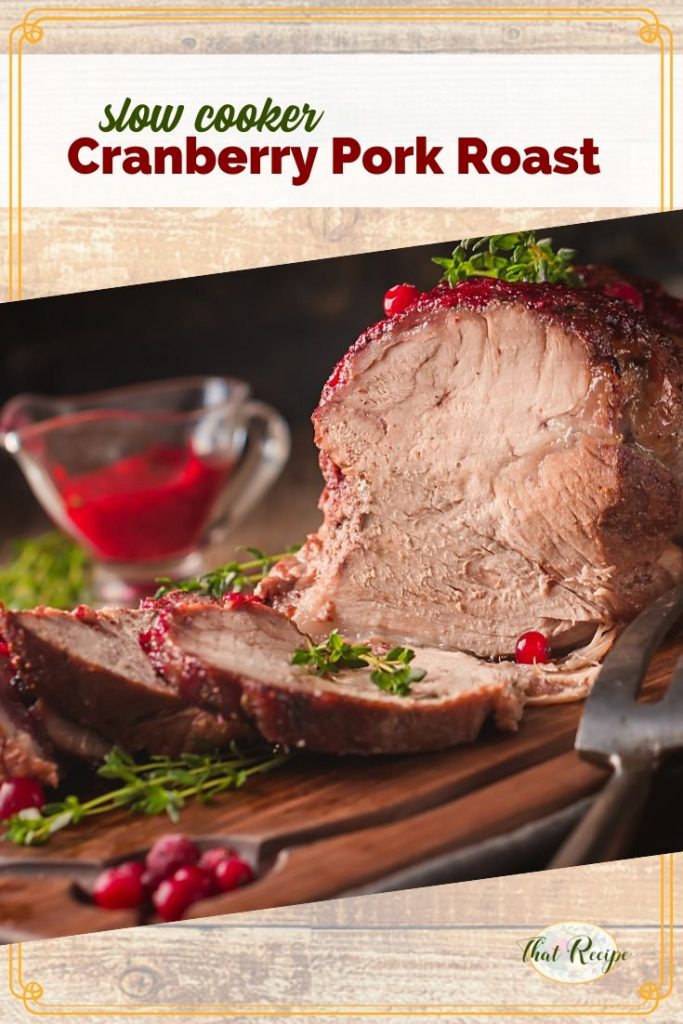 Be sure to grab and extra bag or two of cranberries to toss in your freezer when they are in the store so you can make fabulous recipes like this any time.
Since cranberries are usually sold in 12-16 ounce bags you should have some left over to make a quick cranberry sauce for serving.
Tips for Slow Cooker Roasts
Timing a slow cooker roast can be tricky. The size and shape of your roast as well as your individual slow cooker can effect the overall timing.
Blatant affiliate link and product pitch coming up!
A few years ago I bought this slow cooker with a temperature probe. I just stick the probe in the thickest part of the roast and program the cooker to stop when it gets to the correct internal temperature.
If your slow cooker doesn't have one, use a meat thermometer and start checking about hour 5. Or get one of these fancy meat thermometers that you can check with your phone. Just make sure it doesn't touch the sides of the slow cooker.
Slow Cooker Cranberry Pork Pot Roast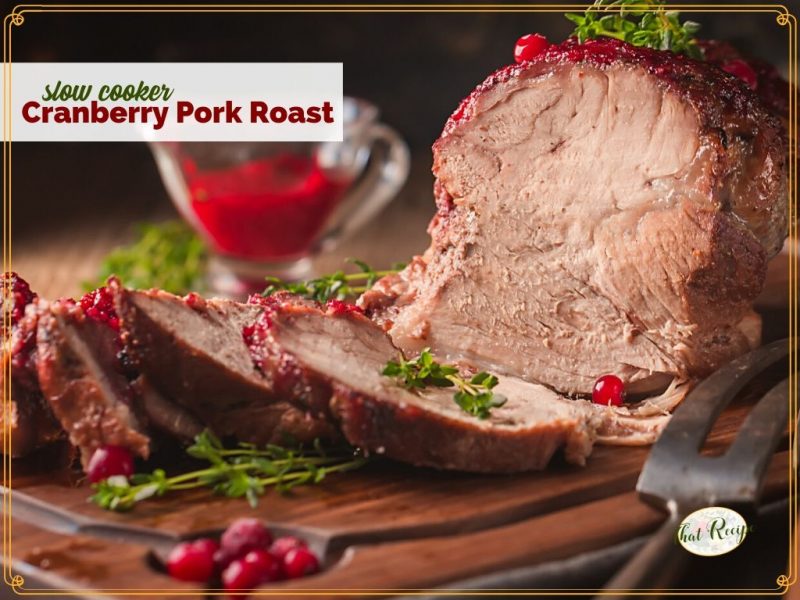 Ingredients
1

tablespoon

olive oil

4

pound

boneless pork roast

salt and pepper

1

cup

fresh or frozen cranberries

(finely chopped)

1

teaspoon

grated orange peel

¼

cup

honey

¼

teaspoon

ground cloves

¼

teaspoon

ground nutmeg
Instructions
In a large skillet, heat olive oil over medium high heat.

Gently rub salt and pepper onto the pork roast, and brown each side in the skillet. Place in a 5-6 quart slow cooker.

In a bowl, thoroughly combine the rest of the ingredients and pour over the top of the pork roast.

Cover and cook on low heat for about 8 to 10 hours, until a meat thermometer reads 145° F in the center of the thickest part of the roast. Cooking time will vary based on the size and shape of the roast and the slow cooker.

Slice roast and serve with the cooked cranberries and extra cranberry sauce (optional).
More Slow Cooker Pork Recipes