In honor of National Grilled Cheese Sandwich Day I scoured Pinterest for 20 of the tastiest gourmet grilled cheese sandwiches. After perusing this list, slapping a slice of processed cheese between some cheap sandwich bread just won't do.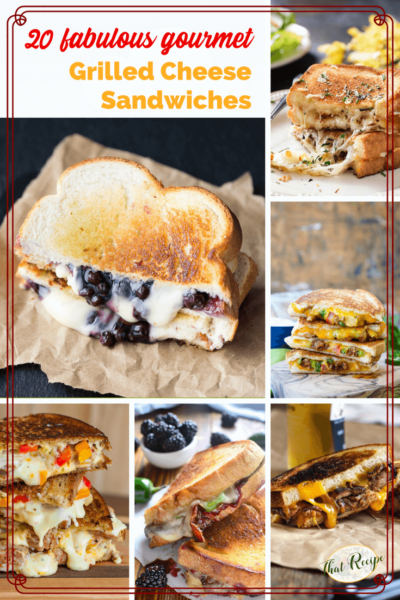 Fruit Filled Grilled Cheese Sandwiches
Simply Stacie combines blueberry jam or pie filling and brie on honey wheat bread in her Blueberry Brie Grilled Cheese
Home Cooking Memories combines the flavors of my favorite pizza into this Hawaiian Pizza Grilled Cheese
Lemon Tree Dwelling adds some bacon and jalapenos along with blackberries in this Blackberry Bacon Grilled Cheese
My Suburban Kitchen gets in a Fall frame of mind with this Apple Gouda Grilled Cheese
Spicy Grilled Cheese Sandwiches
Honey and Birch loads on the flavor with this Gouda Jalapeno Roasted Pepper Grilled Cheese.
Lemons for Lulu coats her Jalapeno Popper Grilled Cheese Sandwich with... wait for it... crushed potato chips!
Peas and Crayons adds spicy sausage, chipotle cheddar plus even more cheese in her Sausage and Pepper Chipotle Grilled Cheese Sandwich
Tastes of America Grilled Cheese
The Lazy Gastronome treats us to some flavors of the Pacific Northwest like Walla Walla onions and fresh morels in her Nor'wester Grilled Cheese.
Taste the Southern barbecue with this Pulled Pork Grilled Cheese Sandwich from Kevin is Cooking.
Sweet and Savory keeps it fast and delicious with this 15 Minute Philly Cheese Steak Grilled Cheese
Damn Delicious helps us use up those Thanksgiving leftovers with this Turkey Cranberry Grilled Cheese
Chef Savvy piles on some California favorites with pepper jack, tomatoes and of course avocado on this California Style Grilled Cheese.
International Styled Grilled Cheese Sandwiches
Domestic Superhero combines the fabulous Caprese tastes of tomato, basil and mozzarella in her Caprese Panini Grilled Cheese
Tastes Better from Scratch takes us to France for the classic Croque Monsieur (ham and cheese)
A Dish of Daily Life combines the Cuban classic pork, ham and pickles in her Cubano (Cuban Grilled Cheese)
Sugar and Soul uses leftover taco meat and all of the fixings for her Taco Grilled Cheese.
Surprise Ingredients Grilled Cheese Sandwiches
Betsy's Life's surprise is using homemade pretzel bread for her Pretzel Bacon Cheddar Grilled Cheese.
Kirbie's Cravings skips bread altogether and uses cauliflower for a low carb gluten free Cauliflower Crusted Grilled Cheese.
The Chunky Chef keeps the surprises coming with fresh rosemary butter, caramelized onions and so much more in the Ultimate Grilled Cheese Sandwich.
Cake 'n Knife adds some fusion fun Avocado Kimchi Grilled Cheese Sandwich.
Which one do you want to try first?
Let us know in the comments below