Homemade Bagels are easy to make and you can add a variety of ingredients to the dough and on top.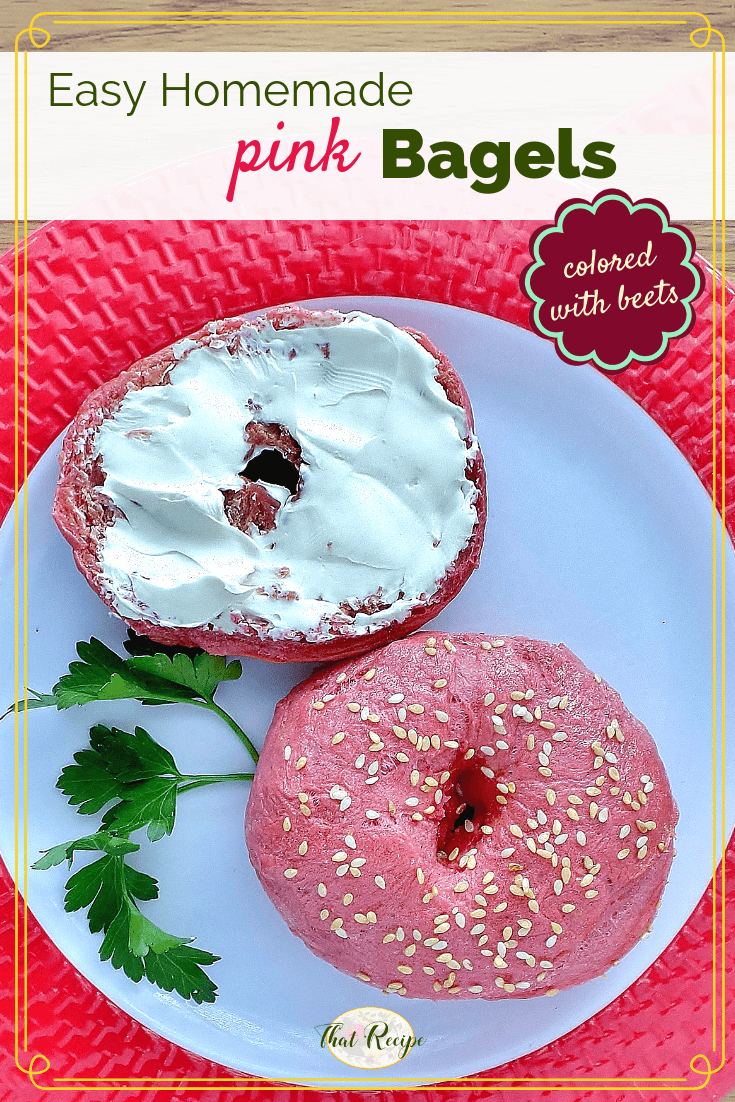 Homemade Bagels are a simple yeasted dough that is boiled and then baked created that characteristic chewy interior.
Making them at home means you can mix and match ingredients to suit your tastes. And you can customize them to make your own favorites. My husband is team plain, while I am team everything.
Ingredients for Homemade Bagels
You start with normal bread dough ingredients: flour, salt, sugar water and yeast.
Bread flour is great, all-purpose is fine.
The brown sugar helps the yeast to rise the dough and isn't enough to make the bagel sweet tasting. You can use granulated sugar instead, but really don't want to substitute sugar free substitutes in this case.
Make sure your yeast is fresh. I usually use rapid rise yeast and I still proof it in water to make sure my dough is going to rise. If you have success with another method, be my guest.
There are two special ingredients in this recipe.
Malt Powder
Normally bagels are made with non-diastatic malt powder, which would be a tough find in most grocery stores. I could have just ordered it online. Instead I opted for a trick
I picked up from King Arthur Flour: good old fashioned instant malted milk powder. It worked like a charm to give it the right flavor and texture.
Natural Food Coloring
I tossed a little pureed beets into the dough to give them a lovely pink hue. You can use spinach or kale or other "green" for a green tint.
You aren't going to get a load of extra nutrition from the veggies in here since there is only a quarter cup for 16 bagels. But it sure beets beats a mouthful of red food dye.
And for those wondering, no, you don't taste the vegetables after the bagels are cooked. I promise! My picky eaters would have let me know if they detected it.
Naturally Pink Bagels
Ingredients
BAGELS
2

cups

lukewarm water

1

tablespoon

active dry yeast

2

tablespoons

brown sugar

¼

cup

instant malted milk powder

¼

cup

pureed beets

5 ½ - 6

cups

all purpose flour

1

teaspoon

salt
WATER BATH
2

quarts

water

2

tablespoons

instant malted milk powder

1

tablespoon

sugar
TOPPINGS (OPTIONAL)
1

large

egg white

(beaten)

toppings

(sesame seeds, poppy seeds, dehydrated onions, etc.)
Instructions
Add yeast and sugar to the warm water and let proof for 5 minutes. It should begin to foam on top, if it doesn't your yeast may be bad and the dough will never rise.

Add instant malted milk powder and beets.

In a large bowl whisk together 5 ½ cups of flour and salt. Add in the liquid and mix until combined. Add extra flour if dough is too soft to knead.

Knead dough with a bread hook attachment in a mixer or by hand. until smooth (5-10 minutes).

Put dough in a greased bowl. Cover with a piece of lightly greased plastic wrap. Let rise in a warm draft free place until doubled, 1 ½ to 2 hours.

When dough is doubled in size, place on a clean counter and punch it down.

In a stock pot (or other pan that is at least 3 inches high) combine the water bath ingredients and bring to a boil.

Divide dough into 16 balls. Poke a hole through the dough with your index finger and twirl a few times to make a ring.

Boil the bagels 3-4 at a time for 30 seconds, then flip and boil another 30 seconds. Remove with a slotted spoon and put on baking sheet.

Brush bagels with beaten egg white and sprinkle with topping if desired.

Bake at 425°F until golden brown, about 20 minutes.
Until next time, happy eating.
~Audrey