Jump to Recipe
Print Recipe
Sun Dried Tomato Bagels are easy to make at home and just as delicious as those at your favorite bagel shop.
Do you love the texture and flavor of sun-dried tomato bagels, but think they're too difficult to make yourself?
Think again!
With this simple, easy-to-follow recipe you can make delicious sun-dried tomato bagels right at home.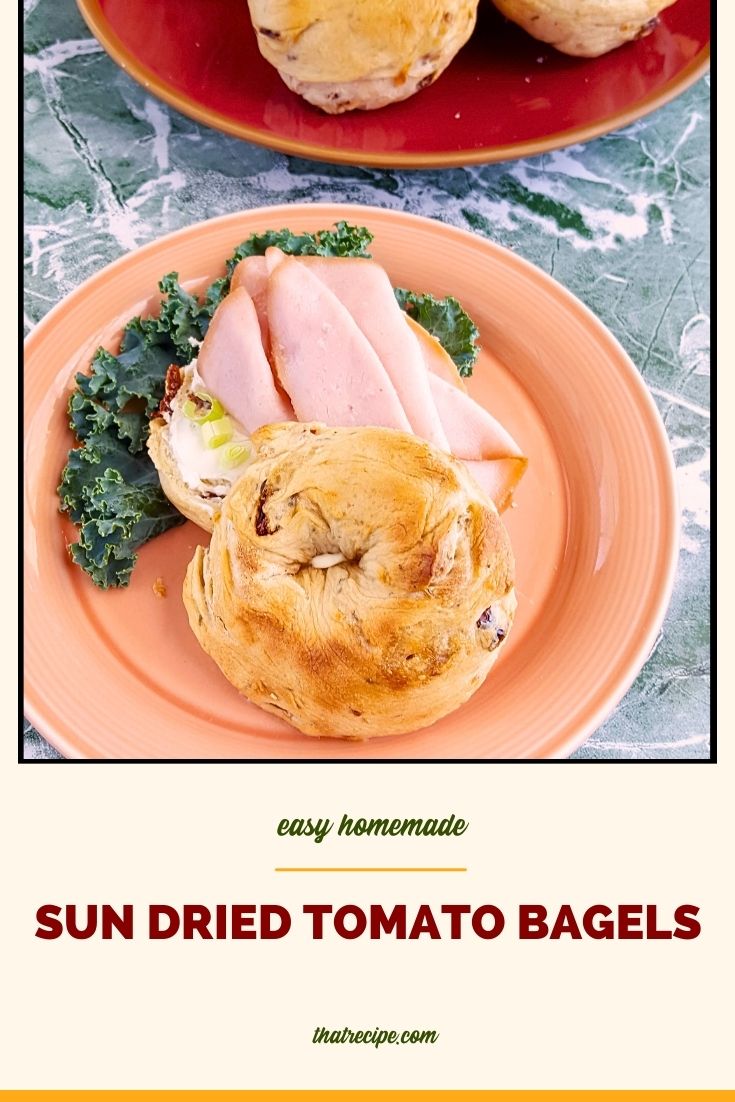 Before we moved to our house, my husband and I used to visit a local bagel shop regularly. He loved their chocolate chocolate chip, while I always ordered a few sun dried tomato bagels (and a cranberry and a cinnamon raisin and whatever else tickled my fancy at the moment).
And then we moved hours away. Too far to drive for a regular bagel fix. So, I learned to make my own.
Bagels are surprisingly easy to make at home. You start with a simple yeast dough, let it rise, then boil them for 30 seconds and bake.
The boiling step is crucial to achieving the proper texture. It sets the outside just enough so that when baked you get a nice chewy bagel.
The secret ingredient to bagels
To get that distinctive bagel taste, you need malt. Malt is germinated cereal grain (usually barley) that is dried with hot air shortly after germinating.
Bagels are usually made with diastatic or non-diastatic malt powder, which you can order online if you want to be authentic
Or you can just grab some malted milk powder at your local store and have plenty left to make some old fashioned Chocolate Malts.
Sun Dried Tomato Bagels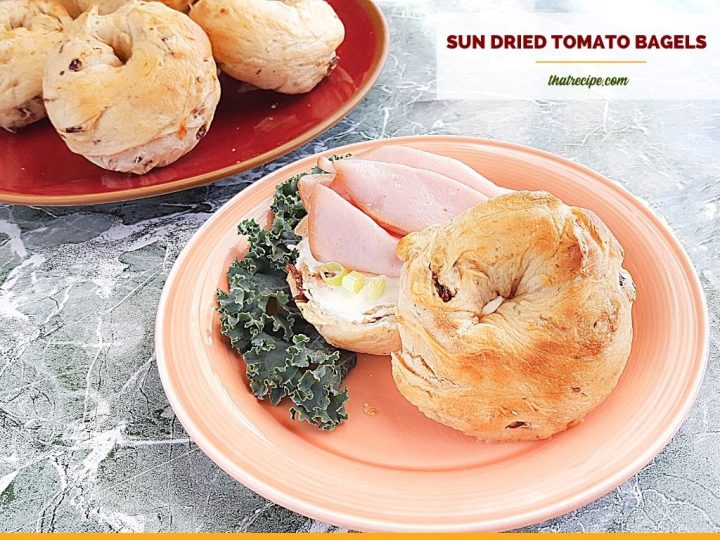 Ingredients
BAGELS
2

cups

lukewarm water

1

tablespoon

active dry yeast

2

tablespoons

brown sugar

¼

cup

instant malted milk powder

5 ½ - 6

cups

all purpose flour

1

tablespoon

dried Italian herb seasoning

1

teaspoon

salt

1

cup

sun dried tomatoes

(roughly chopped)
WATER BATH
2

quarts

water

2

tablespoons

instant malted milk powder

1

tablespoon

sugar
Instructions
Add yeast and sugar to the warm water and let proof for 5 minutes. It should begin to foam on top, if it doesn't your yeast may be bad.

Add instant malted milk powder

In a large bowl whisk together 5 ½ cups of flour, Italian herbs and salt. Add in the liquid and mix until combined. Add extra flour if dough is too soft to knead.

Knead dough with a bread hook attachment in a mixer or by hand. until smooth (5-10 minutes). Fold in sun dried tomatoes by hand until evenly distributed throughout the dough.

Put dough in a greased bowl. Cover with a piece of lightly greased plastic wrap. Let rise in a warm draft free place until doubled, 1 ½ to 2 hours. (I like to put mine in an unheated oven with the light on).

When dough is doubled in size, place on a clean counter and punch it down.

In a stock pot (or other pan that is at least 3" high) combine the water bath ingredients and bring to a boil.

Divide dough into 16 balls. Poke a hole through the dough with your index finger and twirl a few times to make a ring.

Boil the bagels 3-4 at a time for 30 seconds, then flip and boil another 30 seconds. Remove with a slotted spoon and put on baking sheet.

Bake at 425℉ until golden brown, about 20 minutes.