Jump to Recipe
Print Recipe
Hominy Tortillas taste like they are made from freshly ground corn. Perfect crunchy pulpy texture for your favorite Mexican recipes. 
Are you looking for a new way to satisfy your craving for Mexican food? Then this hominy tortilla recipe is the perfect meal for you! This delicious dish is easy to make and has all the flavor and texture of a classic Mexican favorite.
Adding hominy to a simple corn tortilla recipe makes them taste like they were made from fresh corn. And they are easy to make once you learn one simple trick.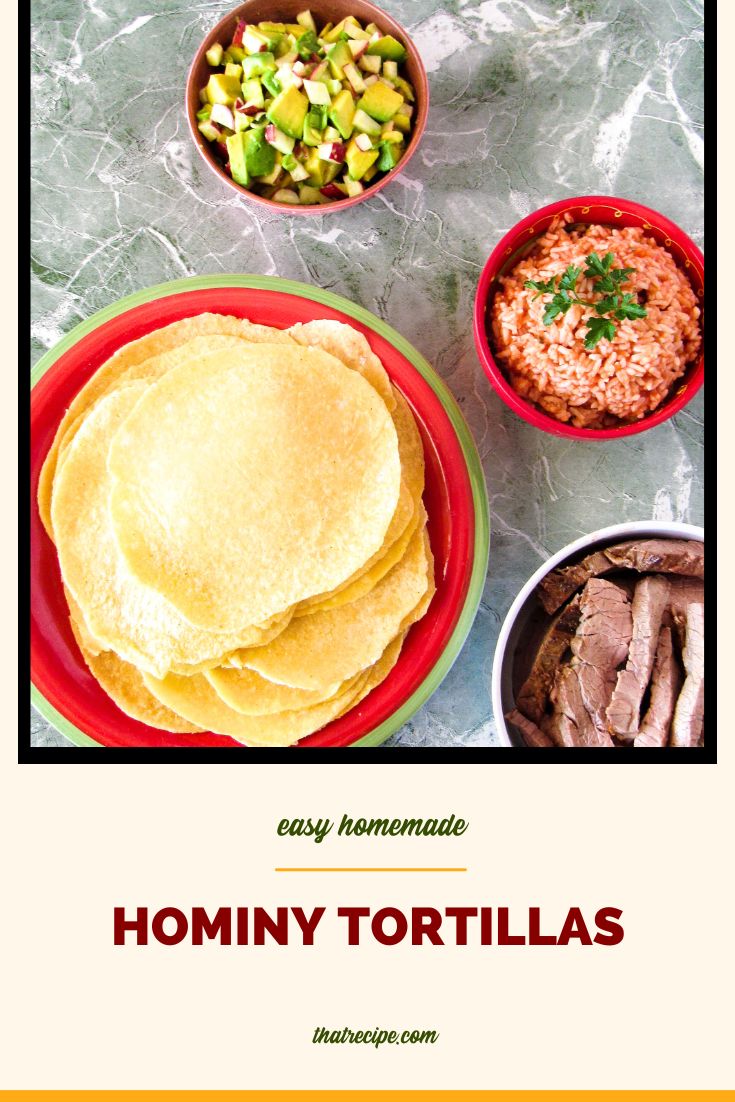 I almost threw out the Hominy Tortilla dough in frustration because it kept sticking to the plastic wrap or waxed paper when I was shaping the tortillas. I tried rolling. I tried use the tortilla press. Stick Stick Stick!
And then I used some non stick spray on the plastic wrap. Why didn't I think of it sooner!? All it took was a quick spray every time and they came off easily.
If you have someone else to help you the cooking process goes a bit faster because one can press the tortillas while the other is cooking them.
Ingredients for Hominy Tortillas
You only need a few basic ingredients to make these tortillas:
canned hominy
masa harina (find in the Mexican food aisle of most major supermarkets)
salt
water
Hominy Tortillas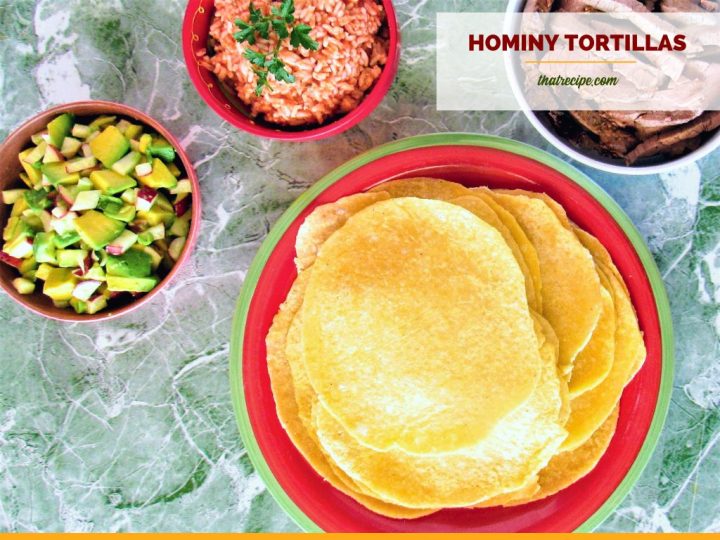 Ingredients
1 ½

cup

canned hominy

(most of a 29-ounce can (drained))

1 ½

cup

masa harina

¼

teaspoon

salt

1

cup

hot top water

non stick spray
Instructions
Puree the hominy in a blender or food processor. Put in large bowl with the remaining ingredients and mix until the dough forms a soft ball. Divide into 16 balls.

Heat a cast iron griddle or skillet over medium-high heat.

Spray two pieces of plastic wrap with non-stick spray.

Put dough balls one at a time between two pieces of plastic wrap and either roll with rolling pin or press with tortilla press into a 6- to 7- inch circle approximately 1/16- to ⅛- inch thick. Peel off plastic and transfer to griddle.

Cook for 30 seconds then flip and cook for another 30 seconds. Then flip back to the first side and cook for another 30 seconds until the tortilla puffs slightly.
Notes
You can make the dough ahead of time and then wrap tightly in plastic and put in the refrigerator (use within one day), or make the tortillas a day ahead of time and reheat before serving. I made half one day and the other half the next
Sound fabulous? Share it!