Jump to Recipe
Print Recipe
Easy Salsa Verde recipe made with tomatillos, jalapenos and green onions and spices. Delicious addition to any meal.
This simple Salsa Verde is a delicious fresh salsa recipe made with tomatillos instead of tomatoes.
It will add a healthy spot of flavor to just about anything.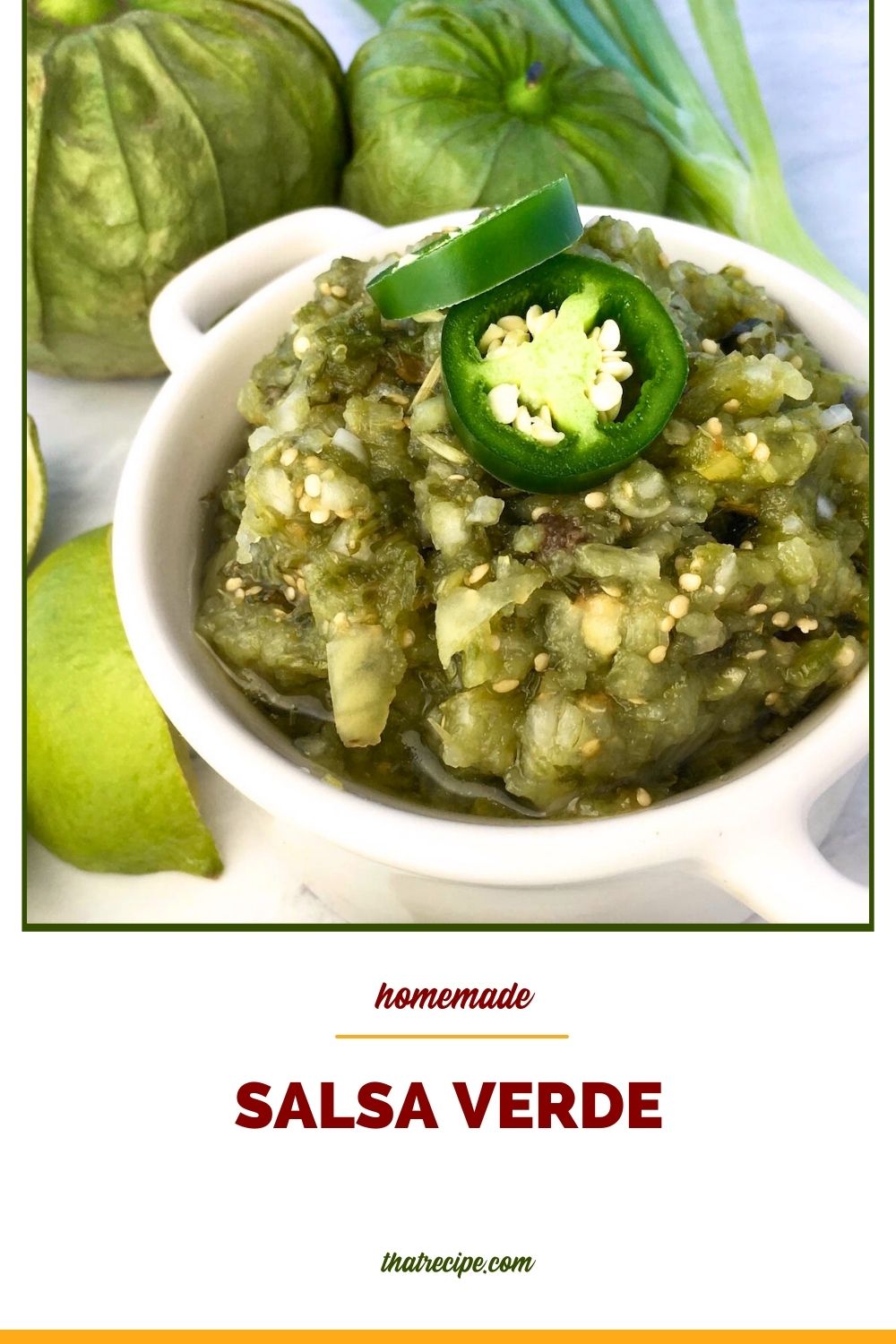 I like a good tomato salsa like Pico de Gallo. But, tomatoes are not the only fruit or vegetable that makes a fabulous salsa. I love using everything from eggplant to zucchini.
This recipe uses tomatillos, small tomato-like fruit with a papery husk covering them. While they can be eaten raw, roasting them brings out the sweetness and makes them softer which is better for this recipe.
How to serve Salsa Verde
Put it on everything from eggs to soup to tacos. Serve it with chips or on top of grilled chicken breasts or steak.
This salsa is great with chips as an appetizer, or add some on top of your burritos, tacos, huevos rancheros or other favorite Mexican dishes.
Ingredients for Salsa Verde
The ingredient list is pretty much what you would expect from a salsa recipe: fresh fruit, peppers, garlic, and onions with a little oil, acid plus herbs and spices.
The splash of honey doesn't make the salsa sweet by any means, but it doeshep to balance the other flavors nicely.
Ingredients
1

pound

tomatillos

2

medium

jalapeno peppers

3-4

cloves

fresh garlic

(peeled)

2

tablespoons

extra virgin olive oil

4

green onions

(chopped)

¼

cup

fresh cilantro leaves

¼

cup

fresh lime juice

2

teaspoons

ground cumin

2

teaspoons

dried oregano

1

tablespoon

honey

salt and black pepper

(to taste)
Instructions
Preheat oven to 400°F and line a rimmed baking sheet with parchment paper or baking mat.

Husk tomatillos and cut in half and place in a bowl with whole jalapeno peppers and garlic cloves. Drizzle with olive oil and toss gently to coat. Place in a single layer on the baking sheet

Bake until vegetables are tender about 15-20 minutes. Remove from oven and let cool for several minutes.

Once cool enough to handle, cut jalapeno peppers in half and remove seeds.

Put the roasted vegetables in a blender or food processor. Add green onion, cilantro, lime juice, ground cumin, and oregano. Pulse until ingredients are combined, but the mixture is still a little chunky.

Add a drizzle of honey to sweeten, if desired. Season with salt and pepper, to taste.