Jump to Recipe
Print Recipe
Make incredibly flavorful Italian Shredded Beef quickly and easily in your pressure cooker. Great for sandwiches, salads and more.
Italian Shredded Beef flavored with plenty of Italian herbs and spices makes amazing sandwiches, salads and more.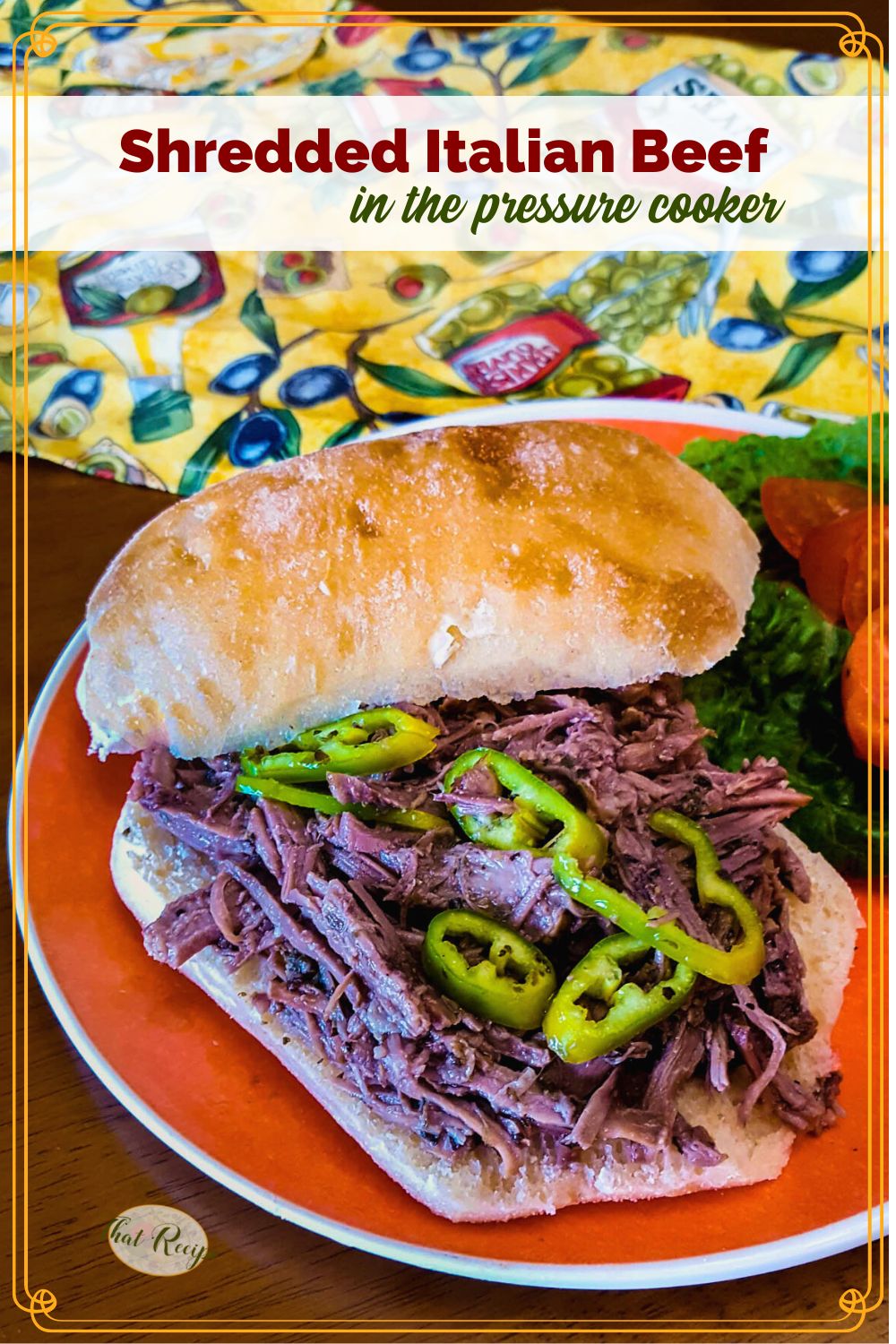 Have you ever been to an Italian deli and had a shredded beef sandwich that is just dripping with flavorful juice?
This recipe is about as close as you are going to get to that flavor at home. And, it can be quickly made in the pressure cooker.
I got this recipe years ago on All Recipes except it was made with prepackaged mixes and cooked for hours in the slow cooker. I freshened it up a little with actual herbs and spices and popped it into my Instant Pot for 30 minutes.
Same flavorful beef in an amazing juice.
Another bonus to this recipe is the price. Chuck roast is usually one of the cheapest cuts of beef and is perfect for making this tender, juicy and flavorful.
Making Italian Shredded Beef in a Slow Cooker
As I said above, this recipe is based on one made in the slow cooker.
To make it in a 5-6 quart crock pot, start by melting the fat in a skillet then brown the meat. Use a little beef stock to loosen the brown bits in the skillet. Put everything in the crock and cook on low about 8 hours, 4-5 hours on high.
How to Serve Italian Shredded Beef
Italian Shredded Beef is traditionally served on a crusty roll with peppers like pepperoncini or some giardiniera . Add a tablespoon or two of the juices on top of the beef, and maybe some extra on the side for dipping. Top it with provolone cheese slices if desired.
Or you could serve it on rice or pasta or polenta.
Toss it in a salad, or serve on cauliflower rice or with zoodles (zucchini noodles).
I've served the leftovers on top of French fries with some melted provolone on top. It would also make a great topping for baked potatoes.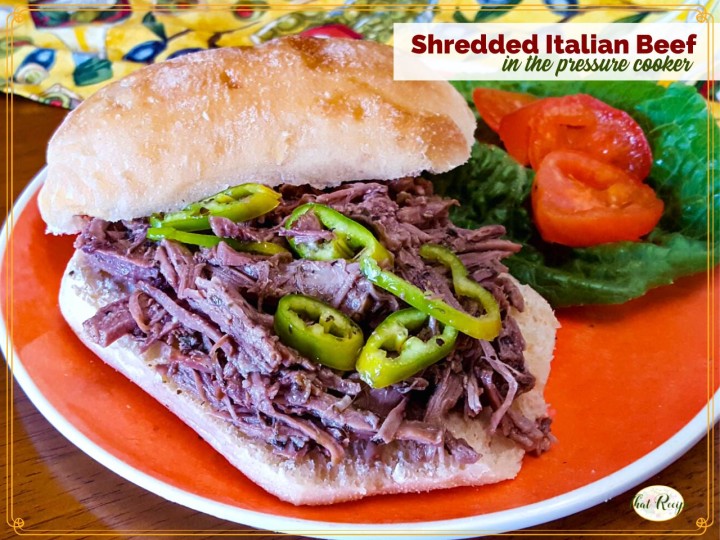 Ingredients
2½ - 3

pound

beef chuck roast

2

cups

beef broth

2

tablespoons

dried oregano leaves

2

tablespoons

dried parsley leaves

2

teaspoons

garlic powder

2

teaspoons

onion powder

2

teaspoons

dried basil leaves

1

teaspoon

dried celery leaves

1

teaspoon

kosher salt

1

teaspoon

ground pepper

1-2

whole

bay leaves
Instructions
Trim a tablespoon or so of fat from the roast and chop into bits. Place in the pressure cooker and melt over medium heat (Sauté mode in electric models).

Brown the roast on all sides, a few minutes a side.

Add remaining ingredients to pressure cooker and stir.

Seal pressure cooker and cook at high pressure for 40 minutes. Let pressure release naturally.

Remove beef from pot and place on a cutting board or plate. Shred with two forks. Place beef back into the juices.

Serve beef with a few tablespoons of juice on sandwich rolls with your choice of toppings: pepperoncini, giardiniera, provolone cheese, cheddar cheese, onions, lettuce, tomatoes, etc.

You can also serve the juice on the side for dipping.
Sound fabulous? Share it!
More Pressure Cooker Recipes