Jump to Recipe
Print Recipe
Fried Jambalaya Balls are similar to Italian Arancini, balls of rice fried and then drenched in a Gumbo gravy with fried okra slices for garnish.
Jambalaya Balls with Gumbo Gravy are a deliciously jaw dropping appetizer, perfect for Mardi Gras or any other occasion.
We have a guest post today from Clark H. Smith, my uncle, because it is now summer vacation for us here in the Humaciu household and I am in lazy mode. And more importantly, Uncle Clark is a far better writer (and cook, truth be told) than I can hope to be.
So without further ado here is his incredibly delicious looking, waist-line busting Fried Jambalaya Balls with Gumbo Gravy. Oh my!
-----
Jambalaya Balls
Clark H Smith
(I dreamt up this concoction in my own tiny head and then I made the mistake of Googling it. Turns out there are some other evil geniuses out there. However! They did not douse theirs with gumbo gravy!!! Here's how I make 'em.)
Please watch the video of how I went about making this incredible dish.
Fried Jambalaya Balls with Gumbo Gravy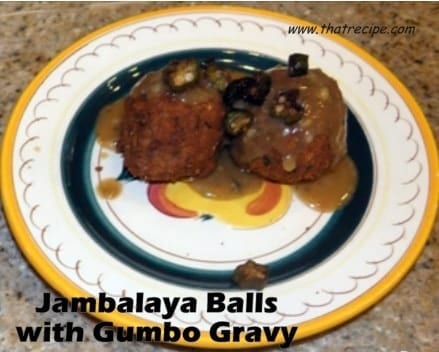 Ingredients
JAMBALAYA
1

box

Zatarain's Original Jambalaya Mix

4

Slices

bacon

(minced)

¼

cup

onion

(finely diced)

¼

cup

bell pepper

(finely diced)

¼

cup

celery

(finely diced)

1

cup

grilled shrimp

1

cup

grilled chicken

1

cup

Andouille sausage

(try to find a good coarse grind)

2-3

bay leaves

1

teaspoon

thyme
EGG WASH/COATING
2-3

eggs

(beaten)

1-2

cup

bread crumbs
GUMBO GRAVY
shrimp shells

Gumbo recipe prepared without meat
Instructions
Jambalaya
In a 3 quart sauce pan, brown the bacon to almost done. Add in onions and sauté until translucent. Dump in the celery and bell peppers. Let 'em get good and hot. Make 'em sweat. Add the Zatarain's Jambalaya Mix and water as directed on package.

Throw on the meats (see video).

Stir. Cook jambalaya according to package instructions… with ONE exception. You'll want to stir the rice every 5 to 10 minutes (see video). Typically, one never stirs rice, but we want our jambalaya balls to stick together WITHOUT any filler (egg, cheese, drywall spackle, etc). So stir the rice occasionally, this will make it sticky.

When jambalaya is done, turn it out into a cake pan and let completely cool. COMPLETELY! When jambalaya is cool, form into balls between ¼ to ⅓ cup volume. The smaller the ball the quicker it will cook, the less heat it will take out of the fryer, and the crispier it will be.

Once balls are rolled, put them back in the cake pan and let firm up in the refrigerator, preferably at least 12 hours.

Heat fryer oil to 350°.

Dip chilled balls in egg wash and then in bread crumbs – whatever you like. I happened to have Italian seasoned breadcrumbs on hand and it was a nice touch. Fry balls four to six at a time… depending on your set up. I'm not tryin' to tell anybody how to run their own dang fryer. Remove.

Drench with gumbo gravy.

Eat. EAT!!
Gumbo Gravy
In the video (see video), I start with a quart of chicken broth. When I snack on shrimp, I save the shells to make shrimp broth. See video.

I make the gumbo gravy according to the recipe, everything except the meat.

For a finishing flourish, I thin-sliced some okra and fried it for a little garnish. So yeah, it was more of a garnish than a flourish.
Notes
Clark H Smith is Audrey Humaciu's uncle and when not doing evil genius stuff in the kitchen, we writes purty words here, here, and here.
----
Until next time, happy eating! (especially if you make these)
~Audrey