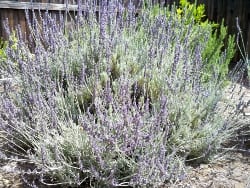 I have always loved the smell and taste of lavender. Taste? Yes, those beautiful purple stalks are edible - (provided they are not treated with herbicides or pesticides!). I remember having lavender candy when I was young, they were pastels as I recall, but I haven't seen them in years.  If you have never tasted lavender, they best way to describe the flavor is "it tastes like it smells".  If you don't like the smell (like my husband!) you probably won't care for the taste, but if you do like the smell, this blog is for you.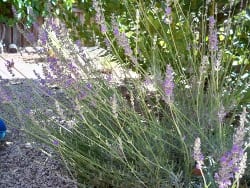 I have three different types of lavender in my garden - English, French and Spanish (or so they were labeled when I bought them) and I have been intending to blog about it for awhile. In one of those "only on Facebook" coincidences, I have had two separate conversations on the subject in the past month so I figured it was about time I got to it.  I just planted the Spanish, so I have not actually used it for anything yet, but pretty much all types are interchangeable in my opinion.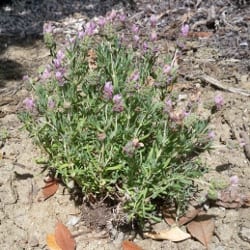 Let's start with ornamental uses. You can strip the flowers off and add it to potpourri, dry the flower stalks (hanging them upside down) and then put them in your linen closet, add some crushed flowers to milled soaps and make lavender wands out of them. I got the last idea from one of my favorite gardening catalogs/online stores: Peaceful Valley - I highly recommend them if you are looking for gardening supplies and seeds (I really want their garlic combo pack this year) or maybe some ornamental California native plants.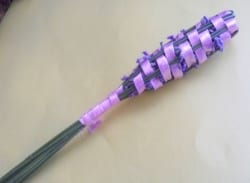 Cooking-wise I personally have made lavender iced tea, lavender lemonade and strawberry lavender jam.
For the drinks all you need to do is make a simple syrup: bring to a boil 1 cup water, 1 cup sweetener (sugar, aspartame, stevia, sucralose, etc.) and a tablespoon of lavender flowers, strain, simmer until the syrup has the desired taste then use in your drinks.
For the jam I crushed up the flowers in my coffee grinder then added to the strawberries and sugar from the start. The flowery taste was a perfect compliment to the fruity strawberry taste.
One day on Facebook, my former classmate, Sam Zabor, mentioned he had purchased some wonderful lavender semi-hard cheese from the Sacred Wheel Cheese Shop in Oakland, CA. Per Sam, "they have AMAZING cheeses and other stuff too, like honeycomb taken from a fresh comb in the store!" Might have to check that place out on our annual trek to the Bay Area! 
Another friend of his commented that she had tried some lavender cookies before. My eyes lit up and my brain started sifting through the possibilities! I did a search and found quite a few recipes that seemed to be just a simple sugar cookie recipe with crushed lavender flowers added. Other ideas I had were to make lavender sugar (store some sugar in a sealed jar with some lavender and let it sit for a few weeks, shaking occasionaly to let the sugar absorb the flavor) and use it instead of cinnamon sugar to make snickerdoodles or to swap lavender for the rosemary in Sunset's Lemon Rosemary Shortbread Buttons.
In a separate Facebook conversation, my brother and his wife came up with a list of must have spices, vinegars and condiments one should have on hand (I will post it soon, I promise!) and lavender was on the list. What he does with it: light cream sauce on sea bass with a hint of garlic and shallot then finish with white wine and top with an edible flower.
And finally, I have read online about candying the flowers by dipping them in egg whites then in sugar and using to decorate cakes. Not sure my boys would go for that one, but could make a pretty Easter/Mother's Day dessert.
As always, I'd love to hear if you have other uses for this wonderful little purple flower: [email protected].
Until next time, happy eating.
~Audrey