Jump to Recipe
Print Recipe
The Best Peanut Brittle Recipe you will ever make. Peanut brittle with plenty of air pockets to make it crunchy but not tooth damaging.
Have you ever had Peanut Brittle so hard you were worried for your teeth? Well, this recipe takes the fear out of this delicious treat. And it is tasty and easy too.
The recipe is courtesy of my Goddaddy, Barry Marshall. He got it from the mom of one of his students decades ago and he has made it multiple times a year since then.
He always has some for me whenever we get to see each other because he knows it is my favorite.
Variations for Peanut Brittle
Barry recommends Spanish peanuts because they are smaller and the red skin adds a nice little something extra.
Lately he has been using mixed nuts (cutting the Brazil nuts in smaller pieces if they are very large), which is even better than the peanuts in my opinion.
My husband prefers his cashew brittle because he loves cashews.
He has also used sesame seeds to make brittle it like sesame seed candy.
Tips for Great Peanut Brittle
Barry says there are two secrets to making the perfect batch of brittle: baking soda and the candy thermometer.
Plenty of Baking Soda
Just look at the air pockets in this piece.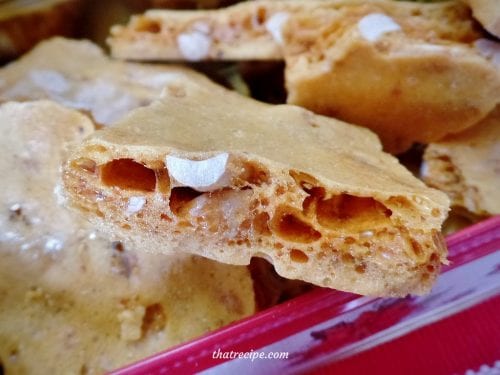 The problem with most peanut brittle recipes is they are too dense which makes them too hard to chew. With this recipe you get nice big air pockets between the sweet crunch. Less potential for emergency dental visits.
A Great Candy Thermometer
This is the one he recommends using (affiliate link, I will receive a small percentage of the purchase price at no cost to you if you buy through this link).
You can go with one of those cheap hard to read ones, but there is a darn good reason this one costs more. It is BETTER. If you fry or make candy or jams/jelly often this is a great kitchen tool to have around.
Peanut Brittle
Ingredients
3

cups

sugar

1 ½

cup

light corn syrup

¾

cups

water

3

tablespoons

butter

1 ½

tablespoon

baking soda

2

teaspoons

vanilla

3

cups

Spanish peanuts
Instructions
Lightly coat 3 baking sheets with oil.

Combine sugar, syrup, and water in a large deep kettle. Bring to a boil stirring to make sure all the sugars melt and nothing sticks to the bottom.

When the mixture reaches 260°F add butter, peanuts and continue stirring and cooking until the thermometer reaches 310°F

Remove from heat and add vanilla and soda. Stir very quickly as the mixture will become very foamy.

Immediately pour the mixture out onto the baking sheets.

After the brittle has hardened, break into a few large pieces. Put the brittle into large plastic bags so the shards don't go flying all over the kitchen when breaking them up into smaller bite-sized pieces.

Store brittle in sealed jar, can or plastic bag.
Notes
Feel free to substitute other nuts in this recipe. You may want to chop very large nuts (like Brazil nuts) in 2-3 pieces before making.
More Homemade Candy
Until next time, happy eating.
~Audrey