Jump to Recipe
Print Recipe
Chocolate Fudge made with just 5 simple ingredients and cooks in 5 minutes without a candy thermometer. YUM!
Some chocolate fudge recipes have a long list of ingredients or a complex cooking procedure that rely on achieving the perfect temperature in order to get it to set properly. That's why I love this recipe. Not only does it taste delicious, it is so easy to make and cooks in just 5 minutes.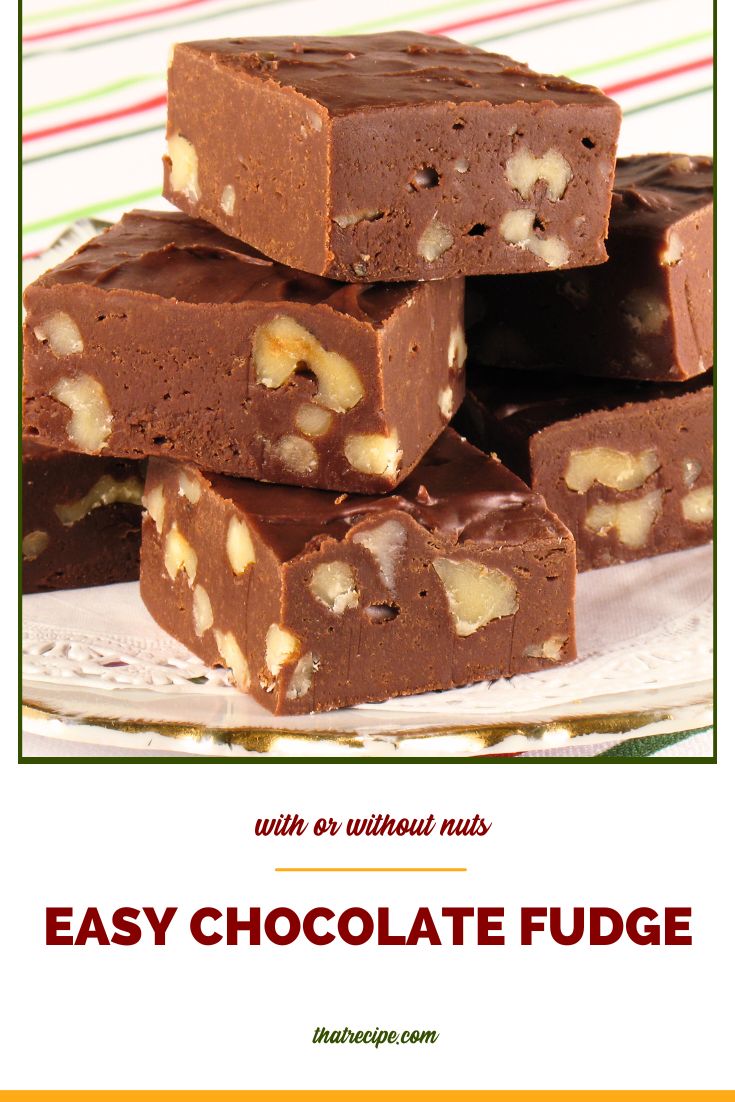 This recipe is from one of my favorite cookbooks: The Chocolate and Coffee Bible. It is loaded with information and the history of both chocolate and coffee. Plus it has so many drool worthy recipes for both.
One of my favorite things about this recipe, besides the chocolate is that you don't need a candy thermometer.
You just bring it to a boil and simmer for five minutes. I have made the recipe a few times so I can actually feel the change in thickness of the boiling milk and sugar just when it reaches the 5 minute mark.
5 Minute Chocolate Fudge Ingredients
You only need a few basic ingredients, which you probably have in your kitchen or are easy to find at the grocery store:
evaporated milk
sugar
salt
chocolate chips (dark, semi sweet, milk, or even white chocolate all work)
nuts (pick your favorite or leave them out)
I split mine into two batches right at the end and added some chopped cashews to half, because some people in my house do not like nuts in their fudge. Go figure!
You can also add a little extract with the chocolate if you want. Start with about ½ teaspoon of vanilla, almond, rum, etc. for another variation of this recipe.
Easy Homemade Chocolate Fudge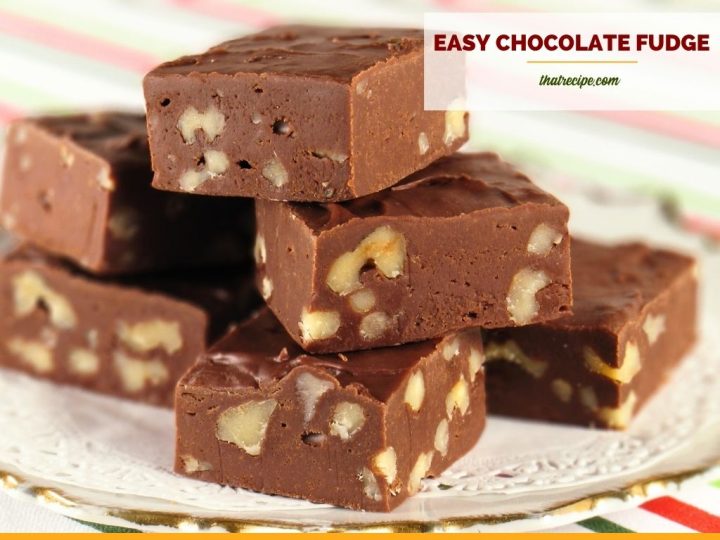 Ingredients
⅔

cups

evaporated milk

1 ½

cup

sugar

pinch

salt

2

cups

semi sweet chocolate chips

(or dark or milk chocolate)

½

cup

nuts

(pecans, almonds, hazlenuts, pistachios)
Instructions
Grease an 8 inch square pan.

Place milk, sugar and salt in a heavy pot. Bring to a boil stirring constantly. Lower heat and simmer for 5 minutes, stirring constantly.

Remove from heat and add chocolate and nuts (if using). Stir until chocolate is melted.

Pour into prepared pans and spread evenly. Let cool.

When fudge is cooled completely, cut into squares.
Sound fabulous? Share it!
Until next time, happy eating!
~Audrey
Save
Save