Thanks to my compeltely wonderful and awesome mother I just got two new (to me) cookbooks with foods fit for Kings, the King of Siam and the King of Rock and Roll, to be specific.
I will be making some chinese Pork Meatballs from The Yul Brynner Cookbook: Food Fit for the King and You tonight for Chinese New Year and I will report back to you. If you want more Chinese New Year's recipes and traditions you can read my old blog on the subject.
Even though I was more drawn to the type and variety of the recipes in the Yul Brynner book - and I prefer his singing style and movies to those of Elvis - I actually made something from the Are You Hungry Tonight? Elvis' Favorite Recipes cookbook first. The author, Brenda Arlene Butler is obviously an Elvis fan that did plenty of research. There are photos and stories throughout this book of mostly good old Southern Style recipes. She even gives movie/song recommendations along with the recipes. A few I plan to try later are Creamy Onion Casserole and Elvis and Priscilla's Royal Wedding Cake (recipe from The Aladdin, complete with how to decorate it). I'll make the scaled down one tier version, not the six tier version to feed 500 guests.
The recipe I chose to make first was Fried Peanut Butter and Banana Sandwich, which apparently was one of the King's favorites.  I had the ingredients on hand and thought I'd make it for a quick afterschool snack the other day. Quick, easy and filling.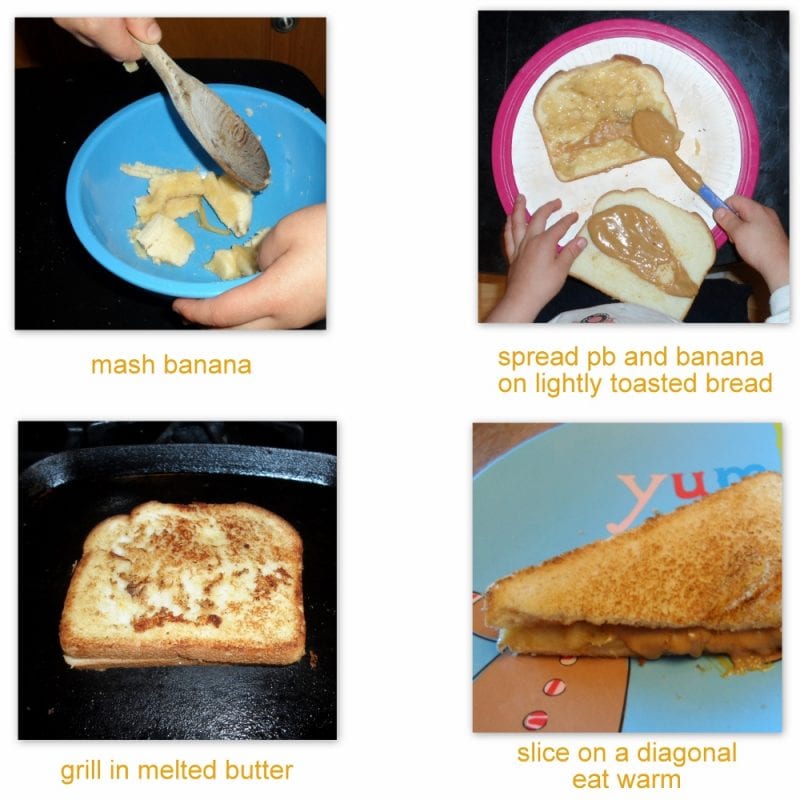 In case you can't tell those chubby little hands are not mine. I had J do everything except the actual cooking. Elvis would have prefered more of everything - peanut butter, bananas, butter in the griddle and even the amount of browness (he liked things burnt or "ruined" as we refer to it in my house - typical Southern boy). However, my Prince does not like things too gooey or his toast too crunchy. And I was making it for him. I advise making it to your family's taste. The recipe gets two thumbs up from us. J not only liked it but gave me a resounding "Yes!" when I asked him if he would like for me to make it again.
Until next time, happy eating.
~Audrey