Jump to Recipe
Print Recipe
Sweetly spiced pear cranberry mincemeat is a delicious way to use up extra pears. Use it to make mincemeat pies, cookies, cakes, tarts and more.
Homemade Mincemeat is a delicious sweet combination of pears, dried cranberries, and warm spices that is delicious in baked goods or as a condiment for any meal. So easy to make, and if you have an abundance of pears it makes great gifts.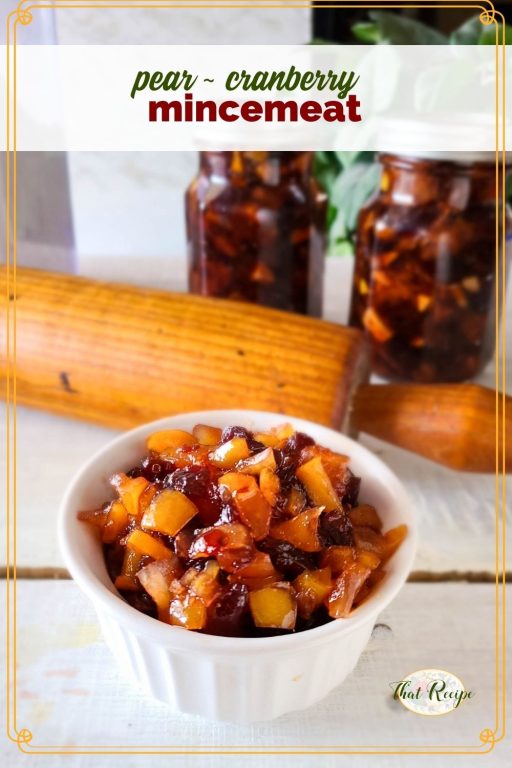 Truth time, I am not a big pear fan.
They are okay, but when we get them from our local CSA they can get pushed to the back of the produce bin and I end up with too many for us to eat before they go bad. If you have a pear tree, you probably have the same problem.
This easy homemade mincemeat recipe is a great solution. And you can make a big batch and can it up for gifts at holiday time.
If you don't have pears or dried cranberries you can use apples and any dried fruit like raisins or dates.
Is there meat in mincemeat?
Mince is derived from the French word meaning to finely chop. And mincemeat does resemble minced meat, aka ground beef here in the US.
In the past there was shredded meat added along with the dried fruit, citrus, spirits (rum, brandy, etc.) and warm spices. Most recipes now do not use meat, though some use suet (beef fat) or butter.
This mincemeat recipe is both vegan and alcohol free. If you are not planning on canning it, you can even use a non-sugar sweetener.
If you have never canned before you might want to read the water bath canning instructions from Ball/Kerr. Or you can make a small batch and keep it in the fridge or freeze it.
What do you do with mincemeat?
Mincemeat is classically used in pies. especially for Thanksgiving. But, it can be used in a variety of other baked goods like cookies, cakes, muffins, tarts and more.
Add it on top of roasted pork or chicken. Serve it along with your cheese or charcuterie tray. Use it to top yogurt or ice cream. Eat it straight from the jar...
More Pear Recipes from #OurFamilyTable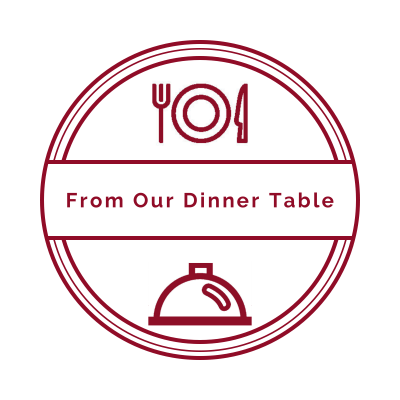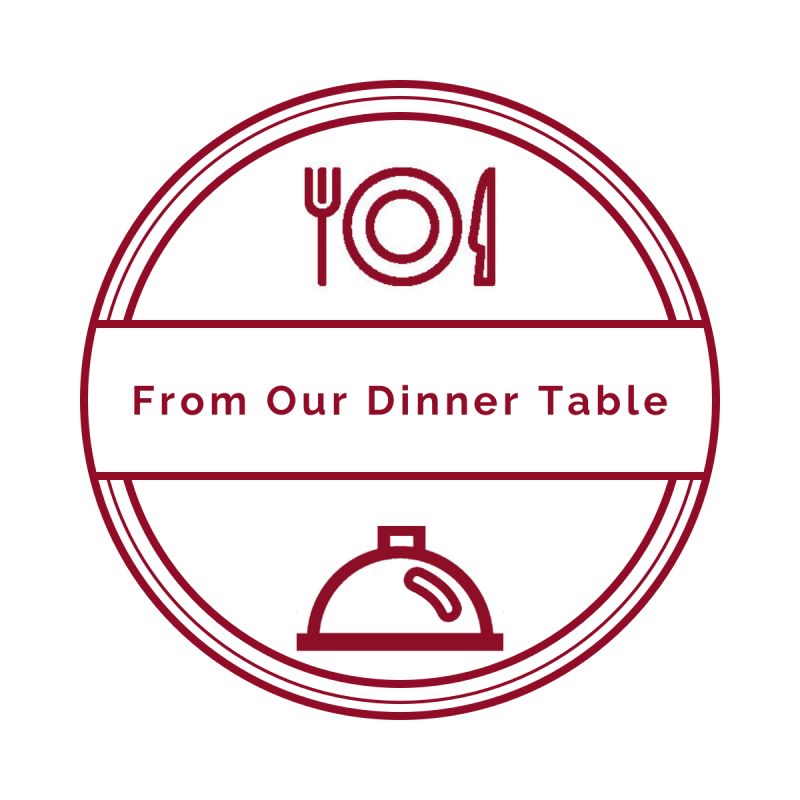 Pears are one of winters' delicious bounties. Here are some fresh ideas for serving them.
Pear-fect Recipes

We share Recipes From Our Dinner Table! Join our group and share your recipes, too! While you're at it, join our Pinterest board, too!
Pear Cranberry Mincemeat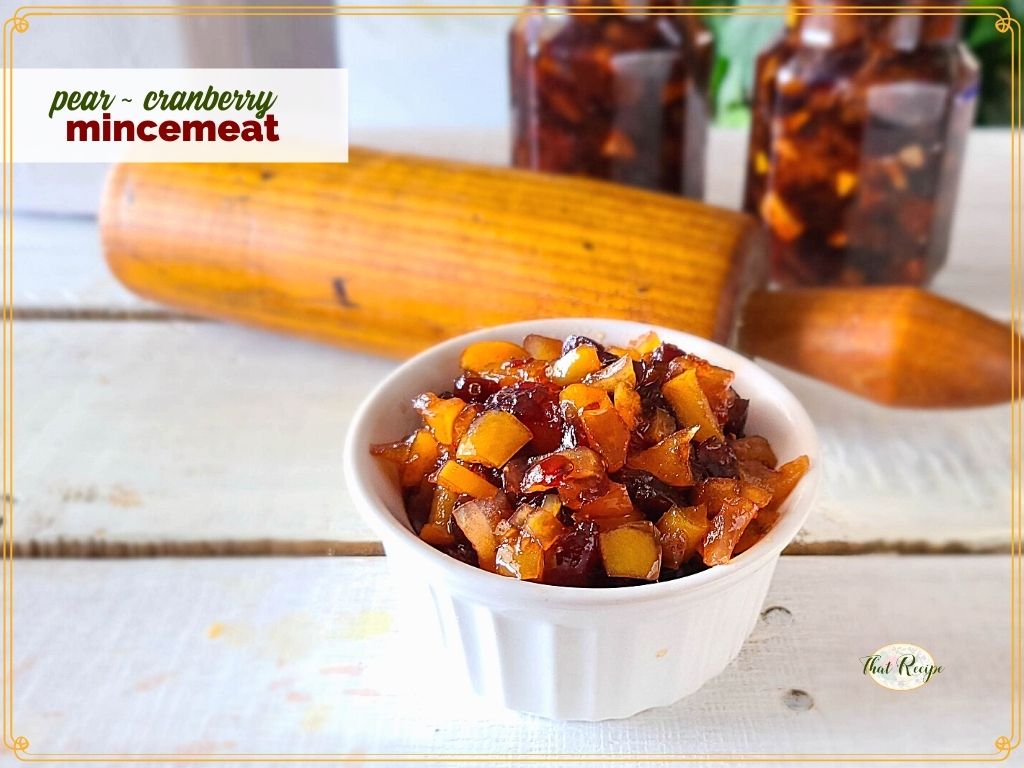 Ingredients
7

pounds

pears

1

whole lemon

2

pounds

dried cranberries

6 ¾

cups

sugar

1

tablespoon

ground cloves

1

tablespoon

ground cinnamon

1

tablespoon

ground nutmeg

1

tablespoon

ground allspice

1

tablespoon

ground ginger

1

cup

white distilled vinegar

(or apple cider)
Instructions
Core pears and coarsely chop. Cut lemon in quarters, remove any seeds and finely chop (peel and all).

Add all ingredients into a large pot, bring mixture to a boil over medium heat. Reduce heat and simmer for 30 minutes.

While mixture is boiling sterilize 9 pint jars. Fill jars with cooked mincemeat to ½ inch line, remove air bubbles and adjust 2 piece cap. Process 25 minutes in a boiling water canner.
Notes
Read more about water bath canning.
Instead of canning, the mincemeat can be stored in the refrigerator or frozen.
Sound fabulous? Share it!
Until next time, happy eating!
~Audrey