Jump to Recipe
Print Recipe
No Knead brioche-like bread loaded with candied pineapple and fresh rosemary topped with a sweet glaze with more pineapple and rosemary.
If you love the texture of a yeast bread, but hate the  two  long rising times, give this No Knead Pineapple Rosemary Bread a try. This batter bread is light and fluffy and loaded with bits of pineapple and rosemary flavor.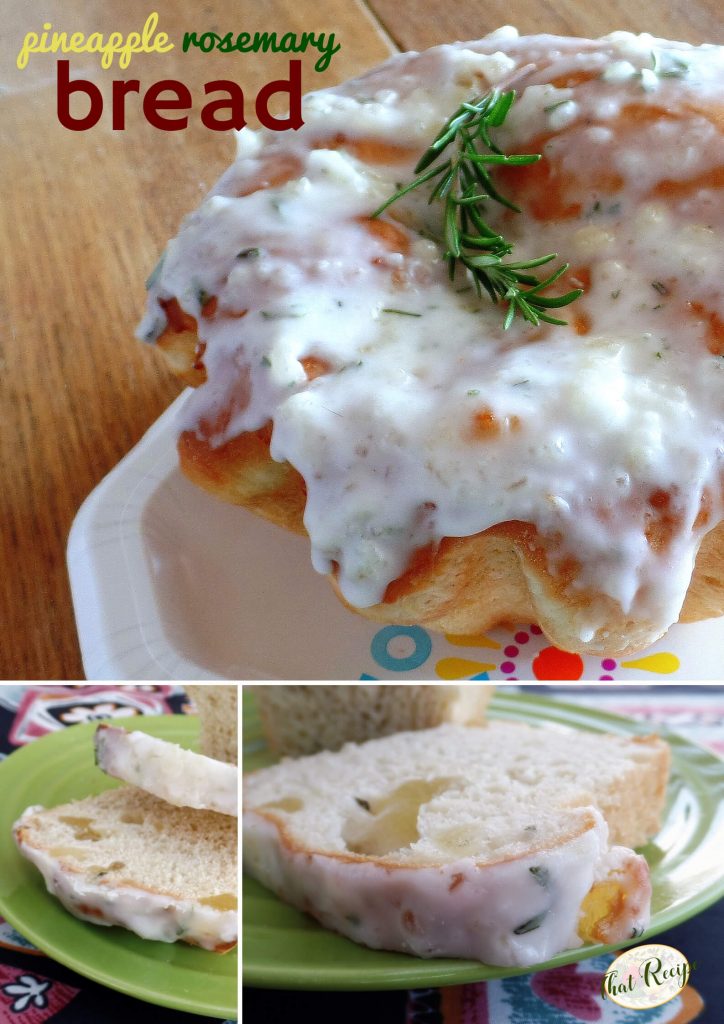 Crazy Ingredient Challenge: Pineapple and Rosemary
The Crazy Ingredient Challenge is similar to Chopped. You are given two ingredients not normally paired together and make something with it. Thanks to the Crazy Ingredient Challenge crew, I have found an amazing new flavor combination.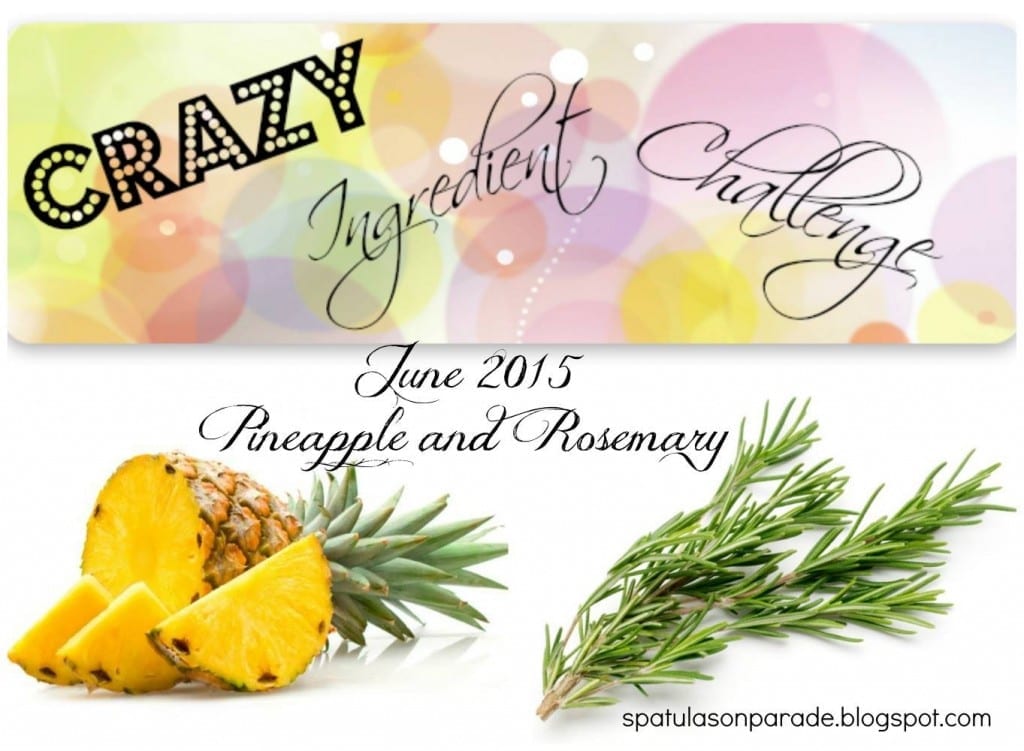 So many great ideas to make with these two ingredients. Be sure to scroll to the bottom to see what the other bloggers came up with this month.
No-knead Pineapple Rosemary Bread
The idea for this bread is based off of Betty Crocker's Dried Fruit and Cinnamon Batter Bread (which also sounds good and I may try to make another time).
A batter bread is a yeast bread, that is mixed in a mixer (or by hand if you want an upper body workout) instead of kneading, and only needs one rising, instead of two like most yeast breads. The dough/batter is far to soft to knead by hand.
When I was fishing in the cabinet for the bread pans I had to move the tortilla bowl pans that I bought and have never used. Since the bread is brioche-like with butter and egg, why not make it brioche shaped? Yeah, the uni-taskers now have two functions. Feel free to use a normal loaf pan.
Pineapple Rosemary Bread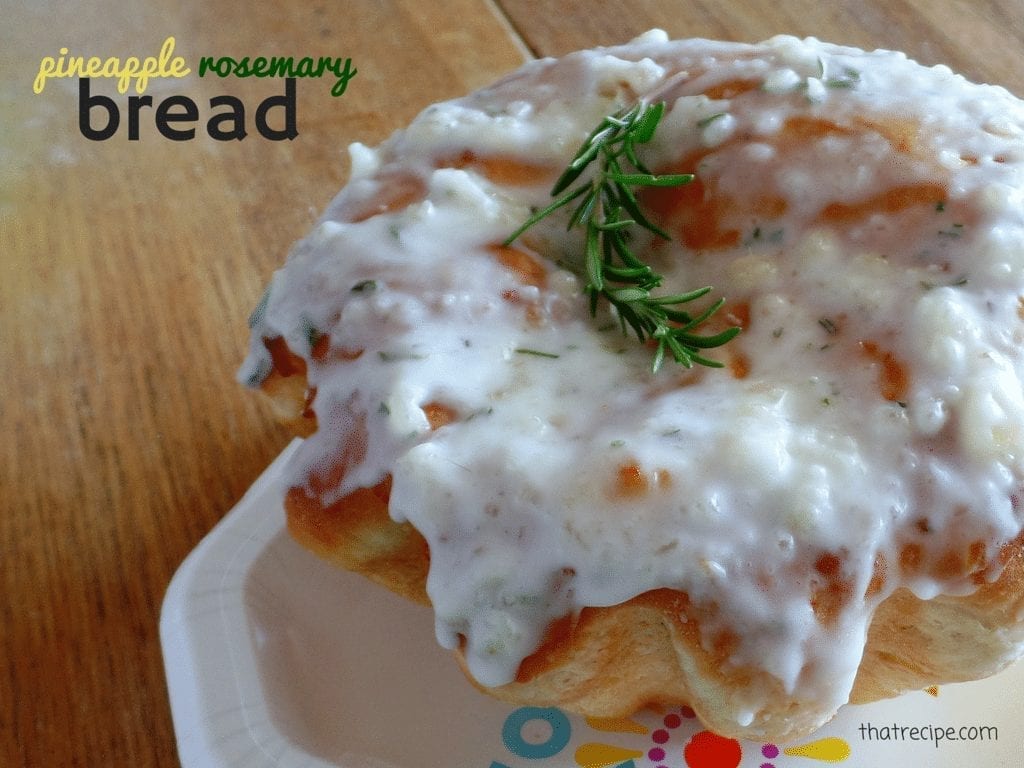 Ingredients
BREAD
1 ¼

cup

very warm water

(120-130 degrees F.)

¼

cup

sugar

2 ¼

teaspoons

fast rising yeast

(one packet)

3

cups

all purpose flour

1

teaspoon

salt

1

tablespoon

fresh rosemary

(finely chopped)

¼

cup

butter

(melted)

1

egg

1

cup

dried pineapple

(chopped into ¼ inch pieces)
GLAZE
½

cup

powdered sugar

1

teaspoon

fresh rosemary

¼

cup

dried pineapple

2-3

tablespoons

milk
Instructions
Grease the bottom and sides of a 9 x 5 inch loaf pan.

Add yeast and sugar to warm water and let it proof for a few minutes (become frothy - if it doesn't froth your yeast may be too old and your bread won't rise).

Combine 2 cups flour, salt and rosemary in a large bowl.

Add water/yeast mixture, butter and egg. Mix with an electric mixer on medium speed for 3 minutes, scrape bowl frequently.

Add pineapple chunks and remaining cup of flour to form a stiff dough.

Spread batter in pan and shape with floured hands. Cover with plastic wrap sprayed lightly with cooking spray and put in a warm place to rise until doubled, about 1 hour. I like to put mine in an unheated oven with the light on.

Preheat oven to 375 degrees F. Remove plastic wrap from bread. Bake 40-45 minutes, until bread sounds hollow when tapped.

Immediately remove bread from pan and let cool completely on a cooling rack.

In the small bowl of a food processor combine remaining rosemary and pineapple with a few pulses. Add powdered sugar and pulse again until it is mixed and the pieces of pineapple and rosemary are very fine. Add milk a tablespoon at a time until it reaches the desired consistency. Spread on the bread.
Until next time, happy eating.
~Audrey