Jump to Recipe
Print Recipe
Zesty Salmon Cakes loaded with peppers and onions and a dash of horseradish for a delightful kick. Great for a meatless meal or make smaller for appetizers.
These zesty Salmon Cakes are incredible for Meatless Monday or make them smaller for a special appetizer.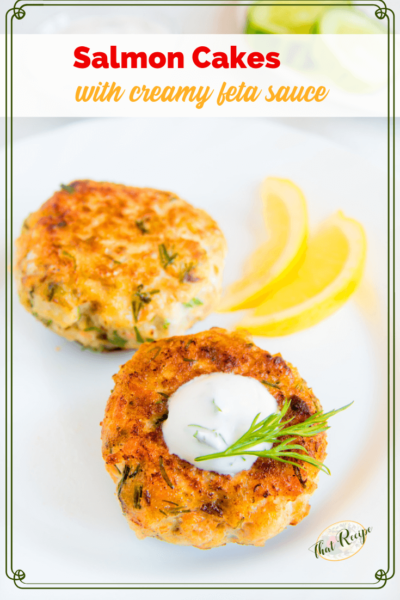 The recipe makes about 8 three inch wide cakes. Figure about 2 per person for a meal (with salad, bread, etc.), or make them smaller for an appetizer. I resisted the urge to eat them all and froze a few for Ma'am and some for us to have tomorrow for meatless Lenten Friday. Aside from using roasted red peppers instead of the fresh bell peppers, I followed the recipe exactly, including the Creamy Feta Sauce.
You can use fresh (preferred - be sure to remove ALL bones) or canned pink salmon (be sure to drain all liquid). It will be kind of gooey when you mix it up. I suggest trying to fry one first before you add more breadcrumbs if you are in doubt. As Mike said, you don't want it to be fishy French toast.
Zesty Salmon Cakes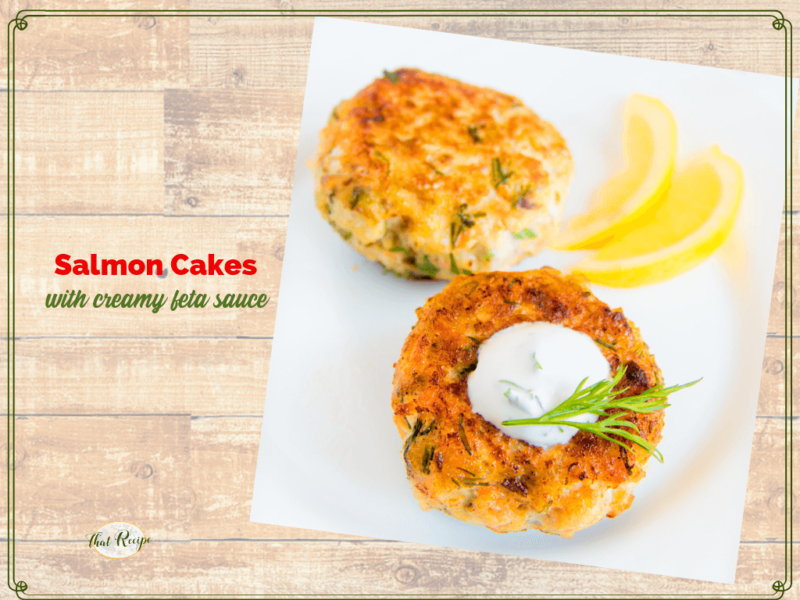 Ingredients
2

cans

salmon

(or 1 ½ pounds fresh salmon)

1

green bell pepper

(chopped in ¼ inch pieces)

1

red bell pepper

(chopped in ¼ inch pieces)

½

small

red onion

(chopped in ¼ inch pieces)

3

cloves

garlic

4

large

eggs

4

ounce

cream cheese

2

tablespoons

prepared horseradish

(not the creamy kind)

2 - 2 ½

cups

bread crumbs

salt and pepper to taste

oil for frying
Instructions
If using fresh salmon, poach it and remove ALL bones, trying to keep the salmon "chunky". If using canned, drain all liquid.

In a skillet, sweat peppers, onions and garlic over medium heat until onions are translucent.

In a bowl, mix eggs and cream cheese, then add salmon, vegetables, horseradish and 2 cups breadcrumbs. You want the mixture to be strong enough to make patties out of them, but not so much bread that you're eating salmony French toast. If needed, gradually add more bread crumbs. Add salt and pepper to taste.

Form into patties no thicker than ¾ inch. Add ¼ inch oil to a skillet (preferably a cast iron one) and heat over medium heat. Fry cakes approximately 2 to 3 minutes a side until they are browned (be careful not to blacken them!).
Creamy Feta Sauce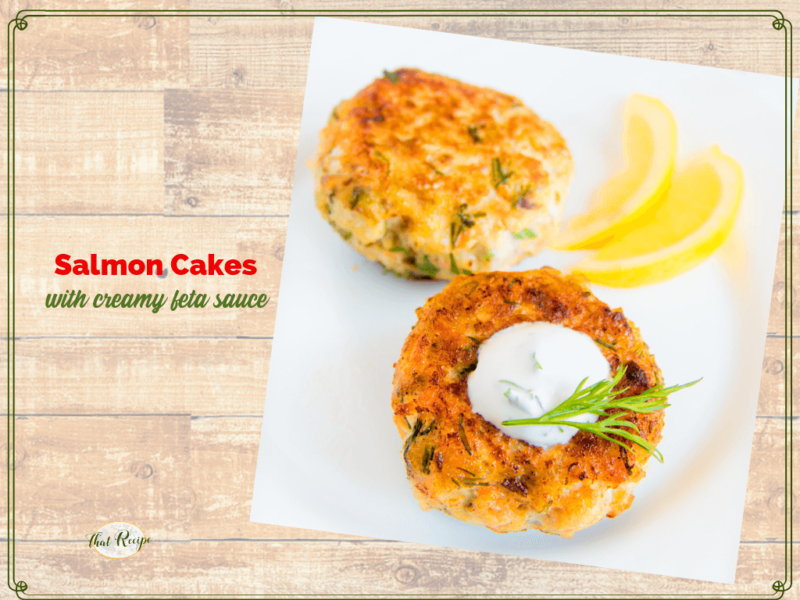 Ingredients
8

ounce

feta cheese

4

ounce

sour cream

1

tablespoon

prepared horseradish

2

green onions

(thinly chopped)

1

tablespoon

dill

juice of one lemon

salt and pepper

(to taste)
Instructions
Mix all ingredients in a small bowl. Let sit 30 minutes or longer for flavors to fully develop.
Until next time, happy eating
~Audrey