Jump to Recipe
Print Recipe
This Panko Crusted Salmon with Orange Sauce has only 5 ingredients but loads of flavor. Plus it is quick and simple to make.
If you need a simple and easy meatless meal give this Panko Crusted Salmon with Orange Sauce a try. Just a few simple ingredients, but plenty of flavor.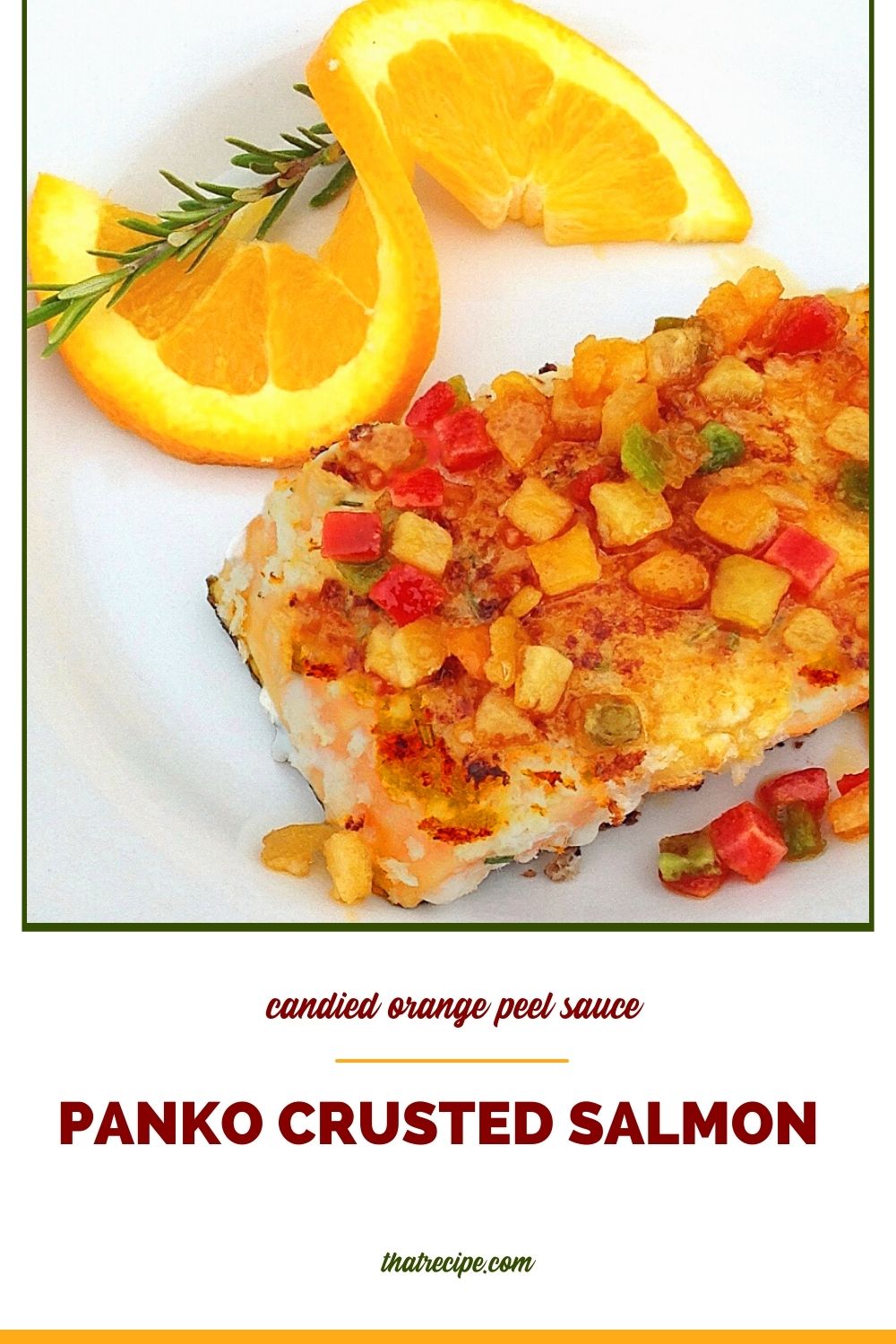 With all of the heavy foods I have been eating and will be eating this holiday season I wanted this recipe to be light and healthy. It only has five ingredients because I wanted the simplicity of the flavors to stand out, particularly the salmon, rosemary and citrus.
Looking at the picture above you might think the secret ingredient is bell peppers, but you'd be wrong. It is candied citrus peel fruit cake mix!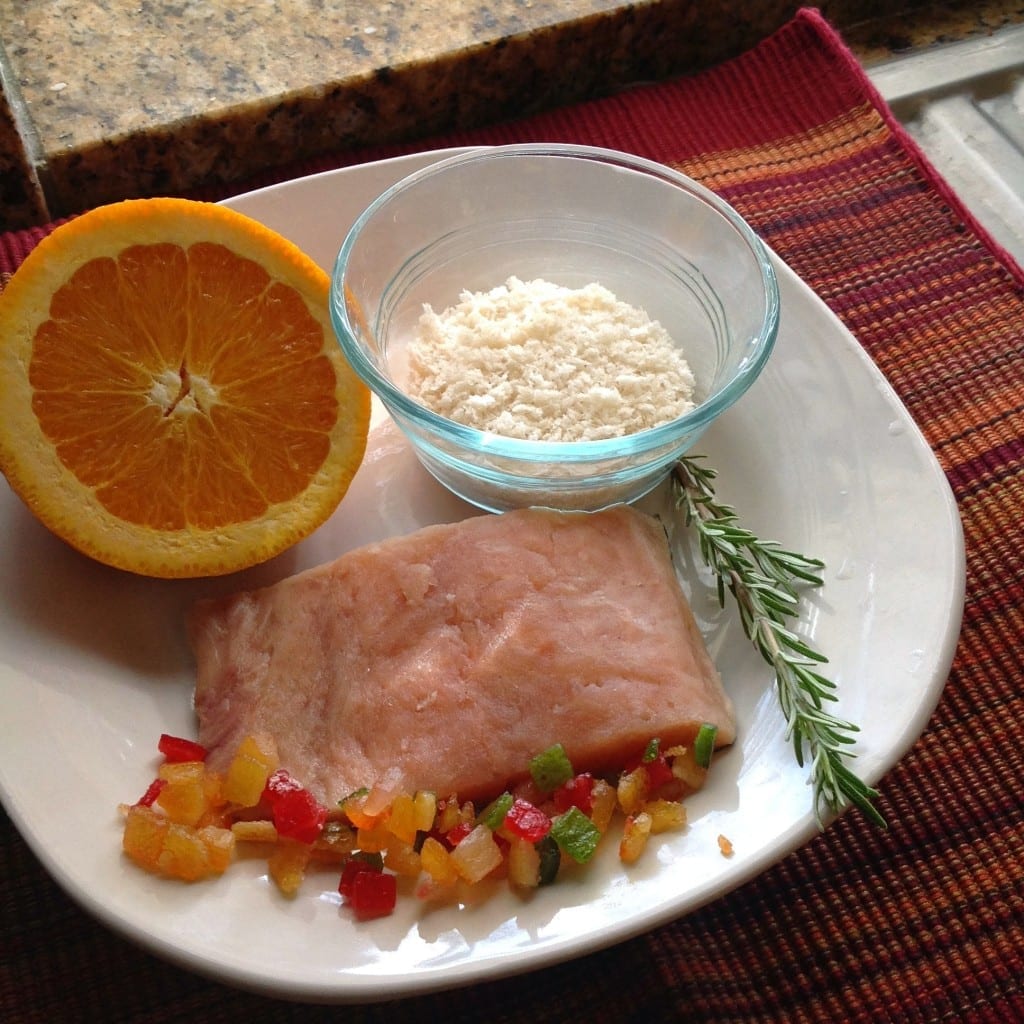 Isn't it gorgeous? Moist and finely chopped. Unlike most store bought mixes that are huge dried out chunks. No wonder many people hate fruit cake. But these were so delicious I could have eaten them straight.
I need to head back to Winco Foods to get more because I already used it all up for this and these Chocolate Dipped Citrus Cookies. FYI, Winco is not a sponsor of the post, but I don't know if any other store has this in bulk like they do. If all you can get is the bigger pieces just chop them up to about ⅛ inch dice.
What kind of salmon should I use?
The choice of salmon varieties is up to you. Choose whatever is fresh (preferably) and within your budget.
If you can, you should always opt for wild Pacific (Alaskan) salmon versus Atlantic. All Pacific salmon is wild while Atlantic salmon is almost all farmed. Both are healthy for you. But Pacific salmon are not endangered, and the Atlantic farming practices are not that great for the environment. Get more info at Eating Well.
Panko Crusted Salmon with Orange Sauce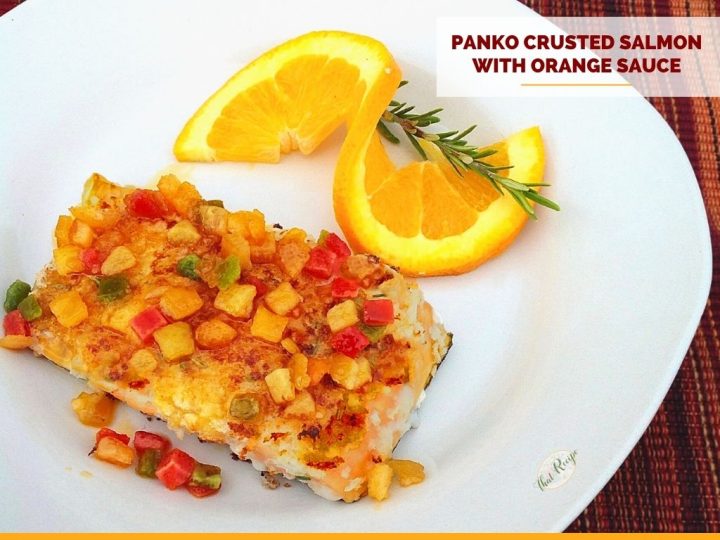 Ingredients
1

pound

salmon fillets

(four 4-ounce fillets)

1

cup

panko bread crumbs

(gluten free if desired)

2

tablespoons

fresh rosemary

(finely chopped)

1

cup

orange juice

½

cup

candied citrus peel

(⅛ - ¼ inch dice)

olive oil or cooking spray
Instructions
Combine bread crumbs and rosemary and press approximately ¼ cup on both sides of each salmon fillet.

Spray a cast iron skillet with cooking spray or spread a small amount of olive oil on the surface. Bring to a medium high heat. Cook the salmon, approximately 3-5 minutes a side.

While salmon is cooking, heat the orange juice and citrus peel in a saucepan over medium heat.

When salmon is cooked, serve immediately with a few tablespoons of sauce on top.
Notes
Most store bought fruit cake mix citrus peel is in larger pieces, I was able to find one that was a very small dice. You can use homemade, or use a little marmalade or peel the zest off of an orange (orange part only) and finely chop that with a little sweetener of your choice.
More Citrus Seafood Recipes