This Tuscan-style Garlic Rosemary Pork Loin Roast is loaded with fresh flavors and is surprising simple to make.
Boneless pork sirloin roast is a great inexpensive and low fat roast. I can often get them on sale for half price. The drawback to low fat is it can also be a bit dry and flavorless. Ooops, I shouldn't say flavorless, how about mild flavored. Okay, lets be honest. You need to add flavor to this bad boy, and a little moisture doesn't hurt either.
I added both flavor and moisture through a technique I have never tried before - brining! And then I added some color and Tuscan style with a quick grill before roasting. It was a big hit with the guys.
The recipe is based on one in Cook's Illustrated Cookbook. Except they use a bone in pork loin with a fat cap and add a wine sauce and other stuff that I cut out. They are big fans of brining, but I have always been leery of trying it for fear the food would taste like nothing but salt. It didn't. I have had saltier tasting ham, soy sauce, canned soup etc.
Is it low sodium? Heck no! How much salt is absorbed into the meat? I have no idea. There are so many different figures out there that depend on the length of brining and the salt content in the brine that I got headache trying to sift through it all. My guesstimate is you are looking at between 200 and 400 mg per 4 ounce serving. As a point of reference, I peeked in my fridge and found low-sodium soy sauce has 575 mg per tablespoon and a ½ cup of canned pasta sauce has 430 mg and one baby kosher dill pickle has 210 mg.
I love the caramelization, color and look produced by a few minutes on the new cast iron stove top grill I bought for M.  His grill that I cook him food on so he doesn't have to remember to refill the propane tank. 🙂
I don't have a pretty plated picture of it because we pretty much devoured it as soon as it was sliced. My bad. Still getting back into the blogging swing of things.
Garlic Rosemary Pork Loin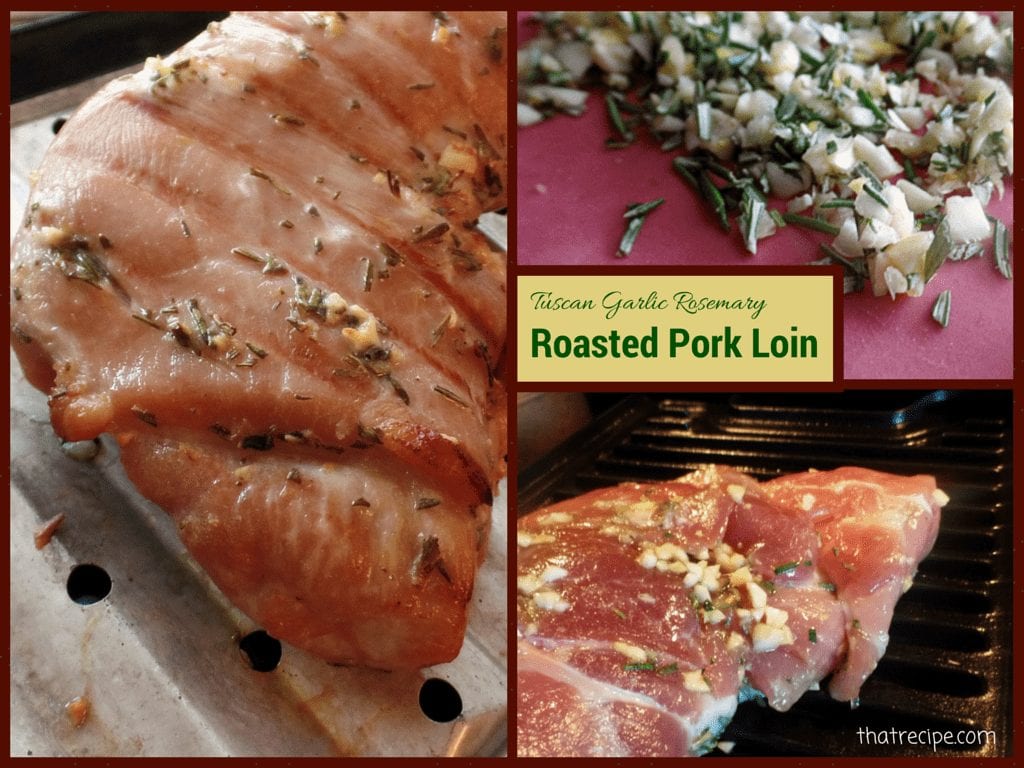 Ingredients
2

pound

boneless pork sirloin roast

½

cup

dark brown sugar

¼

cup

salt

6-8

cloves

garlic

3-4

medium

sprigs rosemary

1

tablespoon

olive oil
Instructions
Prepare the brine by combining the brown sugar and salt with 2 cups of warm water, stirring until salt and sugar are dissolved. Add 2 cloves of minced garlic, one rosemary sprig and the pork roast to a large zip-to-lock bag. Refrigerate for 1 ½ hours.

Remove roast meat from refrigerator 30 minutes before ready to cook. Preheat oven to 325.

Remove the remaining rosemary leaves from stems and mince with the remaining garlic cloves (or crush with mortar and pestle). Combine with olive oil to make a rub.

Heat a stove top griddle or cast iron skillet on medium high heat about 5 minutes

Remove meat from brine and dry with paper towel. Rub with crushed garlic/rosemary mix. Grill one side for about 8 minutes until brown (if your roast has a "fat side" grill that!).

Place meat on roasting pan grilled side up. Roast in 325 degree oven for 30-40 minutes until it reaches 140 degrees internal temperature.

Tent meat with aluminum foil for 15 minutes. Cut into ¼ to ½ inch slices.
Until next time, happy eating.
~Audrey