Jump to Recipe
Print Recipe
Whip up this delicious Vanilla Caramel Blended Iced Coffee at home for a fraction of the cost of those expensive coffee houses.
Vanilla Caramel Blended Iced Coffee recipe lets you be your own barista. Make your coffee house favorite at home at a fraction of the cost.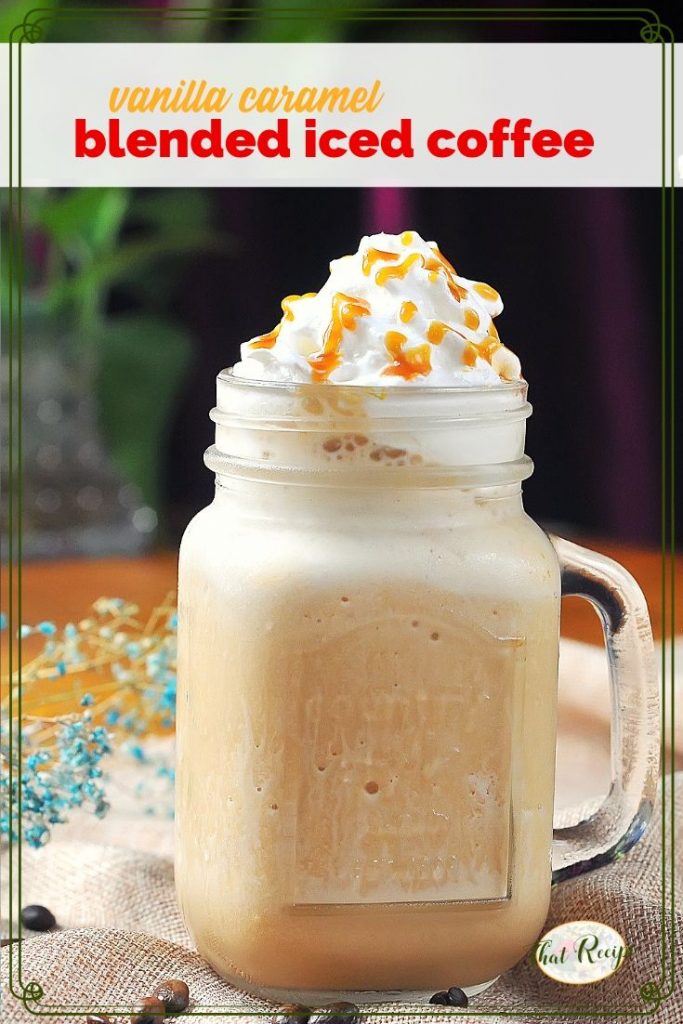 With just a few simple ingredients you can make your own frappuccino / iced blended drink at home.
No driving to the coffee house.
No waiting in line.
No tipping. No nasty looks to guilt you into tipping.
And best of all, it costs less.
Ingredients for Vanilla Caramel Iced Blended
The ingredients for Vanilla Caramel Iced Blended are pretty basic.
strong coffee - brew it and chill it or make cold brew coffee concentrate.
milk - dairy or non-dairy
vanilla creamer - liquid is better unless you want to dissolve the powder in some warm water (or coffee), it will not dissolve as well with the cold coffee and ice.
caramel ice cream topping - or go with chocolate or some other flavor
whipped cream - or non-dairy whipped topping
ice - crushed will make the blending easier
If vanilla and caramel are not your thing, switch it up with different flavors of creamer and syrup: chocolate, mint, pumpkin spice, etc.
Tips for Perfect Blended Drinks
I have tried and struggled to make ice blended drinks before.
Learn from my experience with these tricks:
Put the coffee (or other liquid) in first, ice last.
Use crushed ice if you have it.
Pulse a few quick times to start breaking up the ice, then move to low speed and gradually increase speed.
Stop to mix it down and add more liquid if needed.
These tips work for any ice blended drinks whether it is coffee, smoothies, or margaritas.
Iced Vanilla Caramel Coffee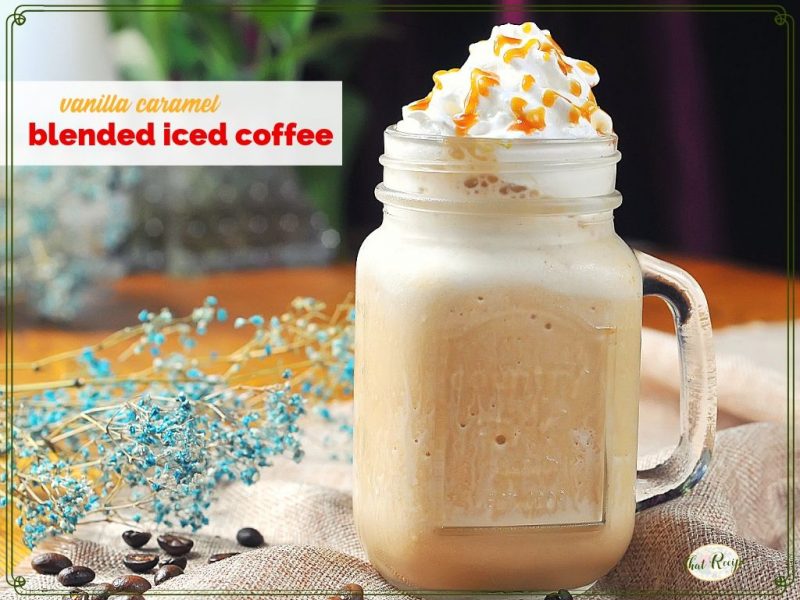 Ingredients
4

cups

strong coffee

(chilled)

1

cup

milk

⅓

cup

French vanilla non-dairy creamer

⅓

cup

caramel ice cream topping

3

cups

crushed ice

whipped cream
Instructions
Add all ingredients except whipped cream to blender. Blend together until ice is incorporated smoothly.

Pour into four glasses of your choice to serve. Add whipped cream and a drizzle of caramel.