Jump to Recipe
Print Recipe
Baked Bacon and Brie Wontons are a quick and easy hot appetizer that is sure to be devoured quickly. #hotappetizers #easyrecipes #quickappetizers #thatrecipeblog
Do you need a mind blowingly delicious yet easy appetizer? Look no further than these Baked Bacon and Brie Wontons. You might just want to make a test batch or two for yourself, because these will not last long.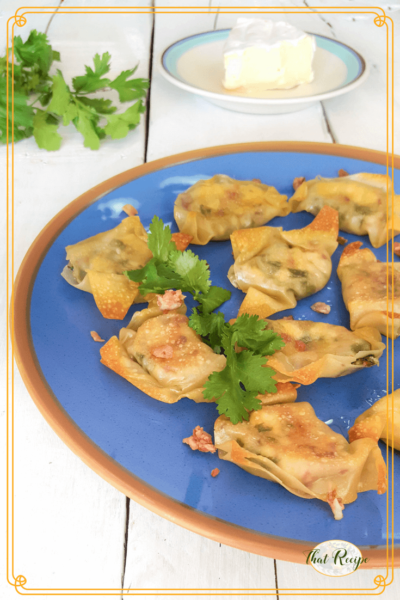 If you prefer to fry these wontons, be my guest. It only will take a few minutes for the wrappers to get crispy and the cheese melty. I just can't stand the mess that comes with frying foods, so I almost always opt for the broiling method.
These can be prepared up to a day ahead of time and broiled at the last minute. Be sure to tightly cover with plastic wrap to prevent the wonton wrappers from drying out. If they do dry out, you can try spraying with a light mist of water and letting it soak in for a few minutes before spraying with oil and broiling.
New Year's Appetizers
The crew at Our Family Table has these fabulous appetizer recipes for you that are perfect for New Year's Eve or any party.

We share Recipes From Our Dinner Table! Join our group and share your recipes, too! While you're at it, join our Pinterest board, too!
Bacon and Brie Wontons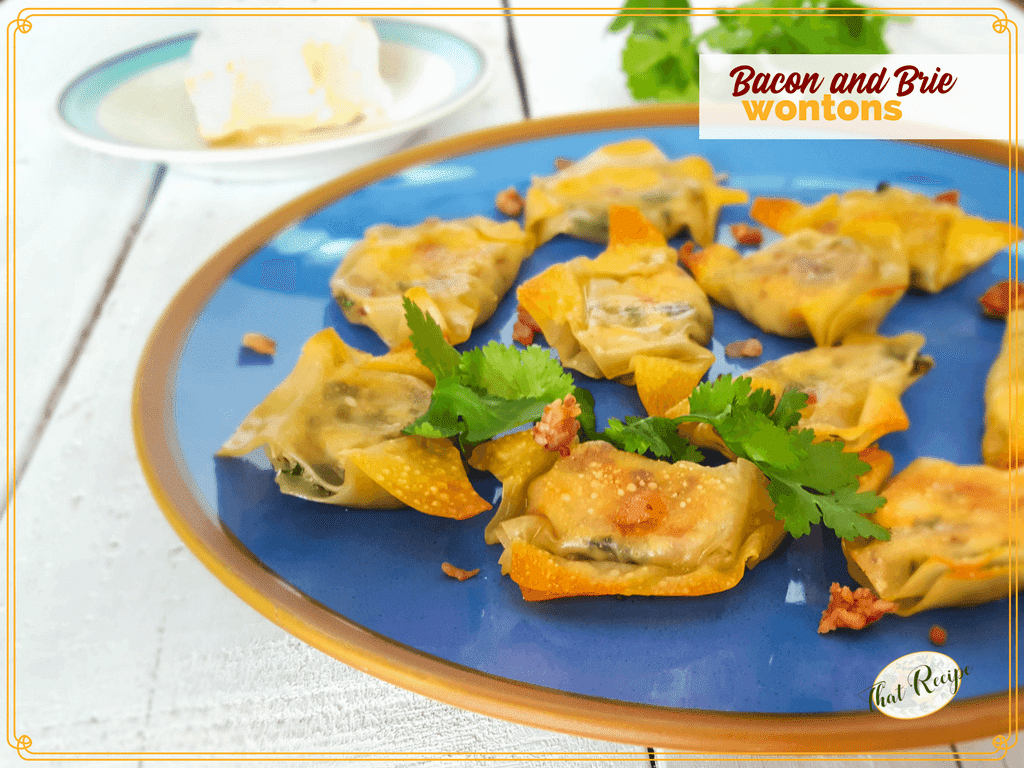 Ingredients
6

slices

bacon

(cut into small bits)

1

wedge

brie cheese

(about ¼ pound)

1

package

wonton wrappers

2

tablespoons

fresh herbs (such as parsley, chives, cilantro)

(finely chopped)
Instructions
In a small skillet, fry the bacon pieces until cooked.

Slice brie into thin slices, the same number as wonton wrappers you have.

Spread out the wonton wrappers on the counter.

Place a slice of brie on each wrapper, add some bacon and herbs.

Put some water in a small bowl, dip your finger in the water and wet the outer edge of the wonton wrappers, then fold in half and press to seal.

Place in a single layer on a broiler pan. (If preparing ahead of time, cover tightly in plastic wrap and put in the refrigerator until ready to broil).

Spray with cooking spray or brush with oil. Broil a few minutes each side until the wrappers are crispy and the cheese has begun to melt. Serve immediately.
A few other recipes with wonton wrappers you may enjoy: