Jump to Recipe
Print Recipe
Bacon and Cracklin' Bread is a Southern classic, cornbread studded with pork cracklings and a little bacon too. 
Make some Cracklin Bread the next time a loved one is having a bad day, just like Calpurnia did on Scout's first day of school in To Kill a Mockingbird.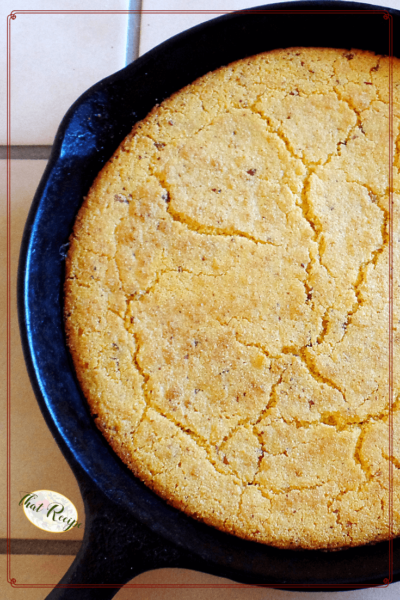 Harper Lee's To Kill a Mockingbird is one of my favorite books and movies. I have enjoyed both multiple times.
In the story, the protagonist, a girl nicknamed Scout, comes home after a horrible first day of school. The maid/cook/nanny Calpurnia makes one of her favorites to cheer her up, Cracklin' Bread.
Cracklin Bread is a quick bread made without flour, just cornmeal, making it a bit dense. If you'd rather just add some cracklings to a lighter cornbread, here's Grandma Ruth's cornbread recipe.
I did not have enough Cracklings on hand when I made this so I threw in some bacon for extra smoky deliciousness. Pork fat rules!
What are Cracklings?
No Spell Checker, there is no "g" at the end. At least you do not pronounce it in the South.
Cracklings are the leftover bits after you render the fat from pork. Technically it can also be the leftover solids from beef or chicken fat as well. But, in the American South it is almost always pork.
The Difference Between Cracklings and Pork Rinds and Chicharrons?
Chicharrons and pork rinds are fried pork skin, made without the fat attached.
Cracklings can have some skin but they have more fat and even a little meat.
Where to get Cracklings?
You might be able to buy some at your local grocery store, but they are quite easy to make at home, and as a bonus you get some lard to add wonderful flavor to other dishes.
I will often remove excess fat from a piece of pork and save it in a zip to lock bag in the freezer until I have a cup or more to render.
Cut the fat off a piece of pork and chop into small pieces.
Place in a saucepan or skillet and cook over medium heat.
Keep cooking, stirring occasionally until the fat has melted and you have brown bits left.
Strain the liquid fat (lard) and save for other recipes. I freeze mine in a zip to lock bag.
Use the solids in this recipe.
More Southern Food Recipes from #OurFamilyTable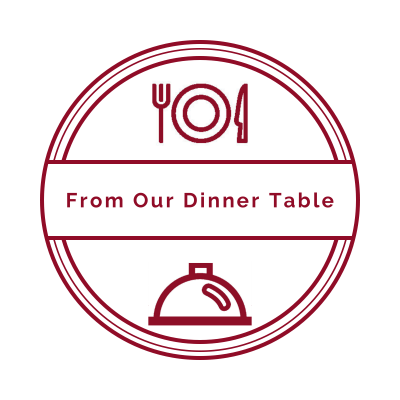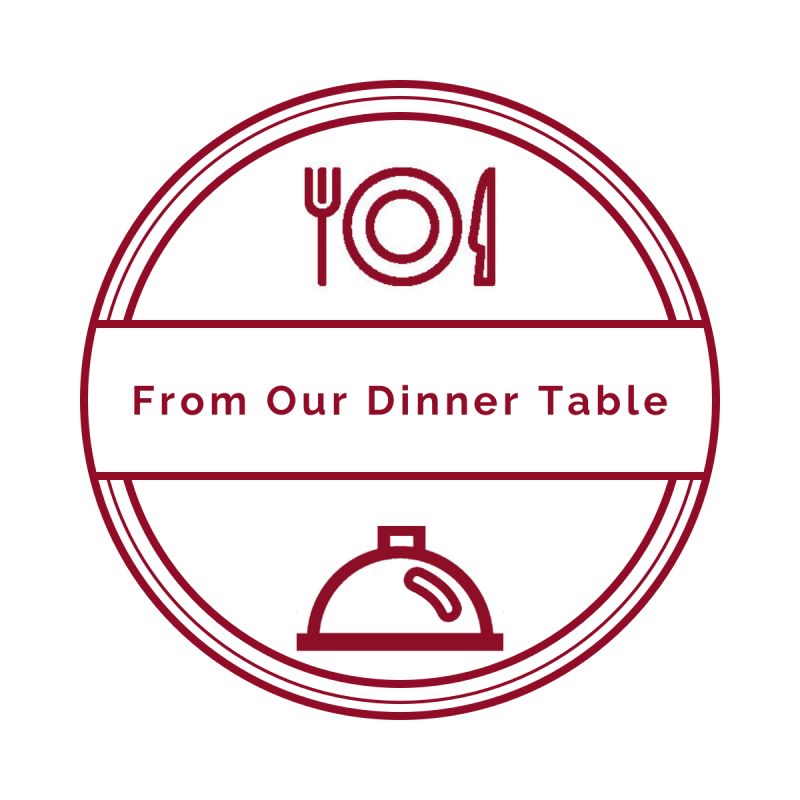 Do you want more recipes from the heart of Dixie? Here are some delicious Southern Food recipes to try:
Southern Food

We share Recipes From Our Dinner Table! Join our group and share your recipes, too! While you're at it, join our Pinterest board, too!
Bacon and Cracklin' Bread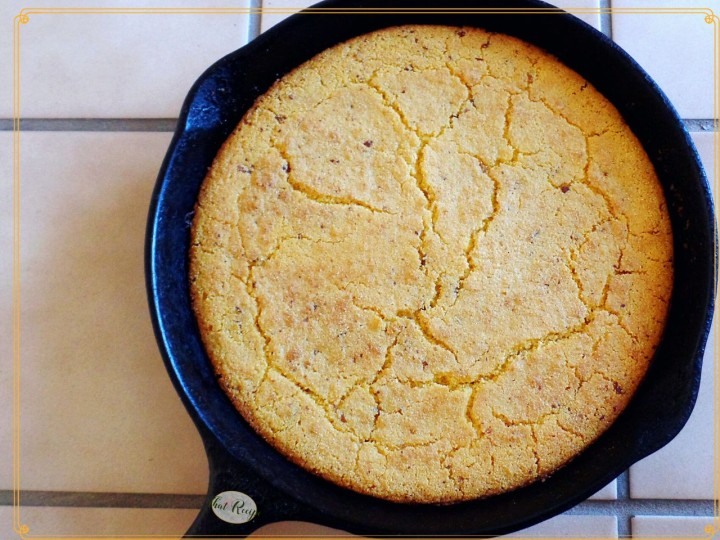 Ingredients
2

tablespoons

bacon grease

2

cups

cornmeal

2

tablespoons

baking powder

1

teaspoon

salt

1

cup

buttermilk

2

eggs

1

cup

cracklings or bacon or combination of both

(see note)
Instructions
In a cast iron skilled, melt bacon grease over medium heat. Remove from heat.

In a medium bowl add 2 cups cornmeal.

Add baking powder and salt. Stir to combine.

Make a well in the dry ingredients. Pour in buttermilk.

Add eggs. Quickly whip eggs in the center of the well to break eggs then mix to combine all ingredients. Mixture should be about the consistency of pancake batter. Add extra buttermilk if needed.

Stir in melted bacon grease, cracklings and/or bacon

Pour mixture into cast iron skillet. Bake at 450° F until starting to turn brown, 20-25 minutes.
Notes
Make your own cracklings by rendering pork fat: chop into small pieces, melt in a skillet or saucepan over medium heat until fat is liquid and all you have left are brown crunchy bits (those are the cracklins). Use the rendered pork fat (aka lard) in other recipes.
Sound fabulous? Share it!
Until next time, happy eating!
~Audrey