I have quite a few recipes I have made and photographed the last few months and haven't gotten around to sharing with you, like these Sweet Potatoes with Lemon that Ma'am made for Thanksgiving.  Well, she did the prep work and I cooked them while she directed me from the sidelines because we had too many cooks in the kitchen.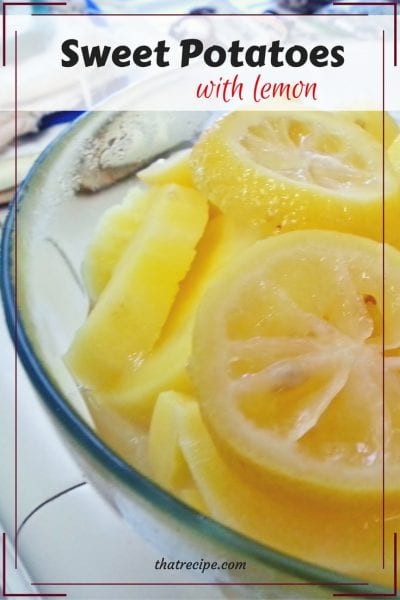 Neither one of us are big fans of sweet potatoes or yams drenched in sugar and topped with marshmallows. I prefer to save my dessert for after the meal. These are slightly sweet and the tang from the lemon makes them a nice compliment to the heavy rest of the meal. But, don't feel like you need to wait for Thanksgiving to make them. They are a quick and easy side that would go well with many things.
The only advice I have is to use a big enough pan to cook them. The one I had with me was stuffed to the brim and needed constant monitoring. I could have used fewer potatoes, but considering there weren't many leftovers that probably wouldn't have been a good idea.
[Tweet "Sweet potatoes boiled with lemons make a delightful side dish for poultry, pork or fish. #recipes #healthyeating"]
Sweet Potatoes with Lemon
Print recipe
Sweet potatoes boiled with lemons make a delightfully simple side dish for poultry, pork or fish.
Ingredients
1lb sweet potatoes (peeled and cut in 1)
1 Medium lemon (thinly sliced, crosswise)
3 tablespoons sugar
dash salt (optional)
Directions
Place potatoes in bowl, cover with water and soak 10 minutes. Drain and replace water after 5 minutes.
Drain water and place potatoes in medium sauce pan with sugar and 2 ½ cups fresh water. Bring to a boil, then reduce heat and boil gently for 10 minutes. Add lemon slices.
Cook about 20 minutes longer until potatoes are tender, adding more water if necessary. Serve while hot.
Until next time, happy eating.
~Audrey
This blog was shared on the following awesome blog hops – click on over for more great recipes: