Jump to Recipe
Print Recipe
Sourdough Andouille Dressing is a spicy stuffing for your holiday bird, or bake it alongside for an extra flavorful holiday side dish.
Ready to add a Cajun kick to your holiday meal? Try this easy Sourdough Andouille Dressing either in your bird or baked on the side.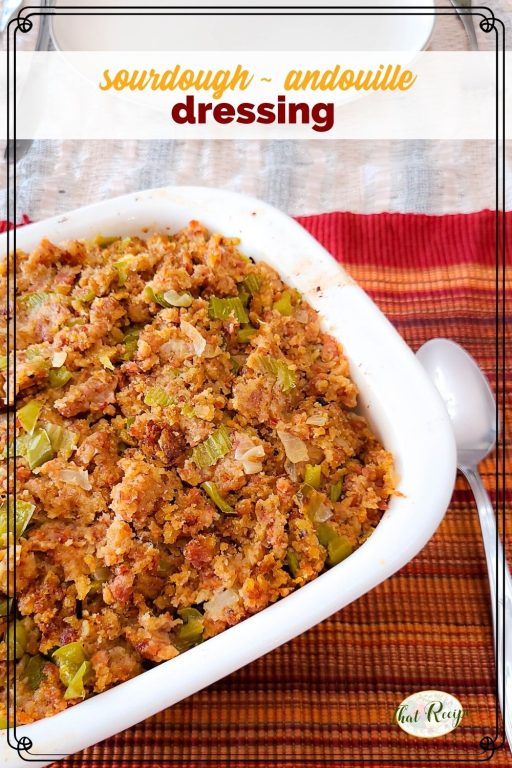 This recipe was inspired by one in one of my favorite cookbooks, Chef Paul Prudhomme's Louisiana Kitchen cookbook. It was originally published in 1984, and my mom probably bought one of the first copies. We have always been a fan of Cajun and Creole cuisine, even before my brother moved there and became a chef.
Instead of the dry bread crumbs the Prudhomme recipe uses, I used sourdough bread that was stale (a little dry but still soft) and ground it up in the food processor after the sausage. The combination of the spicy sausage and tangy sourdough is perfection.
Warning! This can get very spicy depending on the heat in your andouille and the type and amount of hot sauce used. Unless you know you like it hot, start with a teaspoon or two of the hot sauce instead of the 2 tablespoons called for in the original recipe.
For a milder dressing/stuffing recipe, try Grandma Ruth's Southern Style Cornbread Stuffing.
What's the difference between stuffing and dressing?
In my parlance, it is the same basic recipe but the cooking method is different.
Stuffing goes in the cavity of the bird (turkey, goose, chicken, duck) and cooks along with it, soaking up plenty of delicious juices from the bird.
Dressing is cooked in a dish along side the bird. To get the extra poultry flavor, and a bit more moisture, you can pour a little bit of the pan juices over the top of the dressing and let it soak up a few minutes before serving.
However, in some regions of the United States stuffing is baked on the side and dressing is stuffed in the bird.
A stuffing by any other name, tastes as divine... or something like that.
Where can I find Andouille Sausage? What is a good substitute?
Andouille is a Cajun smoked sausage. In Southern California I can find it along with the other rope sausages in many grocery stores. If your store doesn't carry it, you can always ask and see if they can get it for you.
If it is too hard to find in your stores, you can use another smoked sausage such as kielbasa, linguica, or chorizo. The flavoring will be different but the result will still be delicious.
More Stuffing Recipes from #OurFamilyTable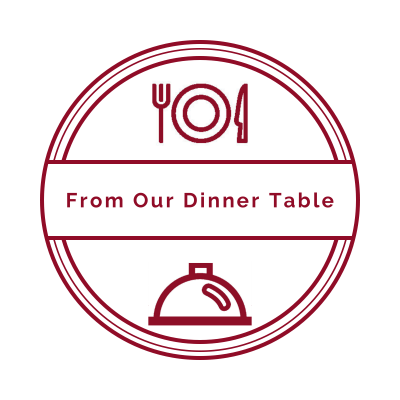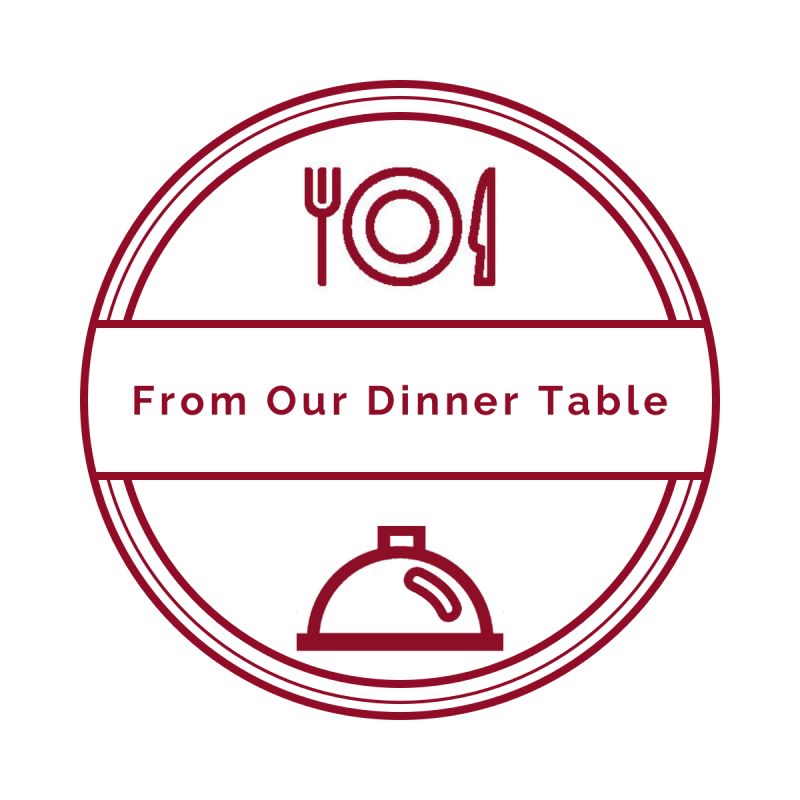 Scrumptious Stuffing

We share Recipes From Our Dinner Table! Join our group and share your recipes, too! While you're at it, join our Pinterest board, too!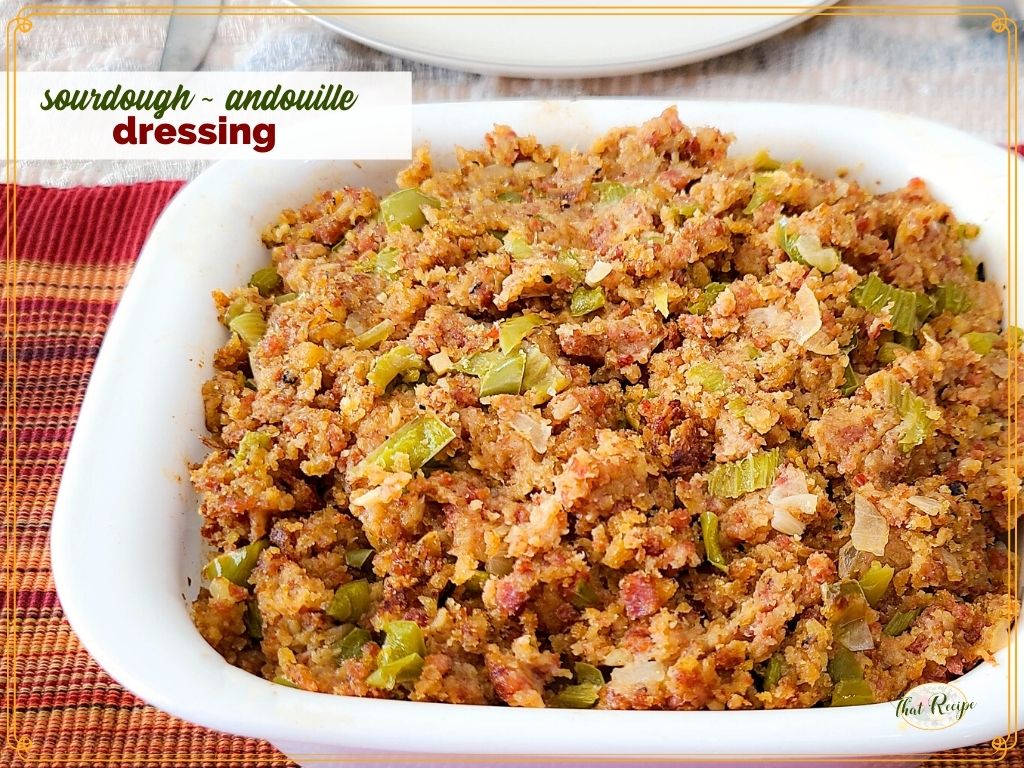 Ingredients
1 ½

pounds

andouille sausage

2

cups

day old sourdough bread

2

tablespoons

olive oil

2

cups

yellow onion

(chopped)

1

cups

celery

(chopped)

1

cups

green bell pepper

(chopped)

2

tablespoons

garlic

(minced)

2

cups

chicken or turkey stock

1-2

tablespoons

hot pepper sauce

(see note)
Instructions
In a food processor grind the sausage with a few pulses to make about 3 cups. Remove and set aside. Pulse the sourdough bread to create soft crumbs. Set aside

In a large skillet, heat the olive oil over medium heat. Add the chopped onions, celery and bell pepper. Cook until the onions are brown but not burned 8-10 minutes.

Add the andouille and garlic. Cook until the sausage is browned, 3-5 minutes.

Add the stock and hot pepper sauce and simmer about 10 minutes. Stir in the bread crumbs and remove from the heat.

Transfer to an 8 inch square baking pan.

Optional make ahead prep: cover with foil or plastic wrap and refrigerate overnight.

Preheat oven to 425°F, bake uncovered for about 30-35 minutes until browned on top.
Notes
For true Cajun flavor, use a Louisiana hot sauce such as

Tabasco, Crystal, Frank's, Red Rooster, etc. Start with 1-2 teaspoons unless you know you want it hot.
Sound fabulous? Share it!
Until next time, happy eating!
~Audrey