Jump to Recipe
Print Recipe
Pane di Pasqua, Italian Easter Bread, is a fluffy sweet bread traditionally in a wreath shape with brightly colored eggs baked inside.
Pane di Pasqua is Italian for "Bread of Easter". This sweet bread is studded with colored whole eggs and is traditionally served at Easter as well as other important occasions.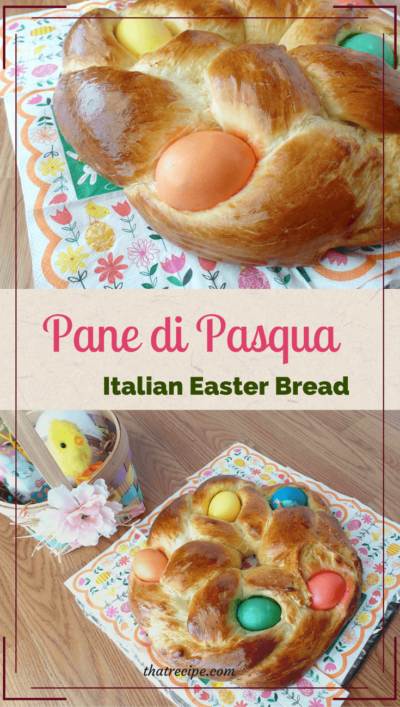 Last week it was a Greek Easter celebration with Koulourakia (Greek Easter cookies). Today we are going to Italy.
This weekend we attended my son's First Communion Retreat and watched a short video titled "Grandma's Bread" that told a poignant story about Nonna's special Easter Bread - the Pane di Pasqua. I almost cried when the family donated Nonna's pans and her handwritten recipe book. NOOOOOOOOOOO!!!!! Luckily her grandson hid them so in the end the family could recreate the bread for his first communion celebration.
Please write down your family's special recipes. If you are fortunate enough to have recipes in Nonna, Abuela, Oma, Mimi, Grandma's own writing, treasure it! Even if you never try the recipes. Promise?
Okay, back to the bread.
One of the catechists made 4 of these breads for the 119 kids and their parents. She was also kind enough to share the recipe. But there weren't enough copies to go around, so I volunteered to post it here. Which means I had to make it first to get pictures and check the recipe.
The recipe had a few errors in it such as listing 5 hard boiled eggs in the ingredients and then telling you to soft boil 6 eggs in the directions. If you want to spend your day cleaning egg bits out of your oven, go ahead and use pre-boiled eggs. They will pop like popcorn, sending egg and shell all over. Use raw eggs and they will bake in the shell.
I wrote the directions with plenty of tips for first time bread makers. Don't let bread intimidate you. Most breads are easy to make and this one is no exception. Here's a short video showing you the basic steps of this recipe.
I told you it was easy!
[click_to_tweet tweet="Make Pane di Pasqua (Italian Easter Bread) for Easter or any other special occasion. #recipe #easter #italianfood" quote="Make Pane di Pasqua (Italian Easter Bread) for Easter or any other special occasion. #recipe #easter #italianfood" theme="style2"]
Pane di Pasqua (Italian Easter Bread)
Ingredients
BREAD
½

cup

warm water

2

packets

yeast

(a little less than 2 tablespoons)

½

cup

butter

¾

cups

milk

½

cup

sugar

2

eggs

(lightly beaten)

1 ½

teaspoon

salt

5-6

cups

all-purpose flour

zest of 1 lemon

(optional)
EGGS
5

eggs

(uncooked)

3

teaspoons

vinegar

red

(yellow and blue food coloring)
Instructions
In a large mixing bowl, dissolve the yeast in the warm water. (Hot water from the tap, but no hotter).

***If you are not sure your yeast is good, add 1 teaspoon of sugar and wait 10-15 minutes to let the yeast "proof". If it is not starting to bubble in that time your yeast is bad and the dough will not rise.***

In a saucepan, melt the butter. Add the milk and heat until it is warm. You can test it by putting a drop on your wrist. It should feel warm but not hot. If it is hot let it cool. The hot liquid will kill the yeast and your bread won't rise.

Add the milk and butter to the yeast and mix.

Add the sugar, 2 lightly beaten eggs, salt and lemon zest (if using). Mix to combine.

Add 5 cups of flour one cup at a time, mixing in between each addition. The dough will be a bit sticky.

Sprinkle about ½ cup of flour on the counter. Turn the dough out onto the floured surface and knead for about 5 minutes. Add extra flour, about ¼ cup at a time, if the dough is too sticky too knead.

If you add too much flour the dough will not be light and fluffy. If you have a mixer with a bread hook use it to do the kneading.

Put the dough in a lightly oiled bowl. Cover with lightly oiled plastic wrap. Put in a warm place to rise until doubled, 1 to 1 ½ hours

I put mine in the oven with the oven light on.

While the dough is rising, boil 1 ½ cups water.

Get three small cups. Add 15-20 drops of color to each cup (one red, one yellow, one blue). Add 1 teaspoon vinegar to each cup, then add ½ cup of boiling water to each cup and stir.

Dip the eggs in the color and let sit until as dark as you want. You can mix and match the colors to have orange, green and purple too.

Punch down the dough and divide into 3 equal parts. Roll each part into a long rope, about 20 inches long.

Braid the three strands together and shape into a circle, pinching and tucking the ends together. Put it on a greased baking sheet.

Gently push the five colored eggs in the dough. Stick a small cup in the middle to keep the wreath from closing in the middle when it rises.

Let rise until doubled, about 45 minutes to 1 hour.

Preheat oven to 350 degrees.

Remove the cup from the center of the bread. Combine the last egg with 1 teaspoon water and brush on the bread (not the colored eggs). Cover all the dough, including in the crevices between the braid if possible.

Bake for 25 minutes until bread is golden brown.
Notes
You will need a total of 8 eggs for the recipe:
2 are mixed in the dough
5 are colored and baked on top of the dough
1 is brushed on top to make the bread brown and shiny
---
PLEASE LINK UP TO
THREE FOOD POSTS

TO THE TASTY TUESDAYS' LINKY PARTY!
PLEASE 

follow 

the hosts of this party through one of their social media listed below.

 They will visit your post and pin it.  Just pick one (or more) of the options below and please follow them.
**Tammy from Creative K Kids (Blog)**
Pinterest/Facebook/Google+/Twitter/Instagram
**Gina from Moneywise Moms (Blog)**
Pinterest/Facebook/Twitter/Instagram
**Amanda from The Mommy Mix (Blog)**
Pinterest/Facebook/Twitter/Instagram/Google+
**Audrey from That Recipe (Blog)**
Pinterest/Facebook/Google+/Twitter/Instagram 
**Dina from Savvy in the Kitchen**
Facebook/Pinterest/Twitter/Instagram
**Ashley from Forgetful Momma (Blog)**
Pinterest/Facebook/Twitter/Instagram/Google+
**Maria from Maria  Magdalena Living Ideas (Blog)**
Pinterest/Facebook/Twitter 
Please link up to three food-related posts that have never been linked up here before.  Posts containing alcohol also will not be pinned.
Place this button or a link to this post somewhere on your site--either on the actual post or on your sidebar or on your party page.
As a thank-you for linking up, we will pin your recipe to the Tasty Tuesdays at Creative K Kids Pinterest board.  Please follow the board to see all the great food recipes!
By linking up, you agree to let any of the hosts or co-hosts  use your pictures and links if they decide to feature your post.   Your photo may also be used for promotion on any of their social media outlets.
If you include your e-mail in the linky form below you will be added to a weekly reminder e-mail when the link party goes live. Your e-mail will not to added to any other lists or given out.