Jump to Recipe
Print Recipe
Baked Chicken and Vegetable Egg Rolls combine tender flavorful chicken and crisp vegetables in a crispy shell for a quick and healthy meal that is weeknight fast
These Baked Chicken and Vegetable Egg Rolls are quick, easy, flavor packed, healthy, fun, frugal, adaptable, customizable and freezable. That's a lot of words for little pockets of goodness.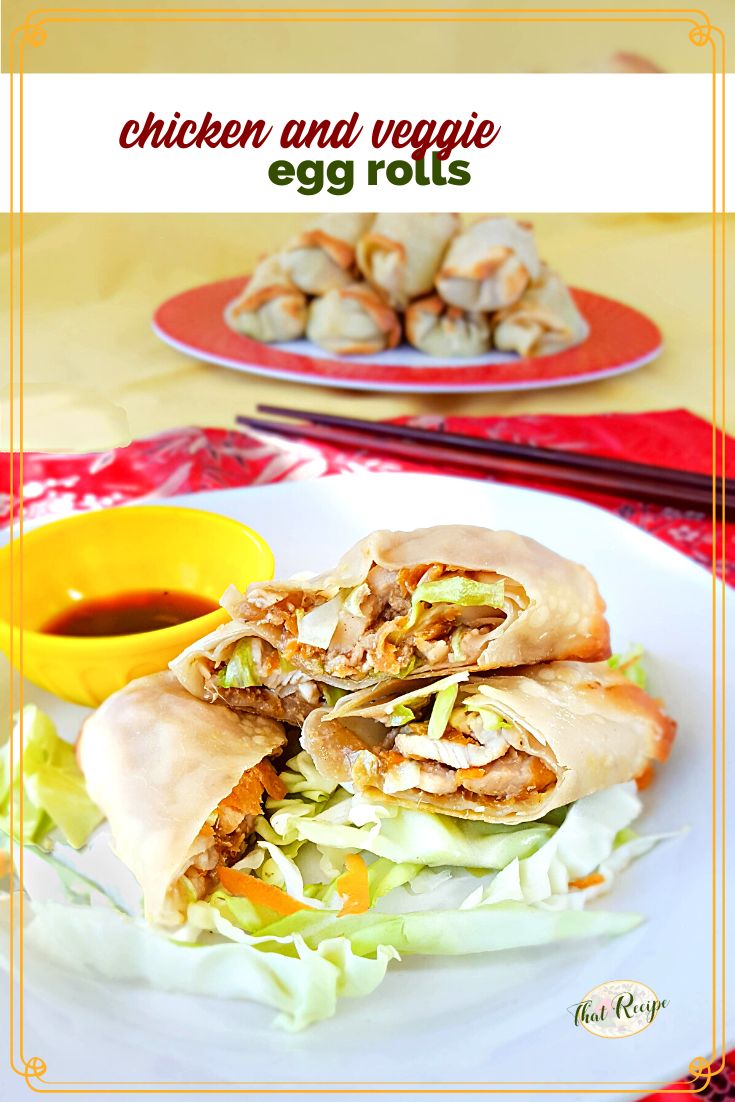 Making your own egg rolls is a simple thing to do. And the best part is you can fill them with just the ingredients you like. Plus, it is simple to mix and match ingredients for different tastes (aka cater to the picky eaters in your family, haha!)
You can also make a large batch and save them in the freezer for a later meal. Under cook them slightly, freeze in a single layer on a baking sheet then move to a zip to lock bag. When you are ready to enjoy them then defrost and bake or fry until crisp.
Frying Instead of Baking
Since these crisp up so quickly, they do not have a chance to absorb a lot of oil. Thus, there is minimal calorie and fat difference between baking and frying.
I baked these because I did not have enough oil to fry them.
If you prefer to fry them for a crispier crust follow the directions on the egg roll wrappers.
Ingredients for Chicken and Vegetable Egg Rolls
Make this recipe your own! Add what you like, or have in your kitchen at the time. Egg Rolls are a great way repurpose leftovers and turn them into something completely different.
For this recipe I used the following:
Chicken: boneless skinless chicken breast or thighs
Onions: yellow, white or spring onions
Garlic and ginger: fresh is best here!
Cabbage: Napa, Chinese, or green cabbage
Carrots: any color, shredded or cut in matchsticks
Oyster Sauce: find it in the Asian food aisle of most supermarkets. Possible substitutes (with different flavors) hoisin sauce, black bean sauce or soy sauce.
Egg roll wrappers: or you could make them into smaller wontons
Oil: for stir frying and frying or brushing on the egg rolls for baking
Chicken and Veggie Egg Rolls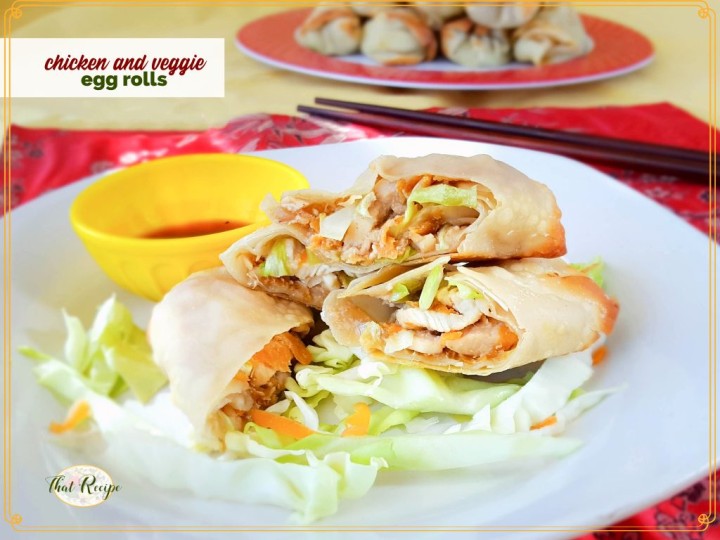 Ingredients
1

pound

chicken breast or thighs

(cut into very thin strips)

1

tablespoon

olive oil

½

cup

onion

(thinly sliced)

2

cloves

garlic

(minced)

1-2

tablespoon

fresh ginger

(minced)

½

cup

oyster sauce

2

cups

cabbage

(thinly sliced)

2

carrots

(shredded or cut into matchsticks)

1

package

egg roll wrappers

non stick cooking spray or oil
Instructions
Preheat oven to 425°F. Spray a baking sheet with non-stick cooking spray.

In a large skillet heat olive oil over medium high heat. Saute onions, garlic and ginger until onions begin to turn translucent.

Add chicken strips and cook until most of the pink is gone.

Add oyster sauce and cook on medium for 1 minute.

Add cabbage and carrots and cook for a few more minutes until the cabbage begins to soften (cook longer if you like softer vegetables)

Place an egg roll wrapper as a diamond in front of you. Add a few tablespoons of filling horizontally in the center.

Fold the bottom up, then sides in, then roll tightly. Place seam side down on the prepared baking sheet. Finish with remaining ingredients. Spray egg rolls with cooking spray or brush with oil.

Bake at 425°F until crispy, about 15 minutes.