Jump to Recipe
Print Recipe
This creamy Spinach Dip with caramelized onions is bursting with flavor, and thanks to some simple swaps is healthier than the traditional dip with a packaged mix.
Creamy Spinach Dip with caramelized onions is a flavorful, easy and healthy alternative to the traditional packaged mix recipe.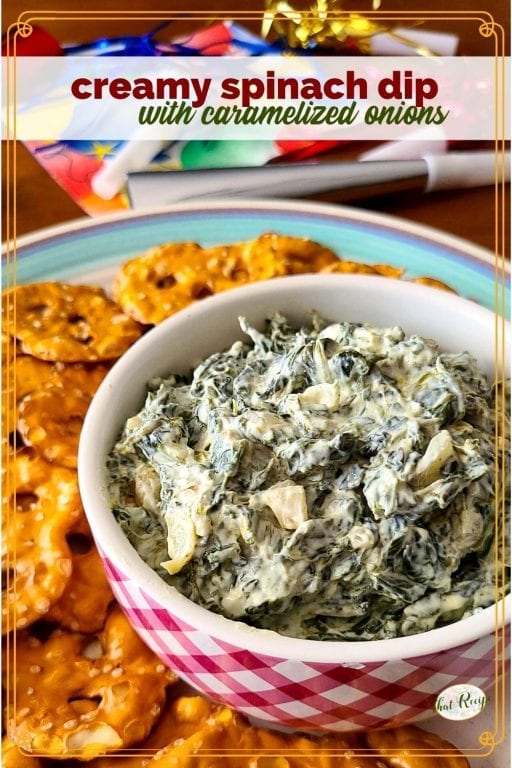 Step away from the package of ranch dressing and bland water chestnuts. Leave them at the store. Trust me, you will not miss them.
This dip is so much better. And only requires one extra step of caramelizing some onions.
About the Ingredients
You can use fresh or frozen spinach. I made it with chopped fresh baby spinach that I got from the CSA. If you use frozen, partially thaw it first. Whichever one you use, squeeze out the excess liquid.
Slice the onions from pole to pole instead of in rings or half rings. Otherwise your onions get stringy when you cook them down.
I always have plain Greek yogurt in the house, so I use that in my dips and dressings instead of sour cream. Love me some healthy bacteria!
Add bacon and/or bell peppers for a nice variation. Chop a few slices of bacon, cook it then caramelize the onions in that. Add the bell pepper to the onions about halfway through cooking.
Spinach Dip with Caramelized Onions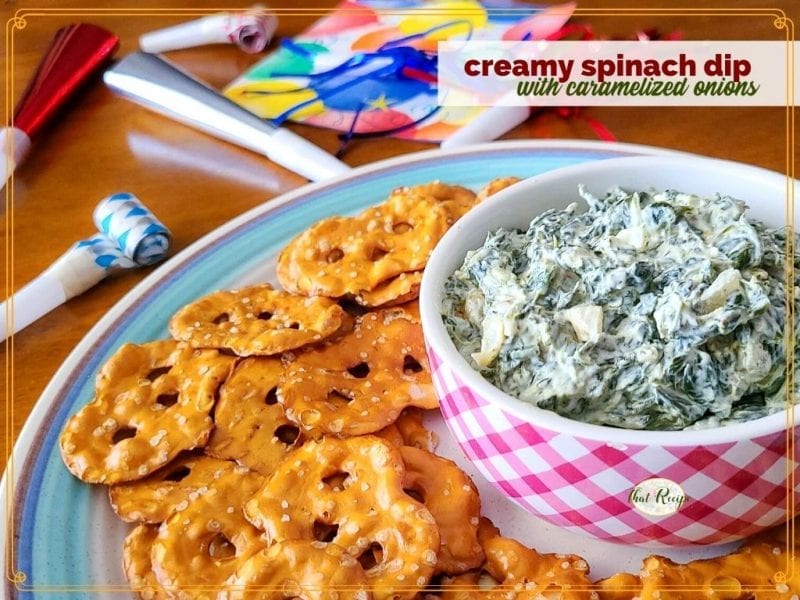 Ingredients
1

tablespoon

olive oil

½

large

yellow onion

(sliced thinly from pole to pole)

10-12

ounces

fresh spinach, roughly chopped

(see note for frozen spinach)

½

cup

plain Greek yogurt

½

cup

mayonnaise

3

tablespoons

chopped fresh parsley

(or 1 tablespoon dried parsley)

¼

teaspoon

hot sauce

(more or less to taste)

salt and pepper to taste
Instructions
Heat olive oil in a small skillet over medium heat. Add onions and cook until lightly brown, about 10 minutes.

While onions are cooking, put the spinach in a large microwave safe bowl and microwave a minute or two at a time until soft. Drain the liquid from the spinach.

In a mixing bowl, combine all ingredients until well blended. Chill for an hour or more. Adjust seasoning before serving.
Notes
If using frozen spinach, partially thaw in the microwave for a few minutes. Drain then continue with the recipe. 
Sound fabulous? Share it!
Until next time, happy eating!
~Audrey