Jump to Recipe
Print Recipe
This simplified version of traditional Chicken Mole is made easier with prepared sauce and extra chocolate cooked in the slow cooker.
Chocolatey Chicken Mole made in the slow cooker for a rich and hearty meal.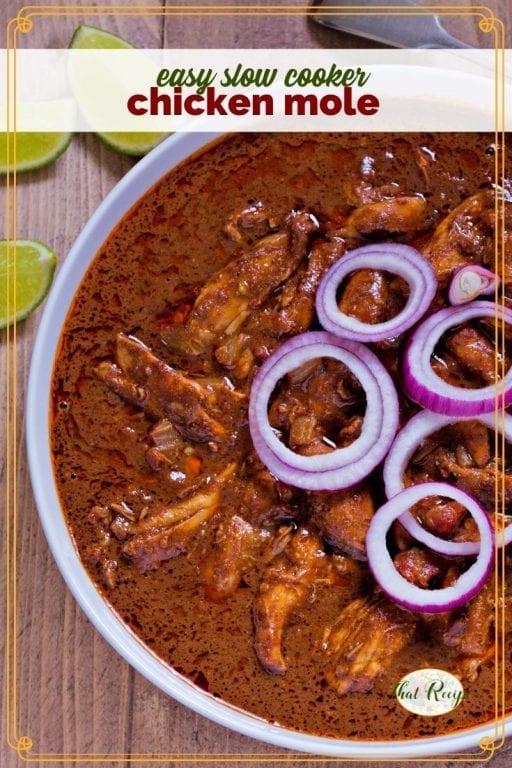 If you are not familiar with Mole (pronounced mo-lay) it is a traditional Mexican dish made with a thick rich sauce made from CHOCOLATE! The history of the dish is iffish according to Mexonline. Regardless of how it got created it is a great part of Mexican culture and it is a delicious and flavorful dish.
Traditionally the sauce is made with about 20 ingredients and it cooks on the stove for hours, which my mother simplified by opting for a prepared sauce. There is already chocolate in the prepared sauce, but to make it even richer she added even more Mexican chocolate.
Both the sauce and the chocolate should be easy to find in the Mexican food aisle of any well stocked grocery store. Or you can order online:
To make this version, just add the sauce and chocolate in your slow cooker with some chicken, beef or pork and let it cook for a few hours. Delicioso!
Slow Cooker Chicken Mole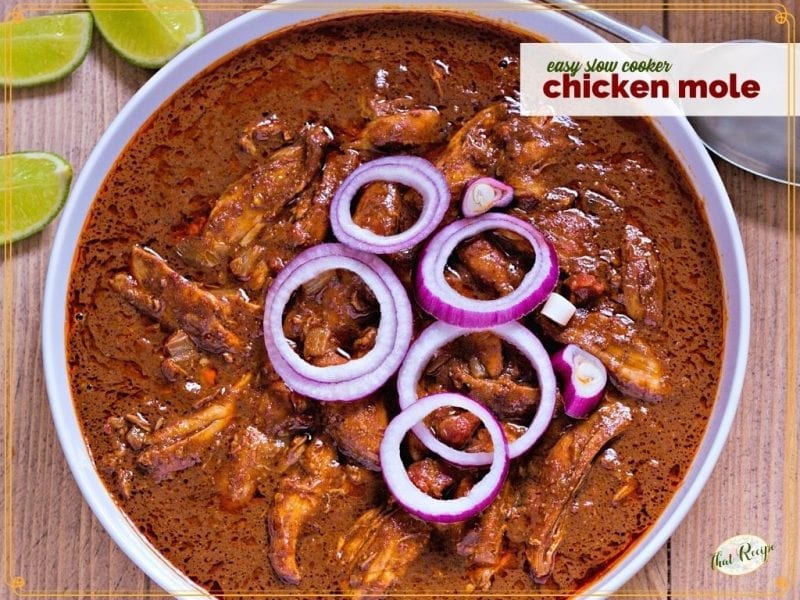 Ingredients
2

pound

chicken breast

(cut in 1 inch pieces)

8

ounces

prepared Mole sauce

1 ½

cup

chicken broth or water

1

disk

Mexican chocolate
Instructions
Place all ingredients in slow cooker and stir well. Cook on high 3-4 hours or 5-6 on low. Stir about midway through cooking time.

Serve over rice and/or with tortillas. Suggested garnishes cilantro, red onions, radish slices, or avocado slices.
Until next time, happy eating!
~Audrey