Jump to Recipe
Print Recipe
Marinated Baby Artichokes: easy recipe for homemade baby artichokes with your choice of herbs and spices.
Garlic and Rosemary Marinated Baby Artichokes are a delightfully simple way to prepare baby artichokes, those tiny artichokes that grow below the big ones.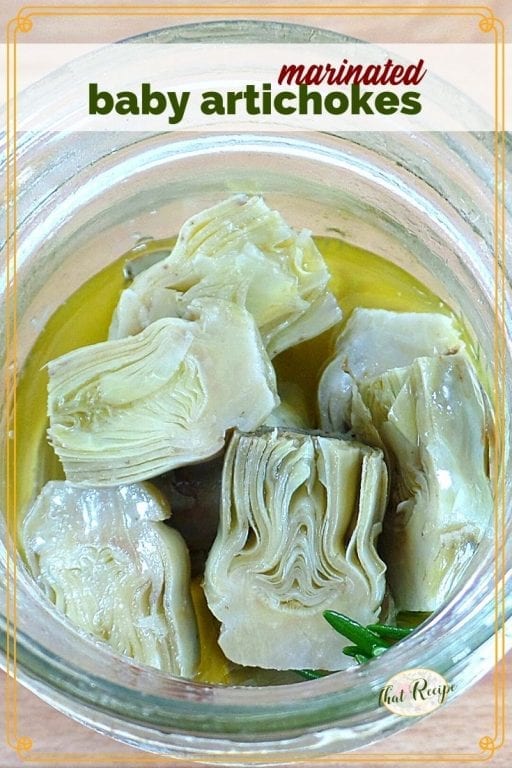 If you grow your own artichokes like I do, you know there are some that are lower on the stems that are always tiny. You can leave them and hope they grow, but they don't. Eventually they will just open into pretty purple flowers. 
Well, this year I cut them off and marinated them. My salads have been amazing this week. And it is really easy to do.
Marinated Baby Artichokes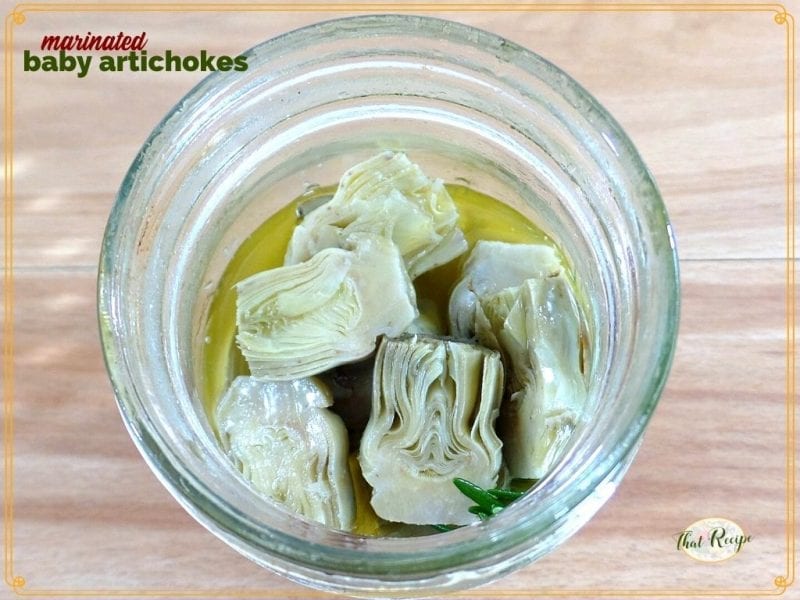 Ingredients
16-20

fresh baby artichokes

1 ½

lemons

(if lemons are small use 2, if large use 1.)

clove

garlic

(smashed)

sprig rosemary

1

cup

olive oil

(approximate)
Instructions
Pour about 2 cups of water into a bowl and add about 2 cups of ice cubes Cut one lemon in half and squeeze juice into the water.

Remove the tough leaves from the artichokes. Cut about ¼ of the way from the top to remove all sharp points. Cut artichoke in half lengthwise and rub on the second half of the lemon. Put in the lemon ice water while you trim the remaining artichokes.

Bring a quart of water to a boil in a medium pan. Add artichokes and boil until stem is tender when pierced with a knife.

While the artichokes are boiling prepare another bowl of ice water. Strain cooked artichokes and immediately put in ice water to stop the cooking process.

Put artichokes in a clean pint jar with smashed garlic clove and rosemary sprig. Squeeze in the juice from the remaining ½ lemon. Fill to the top with olive oil. Shake to combine and let marinate several hours or several days in the refrigerator.