Today, I am joining a group of bloggers, lead by the crew at The PinterTest Kitchen for #FoodBloggerLove. We were each assigned another blog to explore, create recipes and generally share the Blogger Love. When I read that Camilla is "all about the adventure!" I knew I had found a kindred spirit.
You can find her at Culinary Adventures with Camilla | Facebook | Pinterest | Twitter
Camilla cooks a variety of dishes from different cultures, like I try do, except her boys actually eat them :). She also has a passion for reading and creates dishes from books she has read.
Some of her recent posts include:
Salted Juniper-Dark Chocolate Panna Cotta
Roasted Lemon-Fennel Spatchcocked Chicken

Oh my! Are you as hungry as I am now?
I made her recipe for Brown Rice Salad with Fennel, Rainbow Chard and Carrots because it looked delicious and lo and behold, I had all of the ingredients to make it courtesy of my CSA, just like she did. Except for the pistachios. So, I just used some almonds instead. Good, but I bet the pistachios were delicious.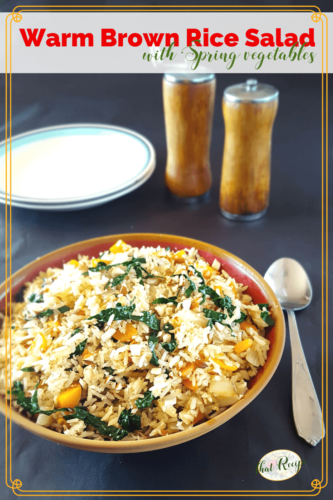 It was a filling and healthy side dish that was much needed after the sickies we have had going through our house this week. Fresh seasonal locally grown vegetables make a big difference.
Do yourself a favor and check out Camilla's blog, pin some recipes and add some great new books to your "to read shelf" on GoodReads.
[clickToTweet tweet="Check out this warm brown rice salad loaded with healthy veggies from @culinary_cam #brownrice #pilaf #recipe" quote="Check out this warm brown rice salad loaded with healthy veggies" theme="style2"]
And finally, check out what some of the other bloggers did for #FoodBloggerLove this year.