I seem to be posting quite a few quick weeknight meals lately. But, I am not hearing any complaints so I figure there are plenty of other people who are looking for fast, easy and healthy meals to prepare. This Shrimp Creole definitely fits the bill. And, is pretty darn delicious if I do say so myself.
You'd think this recipe came from my brother who used to be a chef in New Orleans. But, nope, this is one of Ma'am's. We enjoyed Cajun and Creole cuisine long before Mike ever moved there. Maybe that was part of the reason he went.
There isn't much to say about this recipe that isn't in the recipe. Chop up the veggies, sauté them, throw in canned tomatoes and shrimp then serve over rice (or quinoa or couscous or whatever suits your fancy). Have hot sauce on the side for those that like it "kicked up" and you can please just about everyone.
I hesitate to say this is a Gluten-Free recipe. Obviously it is gluten and dairy free (if you don't use the butter), but I think it is hyperbole to label every single recipe that shouldn't contain gluten in the first place as gluten-free. It's like the "Fat Free Orange Juice" I have seen on store shelves. Marketers just latch on to a term and label everything with the latest trend even if the label doesn't really make sense.
Shrimp Creole
Print recipe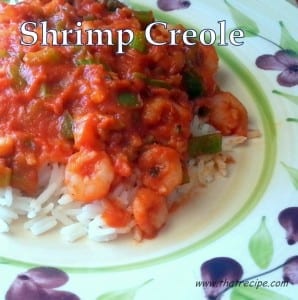 A quick and easy meatless dish that can be prepared while the rice is steaming. Let individual diners add their own hot sauce to their preferred level of spiciness.
Ingredients
1lb peeled shrimp (thawed if frozen)
2 cups rice
3 tablespoons oil, butter, or margarine
1 Medium onion (diced)
6 cloves garlic (minced)
2 green bell peppers (diced)
1 cup celery (diced)
2 cans 14 1/2 ounce diced tomatoes
1 cup water
2 tablespoons fresh parsley (chopped)
salt and pepper (black or red) (to taste)
Tabasco or other Louisiana hot sauce
Directions
Thaw shrimp, if necessary. Keep shrimp in refrigerator until ready to add to vegetable mixture. Chop vegetables and start cooking rice according to package directions.
Heat butter, margarine or oil in skillet. Sauté onion, garlic, green pepper and celery. Add tomatoes, water and spices; simmer 10 minutes. Add more water if needed.
Add shrimp and bring to a boil. Reduce to simmer and cook 5 minutes stirring occasionally. Add salt and pepper to taste.
Serve over rice. Put a bottle of Tabasco or other Louisiana hot sauce on the table and let diners help themselves.
Until next time, happy eating.
~Audrey